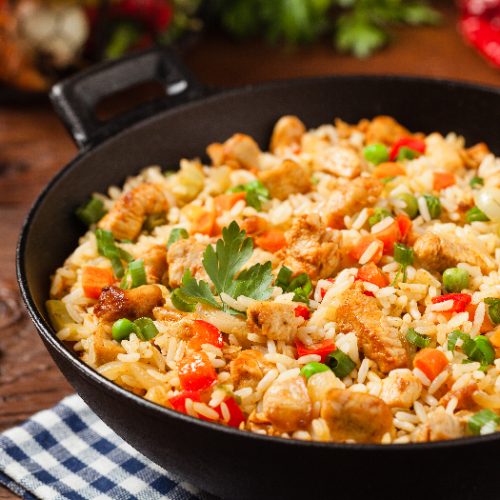 Print Recipe
Easy One-Wok Fried Rice
This fried rice recipe is easy to make and full of flavor. The recipe is flexible so feel free to substitute one ingredient, especially vegetables or meat, for another similar one.
1

cup

rice

washed and cooked

2

tbsp

oil

sunflower or sesame

1/2

cup

onions

cut in strips

2

cloves

garlic

finely chopped

1/2

inch

ginger

julienned

1

cup

carrots

julienned

2

eggs

scallions

chopped

1

cup

prawns

peeled and deveined

soy sauce

salt

to taste

schezwan sauce or sambal

optional
Before you start with the fried rice, marinate your prawns with a sprinkle of salt and a dash of turmeric for about 20 minutes. The latter is optional.

Start by placing a wok on high heat. If you do not have a wok, a large pan would do. Add oil to the wok and move the wok around to ensure that the oil coats all sides.

Once the oil is hot enough, add the onions. Toss them around in the pan for close to a minute. Do not let them turn completely translucent. To this add the ginger and garlic and let it simmer for a few seconds. Ensure that the heat is maintained at high and you are moving quickly.

Add the carrots to the mix and let them saute for about a minute.

Thereafter, add the prawns and let them cook till they have turned opaque and the color has turned orange-pink.

Now shift the ingredients to the sides of the wok, making a hollow round space in the middle. Here, add the eggs and quickly scramble them around. Let them form into little cooked bits.

Add a dash of soy sauce or vinegar if you prefer. As per your taste, you can also add some Schezwan sauce. If you are not using any sauce, sprinkle salt and black pepper as per your taste.

Finally, add rice and toss it around well. Keep the ingredients moving so the rice fries well but doesn't stick to the wok. Take it off the heat in a couple of minutes when the mix has come together and the rice seems done.

Serve hot with a garnish of scallions.
Like we have already mentioned, the recipe is customizable. So if you do not feel like having eggs or prawns, some other options to consider are chicken breast, Chinese sausages, ham, bacon bits, spam, and beef steak.
Similarly, some vegetables you can add are mushrooms, green peas, bell peppers, french beans, cabbage, purple cabbage, celery, or bok choy.
If you are substituting any of the above ingredients for the ones mentioned in the recipe, make sure they cook enough in the wok before you add the next ingredient.
If you want to experiment with sambal for an added zing, fry the sambal paste before the vegetables.