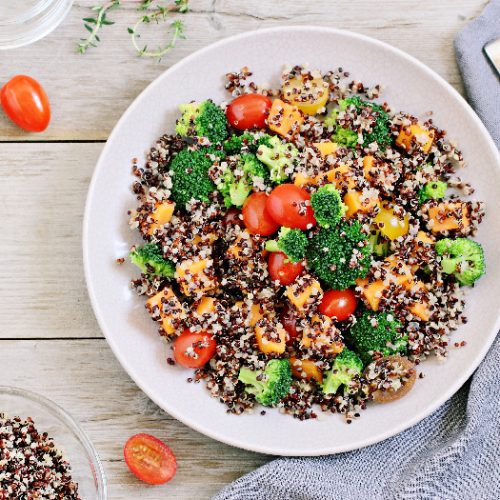 Print Recipe
Foolproof Fluffy Quinoa Recipe
This recipe will give you fluffy quinoa that is neither too mushy nor too dry. You can make this into a salad, a meal bowl, or a pilau.
1

cup

quinoa

red, black, or golden

1 3/4

cups

water

1

tsp

olive oil

1/2

tsp

salt

or to taste
Wash the quinoa in a fine-mesh strainer under running water. Wash the grains thoroughly, rubbing and rinsing it. This is important to take away the slight bitterness in the grains.

Heat the olive oil in a deep pan under medium-heat till just hot, but not too hot. Tip the washed quinoa and keep stirring till the water has evaporated and you have lovely toasty grains.

Add the water and bring to a rolling boil. Add salt and lower the heat. Cover the pan and let the grains cook for 15 minutes.

At the end of 15 minutes, the water should be completely absorbed. Remove the pan from heat and let it stand covered for 5 minutes.

After 5 minutes have passed, open the lid and use a fork to fluff the quinoa. The grains should separate and fluff up easily. You can serve it hot or cold as per your liking.
Washing the quinoa thoroughly is key to ensuring that there is no hint of bitterness later. 
You can use vegetable or chicken broth in place of water for added flavor. 
We have used slightly less than the usual proportion of water in our recipe. If you find it too dry, bring it up to 2 cups. But keep in mind that keeping the pan covered is very important in ensuring that the water is completely absorbed and has the time to fluff up.