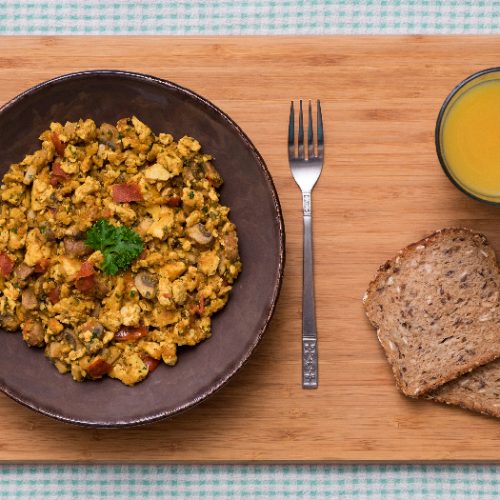 Print Recipe
Quick and Easy Tofu Scramble Recipe
Have you recently entered the world of veganism or looking for more plant-based recipes for breakfast? Fret not because this tofu scramble is super easy to make and packed with nutrition!
Drain the tofu and pat dry with a fresh dishtowel.

Put the tofu in a huge bowl and use a fork to mash it into irregularly shaped pieces.

Stir in the olive oil, turmeric powder, salt, and pepper.

In a non-stick pan, add garlic powder and cumin. Cook on a medium flame for a minute until it turns aromatic.

Mix in the tofu and increase the flame to a medium-high.

Cook for about 5-6 minutes, stir it occasionally until it is completely heated turning lightly brown.

Remove from heat and serve immediately with toasted bread and top it with fresh parsley.
Pressing the tofu is very important as it allows the tofu to absorb more flavors and seasonings that are added. The more water you get out, the better-flavored tofu you get.
If you want a soft and minimal texture, use soft tofu. But if you want it to be firm and chewy, use extra-firm tofu. 
Tofu scramble also tastes great with all sorts of vegetables mixed in.
Omit oil if desired to make the tofu scramble oil-free.
If you're cooking it oil-free, use some water or vegetable stock instead.