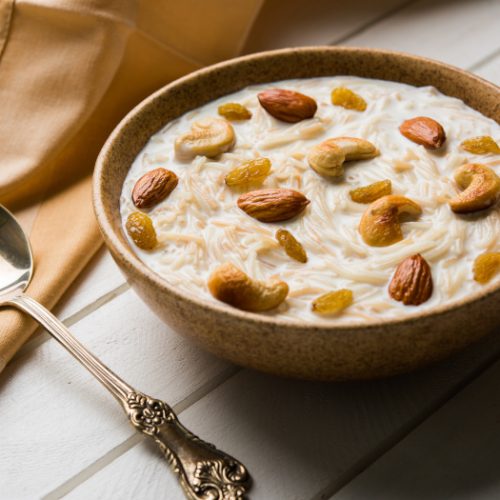 Print Recipe
Delicious Sheer Khurma Recipe
A creamy milk pudding made with dates and vermicelli
6

cups

milk

full fat

1/4

cup

sugar

2

tbsp

ghee (clarified butter)

1.5

cup

broken vermicelli

16-20

dates

seedless, chopped

16-20

cashew nuts

chopped

16-20

pistachios

unsalted, chopped

16-20

almonds

chopped

2

tbsp

chironji or charoli

2

tbsp

golden raisins

1

tsp

cardamom powder

1

tsp

rosewater

optional
You can begin with roasting the vermicelli in ghee till it is golden brown. Remove and keep aside.

Add all the dried fruits in the same ghee and roast for 3-4 minutes. You can keep these aside too.

To make the sheer khurma, heat the milk in a heavy saucepan till it comes to a boil. Then, turn the heat down to a simmer for 8-10 minutes till the milk thickens.

Now add the roasted vermicelli, chopped dates, sugar, and mix well. Let the vermicelli and dates cook and soften in the milk. This should take another 8-10 minutes.

You will notice that it will become a thick mixture. Add the cardamom powder and dried fruits and mix well. You can keep a few dried fruits aside for garnishing.

Turn off the heat and check for sweetness. You can add more sugar If you feel necessary. Usually, the dates impart a natural sweetness to the sheer khurma.

Add the rosewater and mix well. You can serve the sheer khurma warm, cold, or chilled. Garnish it with more dried fruits and even rose petals, if you have them on hand.
You can use your favorite dried fruits if you don't have the ones mentioned in the recipe. Go ahead and experiment with pine nuts and dried cranberries. They may not be traditional but the recipe is quite forgiving. 
If you are using dried dates, soak them in water overnight. 
You can use sweetened condensed milk in the recipe to add creaminess. In that case, half the milk quantity and add sugar only if needed. If the sheer khurma is too thick, add a little hot water to adjust the consistency to your liking.