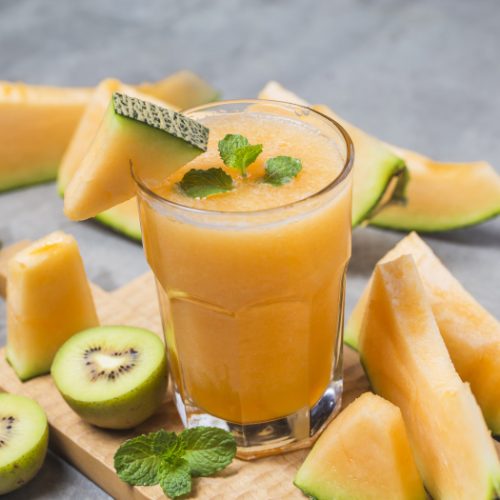 Print Recipe
Refreshing Cantaloupe Juice Recipe
Enjoy the summer breeze with an ice-cold glass of cantaloupe juice!
Start by cutting the cantaloupe into two halves. Now using a spoon, scoop out the seeds from both the halves.

There are two ways to remove the flesh to make the juice. You can scoop it using a spoon and keep adding the pieces to the blender or you can slice the melon into wedges, peel the skin, and then cut it into cubes.

Once you have added all the cantaloupe pieces in the blender, add a couple of ice cubes. If you want to have a smoothie-like consistency, add milk to it. You can add sugar if you like having sweet juices.

Blend the ingredients until you see a smooth consistency. Your cantaloupe juice is ready!

Pour it into glasses. Top it with mint leaves and stick a cantaloupe cube on the rim of the glass to enjoy an exotic-looking drink.