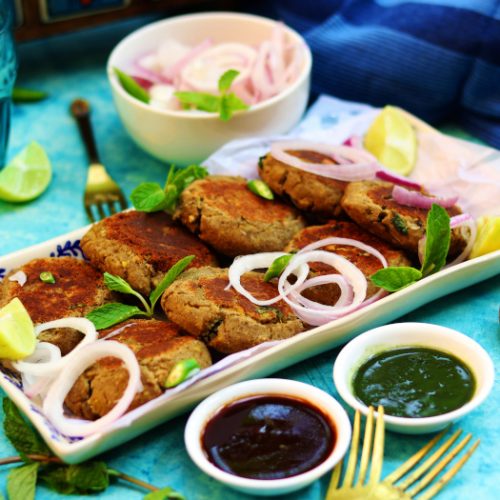 Print Recipe
Yummy Mutton Shami Kebab Iftar Recipe
A great snack for every occasion that can be devoured with sauce and some garlic mayo!
400

gms

minced mutton

1/4

cup

Bengal gram dal

soaked for 2 hours

6

garlic pods

2

-inch

ginger pieces

1/4

cup

coriander leaves

finely chopped

1/4

cup

mint leaves

finely chopped

1

tsp

oil

2

tsp

fennel seeds

1

tsp

peppercorns

3

dry red chilies

1

whole cardamom

2

cloves

1

tsp

salt

2

tbsp

oil

for shallow frying

300

gms

panko breadcrumbs

for coating
Heat oil in a pan. Add minced mutton, gram dal, garlic, ginger, cardamom, peppercorns, dry red chilies, cloves, fennel seeds, coriander leaves, and mint.

Stir and cook over medium flame. Keep stirring the mutton until the moisture is completely absorbed.

Stir and cook it for about 15-20 minutes till the mutton is well-cooked. Check if it is cooked by pressing the dal and minced mutton.

Bring the mutton mixture to room temperature and add it to a blender and grind it to a fine, soft mixture.

Shift the mixture to a bowl and knead it for 2 minutes to make a soft dough.

Make a lemon-sized ball, gently press in your palm, make a round shape, and set it aside.

Add the oil to a pan and heat on low-medium flame, place the kebabs gently, roll it in breadcrumbs, and fry it for 2-3 minutes till the kebabs turn golden-brown in color.

Transfer on a clean paper towel plate to soak the oil. Serve it with your favorite sauces or a coriander-mint chutney!
You can refrigerate the dough for 1-2 hours so it binds well for frying.
You can also dip the patties in whisked eggs so that it does not crack or fall apart while frying.
Cook the minced mutton for 20 minutes stirring continuously so that it browns quickly and does not stick to the pan.