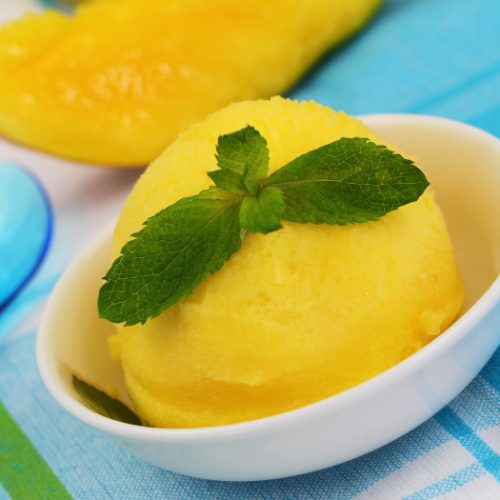 Print Recipe
Mango Sorbet
This mango sorbet recipe is a quick-and-easy method to make summers more fun. Falling on a spectrum between ice cream and a slushie, sorbets are a fun way to add fruits to your diet in a manner that makes your inner child happy.
2

mangoes

peeled and diced

1

cup

simple syrup

1

lime

juiced

honey

optional
Start on your mango sorbet by freezing the peeled and diced mangoes for a couple of hours.

Take out this batch of mangoes and put them in a blender. Add the lime juice and simple syrup to it. Blend this till you achieve a mango purée. If you don't have simple syrup handy, you can add honey instead.

Transfer this purée to a metal or plastic box suitable for freezing. Smooth over the contents and place it in the freezer for 4 to 8 hours. It is advisable to lightly whisk this mixture every couple of hours to avoid ice formation and ensure a smoother texture.

Once ready, scoop out the sorbet with an ice cream spoon into a bowl. Garnish with a sprig of mint, if you like.
If you are feeling adventurous, you can also top your mango sorbet with a dash of chili powder and salt. Candied citrus peels or slivers of salted pistachios also work well.
If you happen to crave this sorbet at a time of the year when you can't find fresh mangoes, remember that you can also freeze mango pulp to make fresh sorbet. Alternatively, you can find tinned mango pulp at your local stores.