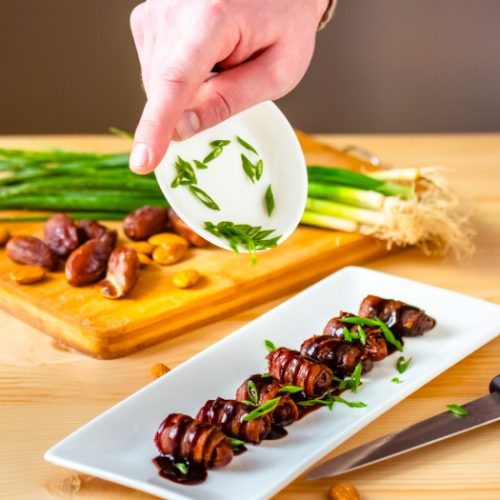 Print Recipe
Bacon-Wrapped Dates: An Easy Appetizer Recipe
Here's a delicious 3-ingredient appetizer recipe that's perfect for a party, family get-together or potluck!
16

ounces

of bacon

preferably not too thin or thick

25

Medjool dates

4

ounces

of goat cheese or any other cheese of your choice

25

toasted almonds

optional
To make bacon-wrapped dates, heat the oven to 400°F. Use a parchment paper or a silicone baking mat to line the baking sheet. Set it aside once done.

Thereafter, take each of the dates and slice it open gently in the middle to remove the pit using a small paring knife. Using your fingers, you can open the gap slightly.

Now use a spoon to fill the pockets in the date with goat cheese or any other cheese you would like to add. You can use the back of your spoon to stuff the cheese into each of the dates properly. In case, you want to put a toasted almond inside the gap, stuff it in along with the cheese and close the date properly with your fingers.

Once done, cut strips of bacon and wrap them around each of the dates in such a way that they are properly encompassed. Now secure the entire ensemble with a toothpick that was earlier soaked in water. Repeat this for all the dates.

After you're done stuffing and wrapping all the dates, place them on the baking sheet, evenly spaced out from one another. Now allow them to bake for 15 minutes.

After 15-20 minutes, take the dates out, flip them over, and put it inside the oven again for the same amount of time. Closely watch the dates. Once you see the bacon crispy and well cooked, you'll know your appetizers are done and ready.

Now that they're ready, transfer them onto a plate. Use a paper towel to remove the excess oil and greasiness that will ooze out of the bacon strips.

You can serve them once they have cooled down with the cocktail or a non-alcoholic drink of your choice.
You can prepare this dish a day in advance and keep it refrigerated. Ensure that it's properly covered though when kept inside the refrigerator. 
You can substitute the dates with figs, if you want to and follow the same recipe.
You can substitute the cheese with cream cheese mixed with different herbs to enhance the flavor. 
You can use toasted or candied walnuts instead of toasted almonds. This will give it a nice crunch. 
If you want it to be paleo-friendly or meet the Whole 30 Foods criteria, use sugar-free bacon. 
If you want the dish to be dairy-free, do away with the cheese. 
We have used Medjool dates, you can feel free to use other kinds of dates such as Deglet Noor.