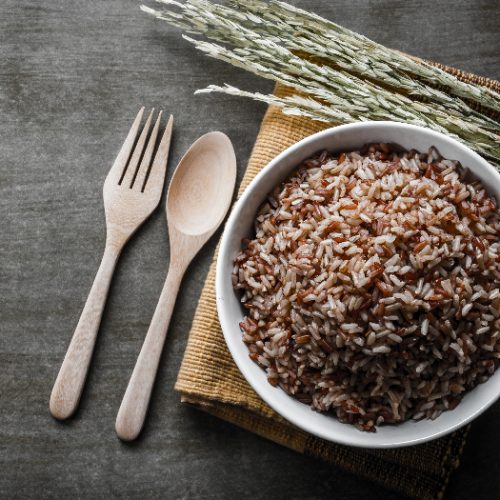 Print Recipe
How To Make Perfectly-Cooked Brown Rice: Easy Recipe
Get the perfectly-cooked brown rice to go with a side dish of stir-fry veggies and a steak of meat!
1

cup

brown rice

medium or long-grain

2

cups

of water

1

tsp

olive oil

1

tsp

salt
To make extra fluffy brown rice, first, start by rinsing it. Take a fine-mesh strainer and put the rice in it. Rinse it thoroughly and rigorously under cool water. It is okay to have a bit of moisture on the rice.

If you want, you can choose to toast the rice. This step is, however, optional. In a small pan, take some oil and warm it over medium heat. Add the rice and toast it until it becomes dry and starts to appear a bit toasted on the tips. You will also begin to get a nutty fragrance. Once that happens, you'll know that the rice is well toasted. Ensure that this process is done on medium-heat otherwise you could end up burning the rice.

If you want to avoid toasting the rice, skip to this step directly. Place the rice in a saucepan and gradually pour the water into the pot along with the rice. The water will steam and bubble first if you decide to toast the rice before this step. While the water continues to steam, add a pinch of salt and stir properly.

Thereafter, allow the water to boil over low heat so that the water is just simmering. Allow the rice to cook this way for 45 minutes. Do not remove the lid of the pot to check if the rice is cooking.

Once you come to believe that the rice is almost ready, uncover to check if the water has been fully absorbed. If you find a little bit of water at the bottom of the pot, it is okay. However, if you find more than a teaspoon of water there then drain it off immediately. The rice should be chewy and tender if you touch it at this point in time. If for some reason you find the rice to still remain crunchy in parts, that means that it isn't fully cooked. That also means that you need to add more water and continue cooking the rice. After 10 minutes of cooking it on low heat, you can check if the rice is done.

Once the rice is perfectly cooked, take it off the heat and allow it to sit that way for nearly 15 minutes. This is again a very important step as it doesn't let the rice become too sticky and allows it to loosen up a little. You can then use a spoon or a fork to fluff up the rice. You can then transfer it to a serving dish. Serve it hot along with some stir-fried vegetables. Enjoy!
You can refrigerate leftover brown rice for nearly 5 days if put in an airtight container. 
You can also put it in proper zip-lock bags and airtight containers and freeze it for up to 3 months.