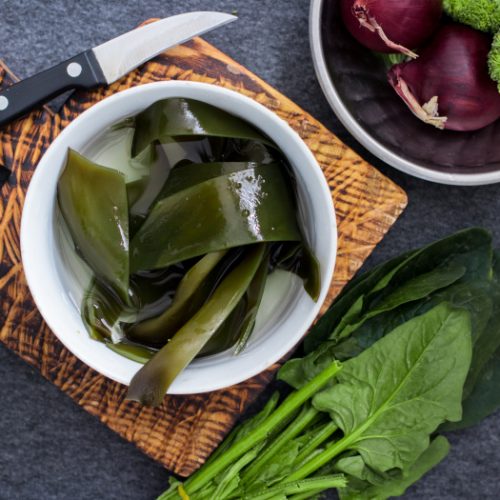 Print Recipe
Healthy Kombu Seaweed Salad Recipe
Give your taste buds a surprise with this quick and tasty kombu salad recipe!
1

cup

dashi kombu

dried kelp

2

tbsp

honey

extracted or strained

2

tbsp

soy sauce

shoyu

2

tbsp

ginger root

raw

3

tbsp

white rice vinegar

2

small carrots

julienne

2

small cucumbers

with peel, julienne

2

tsp

sesame seeds

dried
Place dried kombu in warm water for 20 minutes and bring it to a boil.

Reduce the heat to medium-low, and simmer until the kombu has softened.

Drain and let it cool until easily handled.

Slice the rehydrated kombu into skinny strips.

In a bowl, whisk soy sauce, honey, ginger, and rice vinegar together. Add julienned carrots, cucumber, and sesame seeds.

Let the mixture refrigerate until the flavors blend well.

Garnish it with sesame seeds and serve.
If you want a protein-packed meal, add some silken tofu.
Kombu needs to be brushed clean and trimmed to avoid irregular spots. 
Do not try breaking the kombu into pieces as the edges become slimy.