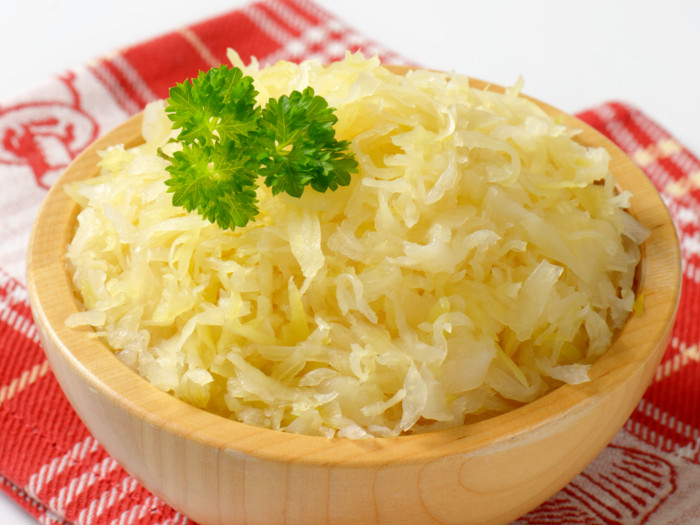 Print Recipe
Homemade Sauerkraut Recipe
Give a little time to your sauerkraut every day. You will have a wonderful jar of sauerkraut at the end of five days.
14

cups

cabbage

shredded

3

tbsp

flaky sea salt

or

6

tbsp

coarse crystal salt

1

tsp

peppercorn

optional

1

tsp

caraway seeds

optional
Start with sterilizing everything. Clean your hands, mixing bowl, and mason jars thoroughly. We recommend rinsing your bowl, chopping board, and the jars with hot water once and letting them dry naturally before beginning. You will need a bowl that is large enough to take all the cabbage with plenty of room on top. You will also need two one-quart jars with wide mouths.

Put the cabbage in the bowl. Now put the salt on top, spreading it over the cabbage. Massage the salt thoroughly into the cabbage for 10 minutes. Wait 5 minutes and then repeat the massage for 5 minutes.

The cabbage should soften and reduce by now. You will also have a briny liquid. Mix in the caraway seeds and the peppercorns.

Transfer the cabbage to the mason jar, pressing down firmly with a wooden spoon (make sure it is sterilized). The brine will come on top. Make sure that there is an inch of space on the top.

Seal the jar and keep in a dark, warm place. While the cabbage is fermenting, check on it once day. Open the lid to allow the air to escape. You will see air bubbles coming to the top. Press down the cabbage with a sterilized wooden spoon or glass. Reseal and put it away.

Ideally, you should leave it for as much as 5 weeks. But it will probably be ready by 5 days to 2 weeks. You will know it's done when you don't see bubbles on the top when you open the jar.


Your sauerkraut is ready! Serve it with the classic combination of sausage and mustard.
The salt to cabbage proportion should be 3 1/2 tsp salt to 1 pound shredded cabbage. But we would recommend that you do a taste test after your cabbage has softened. Keep in mind that it is supposed to be briny.
Look out for any signs of mold or discoloration. It's a sign that your sauerkraut is going bad.  
Fermentation depends on the environmental temperature, ideally above 65 degrees Fahrenheit. Too cold and it will not ferment, too hot and it will develop mold.