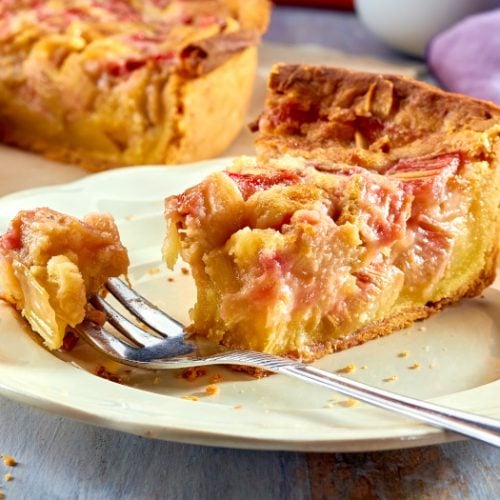 Print Recipe
Creamy Rhubarb Custard Pie Recipe
A blend of delicious rhubarb crumble and rich custard is gluttony packed in one. Serve it at your next cookout and enjoy it with your folks!
In a mixing bowl, combine the 1 1/4 cups of flour, add 1/2 teaspoon of salt, and 1 teaspoon sugar. Whisk thoroughly.

Now, add 8 tablespoons of cut butter and mix with the flour mixture using your fingers or a pastry blender.

Pour 4 tablespoons of chilled water and bring the dough together. Add more chilled water, if needed. Pat the dough with some flour and press until it is smooth. Flatten the dough and refrigerate for half an hour.

Heat the oven to 200ºC. Remove the dough and roll out into a circle. Line a 9-inch pie plate with the dough and crimp as desired.

Now, in another large bowl, combine diced rhubarb, sugar, salt, flour, and nutmeg. Mix them well.

Whisk eggs in a bowl with milk. Add the mixture to the rhubarb and keep stirring until it blends well.

Empty the rhubarb mixture into the pie-crust pan. Sprinkle butter pieces.

Let it bake for 45 to 55 minutes, until set or golden-brown.

Remove the pie pan and let it cool on a rack completely before cutting it into slices.

Serve quickly with a huge dollop of fresh whipped cream or a readymade whipped frosting.
A rhubarb custard pie can be made with a store-bought gluten-free pie crust. You can use cornstarch (tapioca or potato starch) instead of all-purpose flour.
To save time, you can use a store-bought pie crust for the base. 
As a non-dairy alternative, you can use canned coconut milk instead of heavy cream.
You can use either light or dark-brown sugar, or even coconut sugar if you refrain from using granulated sugar. 
You can also make a different variation, such as a strawberry rhubarb custard pie.