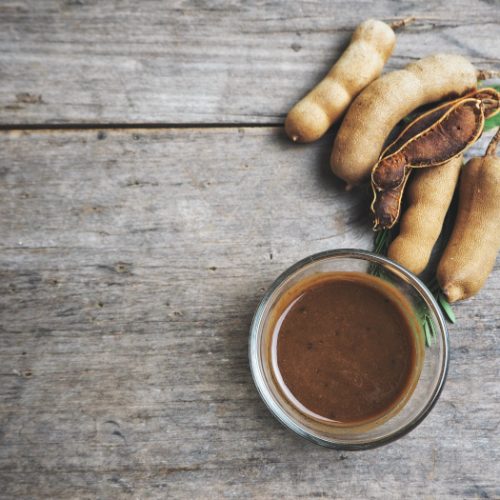 Print Recipe
Homemade Tamarind Sauce Recipe
An easy-to-make sweet, spicy, and tangy tamarind sauce, which you can use to devour crispy fried snacks!
To make tamarind sauce, first, remove the tamarind out of the outer hard shell. Rinse it under the running water to ensure that no bit of the shell remains on the fruit.

Now take a saucepan and add two cups of water to it. Transfer the tamarind into it and bring it to a rolling boil. You will see the tamarind gradually dissolve in the water. Once done, separate the seed from the fruit by using a potato masher. If you find the liquid to be quite thick, then add more water and gradually lower the heat. This in total should not take more than 7 minutes or so.

Now use a sieve to pour the mixture into a bowl. The husk and the seed of the fruit will be left behind. Once done pour it back to the saucepan.

Now, In the saucepan, add the above-mentioned ingredients in the said proportions to the tamarind mixture and bring it to a medium boil. This will help the sauce to thicken. You need to decide what consistency you want your sauce to have. If you think it is too thick, add more water but that could alter the taste and you may then have to add more of the ingredients to get the desired taste. Once, it is done, allow the sauce to cool and you can then store it in sterilized jars in the refrigerator.
You can substitute sugar with honey or jaggery. Some people may also use pitted dates for flavoring. 
You can change the spices according to your preference. Some people like to add ground cloves and pepper too instead of cayenne pepper. Feel free to experiment with it.
Some people like to add citric acid to it to preserve it for a longer duration. It also acts as a flavor enhancer.