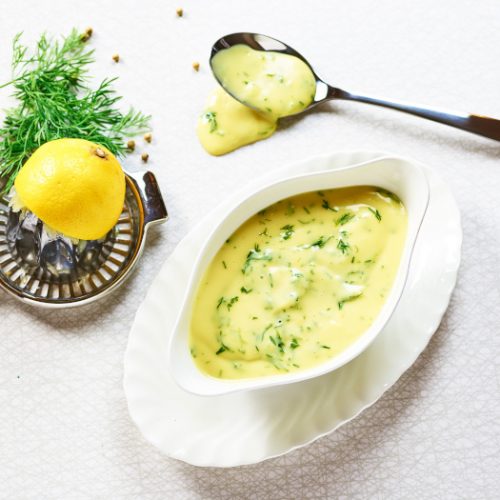 Print Recipe
Delicious Lemon Butter Garlic Sauce Recipe
This tangy, creamy, and downright delicious lemon butter sauce can single-handedly uplift a boring dish and your mood as well!
3

medium-sized

freshly squeezed lemon

2

small

shallots

finely chopped or minced

1/2

cup

fresh cream

100

gram

unsalted butter

melted

2

large

garlic cloves

finely chopped

1

tbsp

of fresh thyme

finely chopped

2

tbsp

of fresh parsley

finely chopped

salt & pepper

as per taste
To make lemon butter sauce, take a small saucepan and melt butter over medium to low heat.

Allow the butter to cook in the saucepan without burning it. Keep swirling the pan to ensure the butter doesn't burn as that can easily happen within seconds if left unattended.

Now as the butter turns to a golden brown color and starts to give out a nutty aroma, keep swirling the saucepan for the next 5 minutes or so.

Once that happens, take the pan down the heat and quickly stir in the herbs ( in this case, finely chopped thyme and parsley sprigs), lemon juice, and salt and pepper as per taste.

If you want the sauce to be thicker, add 1/2 a cup of fresh cream into it. This will make the sauce thicker and creamier. After it's made, you can serve it over pasta, salmon, or sauteed vegetables to dramatically enhance their flavor.