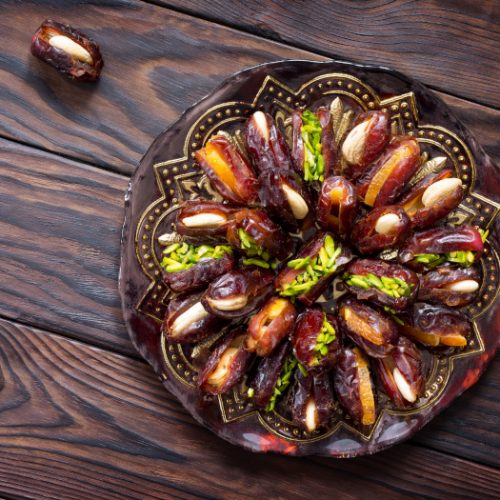 Print Recipe
Easy Stuffed Dates Recipes, 3 Ways
You can make sweet or savory stuffed dates as a healthy snack or serve them as part of an elegant date night meal. These 3 recipes are easy and can be customized as per your filling preferences.
Goat Cheese Stuffed Dates
Peanut Butter Stuffed Dates, A Vegan Delight
4

oz

peanut butter

3

tbsp

dark chocolate chips

coconut flakes

optional
Dry Fruit Stuffed Dates
1/2

cup

dried fruits

assorted
For stuffed dates of any kind, you will need to remove the pits from the dates. Make a lengthwise slit in each date. Remove the date pit and make a small pocket for your choice of stuffing. It's best to make an assembly line for stuffing dates for convenience.
Goat Cheese Stuffed Dates
Once all the dates are pitted, use a small spoon to add the softened goat cheese. Season with paprika, sea salt flakes, and freshly ground pepper for a sweet and savory treat. You can drizzle a little honey on it too if you want. Enjoy!
Peanut Butter Stuffed Dates, A Vegan Delight
In the pitted dates, add 2 teaspoons of peanut butter each. Make sure the peanut butter is at room temperature so that it is easy to stuff neatly.

Top with chocolate chips for a kid-friendly treat. You can also sprinkle coconut flakes or sesame seeds for a variation.
Dry Fruit Stuffed Dates
Stuff your favorite dried fruit into the pitted dates. The best choices are apricot slivers, walnuts, almonds, chopped pistachios, macadamia nuts, and pecans.

For an additional treat, you can dip the dates in melted chocolate and refrigerate. These make for pretty snacks to serve during the holidays.