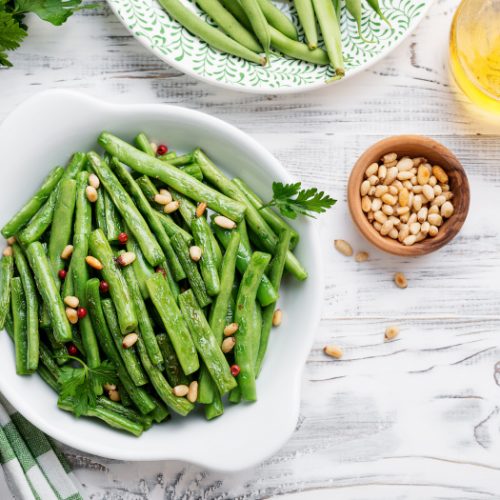 Print Recipe
Buttery Garlic Sauteed Beans Recipe
Enjoy these buttery garlic sautéed green beans tossed around in butter and garlic! These simple yet delicious beans make for a perfect side dish to any meal!
1

tbsp

butter/ olive oil

3

garlic cloves

finely minced

1

lb

green beans

with the ends cut and preferably stringless

1/2

tsp

salt

(you can alter it as per your taste)
To make sauteed green beans, first, take a large pan and put it over high heat. When it has reasonably heated up, add olive oil and green beans. Note that if you are using butter, ensure that the heat is somewhere between medium to low as butter can burn very easily.

Now, cook the green beans, while occasionally tossing them until they start to soften and blister in patches. Once you see them turning black in a few spots turn off the heat. This should ideally not take more than 5 minutes.

Once done, add minced garlic to the pan and cook it along with the beans. The fine raw garlic pieces will mesh well with the beans and butter/oil. Keeping tossing the beans and mixing the ingredients well for about a minute or more till you get a strong garlicky aroma. Once done, remove the pan from the heat and toss salt all over it and mix well so that it is evenly distributed. You can also add a dash of pepper if you like. Now serve it hot with soup or any main course meal such as roast chicken or beef. Enjoy!
Some people like to combine butter and extra virgin olive oil together. This is to get the flavor of the oil along with the cooking temperature of the butter. This will ensure that the beans and garlic are cooked to perfection without burning them. 
 You can trim the ends of the green beans and blanch them 2-3 days in advance. All you'll need to do is refrigerate them properly by keeping them in a ziplock bag or an airtight container. 
You can change the dressing of the sauteed beans as per your preference. You can make it tangy, spicy, cheesy, or nutty. You can replace the garlic flavor with lemon juice, cheese, chili flakes, or toasted nuts. Be experimental with this dish if you want.