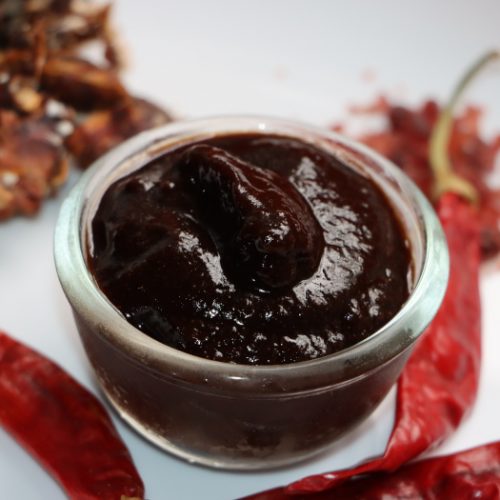 Print Recipe
Homemade Zesty Tamarind Chutney Recipe
Your snacks are incomplete without this flavorful chutney. Use it as a dip or sauce and we bet you will ask for more!
1

cup

tamarind

seedless

1

tsp

red chili powder

1

cup

jaggery

cut into small pieces

1

tsp

cumin powder

roasted

1

ginger

grated

salt

to taste

1

tsp

coarse fennel powder

1

tsp

black salt

optional
Soak the seedless tamarind in three cups of warm water for 30 minutes.

Mash the soaked tamarind with your hands and strain through a strainer.

Empty the pulp into a saucepan and add the crushed pieces of jaggery. Let the mixture boil and cook on low flame.

Add the spices and mix well. Taste for sweetness and add jaggery according to the sweetness preference.

Once cool, transfer the chutney into airtight containers and store in the fridge for up to three months.
You can substitute jaggery with dates.
To make it more flavorful, temper the dip with chopped green chilies and garlic.
Dilute the chutney accordingly before serving to increase its shelf life.
Add dry ginger powder instead of grated ginger for a different taste.