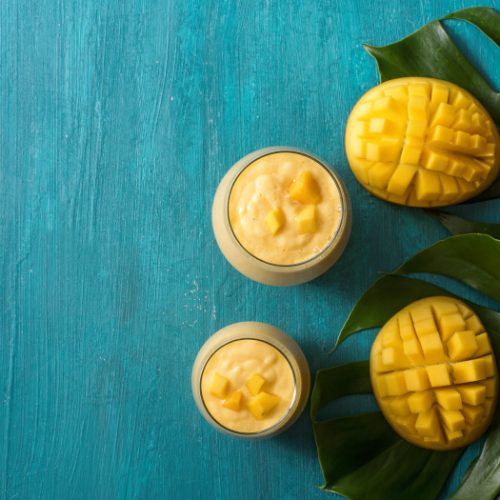 Print Recipe
Creamy and Thick Mango Lassi Recipe
A deliciously creamy Indian drink that is easily made at home using just 5 ingredients in less than 5 minutes.
To make mango lassi, add the mango pieces, yogurt, sugar, cardamom powder, and ice cubes in a blender and blend them together. If you find the consistency to be too thick, you can dilute it a little by adding milk. Blend the ingredients altogether till you get a smooth consistency.

Once done, taste the lassi with a spoon and add milk or the other ingredients as per your preference.

Serve the cool lassi in glasses once you get the desired taste and consistency. You can garnish the drink with mint leaves, saffron, or dry fruits like pistachios and almonds.
You can make a vegan variant by using unsweetened plant-based yogurt and vegan milk to manage the consistency. 
You can use powdered jaggery or honey instead of sugar if you like. 
You can also use canned mango puree, incase ripe mangoes are not available.
If your mango isn't sufficiently ripe, the lassi will turn out to be too tart and you'll have to accordingly add more sugar or honey than you would like.