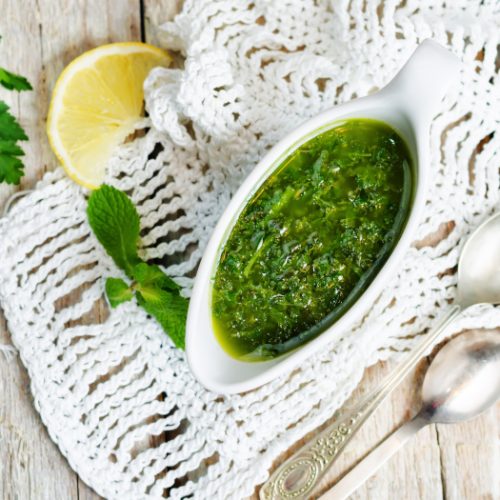 Print Recipe
Refreshing & Tangy Mint Sauce Recipe
Enjoy your roast lamb dinner with this amazing mint sauce and let its freshness keep wanting you for more!
1/2

cup

mint leaves

finely chopped

1/2

cup

malt vinegar

1

tbsp

castor sugar

1/2

tsp

salt

5

tbsp

boiling water
Gather all the ingredients. Chop the mint leaves roughly into fine pieces.

Place the chopped leaves into a jug, sprinkle some sugar, and pour over the boiling water. Stir it, cover with food wrap, and keep it aside to cool.

Once it is cool, stir the vinegar and taste the sauce. If it tastes too strong, add little water to dilute it. If not, then add more mint. Cover again and keep it aside to rest for an hour at least. The mint flavor seeps in well into the sugar-vinegar as it sets.

Use the mint sauce as per your liking with your favorite roast meat or salads.
If you have garden mint, check the leaves to ensure no insects or ladybugs are hidden beneath. 
The mint sauce remains fresh in the refrigerator for a couple of weeks if decanted into a screw-top jar.
You can pair the mint sauce with lamb chops, shanks, cutlets, or add a spoonful to an Irish stew.
The best mint for mint sauce is a common garden mint. Avoid choosing spearmint or chocolate mint.
The ideal vinegar for a mint sauce recipe is white wine vinegar. All flavored vinegar should be avoided. It is advisable not to use malt or dark kinds of vinegar because of its strong taste.