Nutritional Value of Beef: The use of lean and clean beef is advisable to include in any diet. It could be as an ingredient in stews or traditional recipes. Beef is a popular meat that is rich in protein, although being a red meat always makes it seem like a bad food when it comes to studies and researches.
However, it has also been established that lean beef adds to health benefits related to the heart and the prevention of cancer. As a matter of fact, no one can deny that beef is an important source of protein.
Nutritional Facts of Beef
Beef is found to be very rich in zinc, selenium, phosphorus, potassium and magnesium. Sodium and copper are found in good quantities as well. Calcium and manganese are also present in small quantities.
Vitamin Content of Beef
Beef is one of the best sources for vitamin B12, vitamin B6, niacin and riboflavin. However, it is also rich in thiamin and pantothenic acid. Small amounts of vitamin E, vitamin K and folate are also present.
Advertisement

Caloric Content of Beef
The calorie count of beef per 100 grams is 155. It is a meat product which is higher in protein and moderate in fat.
Health Benefits of Beef
Beef is good for both bones and teeth. It enhances immunity against infections of the ears and prevents blood vessel walls from succumbing to damage. Moderate consumption of lean beef is altogether good for cardiovascular health and in preventing cancer risks.
Back to Nutritional Value of Food
Nutritional Value of Pork
Pork remains in the position of the most widely consumed meat in the world to this day, since pigs are being bred in almost all major parts of the world. It is a rich source of proteins and fats. This meat is often used to make sausages, ham and bacon, which are all essential parts of people's daily nutrients requirement in many countries. No doubt, pork has always been an energy-packed food.
Nutritional Facts About Pork
Pork has a high mineral content of phosphorus, selenium, sodium, zinc, potassium and copper. The two minerals which are present in good quantities are iron and magnesium, while calcium and manganese are found in trace amounts only.
Vitamin Content of Pork
Pork is highly enriched with vitamin B6, vitamin B12, thiamin, niacin, riboflavin and pantothenic acid. However, vitamin A and vitamin E are found in very small amounts as well.
Caloric Content of Pork
The caloric value of pork is 458 per 100 grams. This is quite high when compared to other animal products like chicken.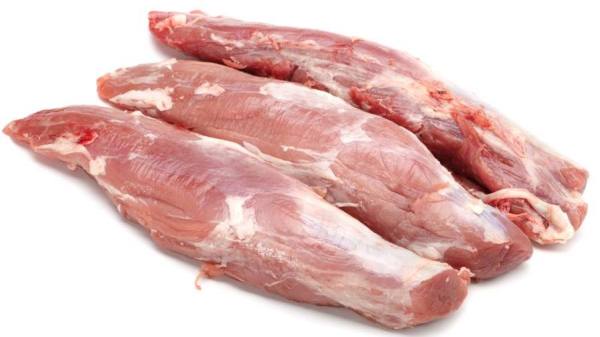 Health Benefits of Pork
Consumption of pork in moderate quantities is helpful for gaining energy. It is good for the skin, eyes, nervous system, bones and for mental performance. Intake of pork also ensures better immunity in the body due to the presence of essential antioxidants.