The impressive health benefits of apple cider vinegar (ACV) include its ability to regulate blood sugar levels, boost weight loss, improve gut health, lower cholesterol levels, aid in detoxification, and enhance skin health. It also speeds up metabolism and provides relief from high blood pressure, inflammation, pain, diarrhea, depression, and asthma.
What is Apple Cider Vinegar?
Apple cider vinegar is a type of vinegar made from ripe, freshly crushed, apples. The apples are fermented and passed through a rigorous process to develop the final vinegar product. In the first step, the crushed apples are exposed to yeast to start the alcoholic fermentation process, and the sugars are turned into alcohol. In the second step, bacteria are added to the alcohol solution which further ferments the alcohol and turns into acetic acid.
Nutritional Facts
Apple cider vinegar has only 3 calories per tablespoon (15 grams) and almost no carbohydrates. As per the USDA National Nutrient Database, it contains small amounts of potassium, magnesium, phosphorus, and calcium. Like apple juice, it may contain pectin, vitamins B1, B2 and B6; biotin, folic acid, niacin, pantothenic acid, and vitamin C. Acetic acid is the main active compound which is responsible for its powerful numerous health benefits including weight loss. The amino acids in this vinegar are effective antiseptics and antibiotics, whereas the acetic acid content in the vinegar can aid in the treatment of various fungal and bacterial infections.
Unfiltered, organic apple cider vinegar contains a colony of bacteria, referred to as the "mother", which has a cobweb-like appearance. This bacteria is gut-friendly and is often considered the most nutritious part of the ACV.
Nutrition Facts

---

Vinegar, cider

Serving Size :
Nutrient
Value
Water

[g]

93.81
Energy

[kcal]

21
Protein

[g]

0
Total lipid (fat)

[g]

0
Carbohydrate, by difference

[g]

0.93
Fiber, total dietary

[g]

0
Sugars, total

[g]

0.4
Calcium, Ca

[mg]

7
Iron, Fe

[mg]

0.2
Magnesium, Mg

[mg]

5
Phosphorus, P

[mg]

8
Potassium, K

[mg]

73
Sodium, Na

[mg]

5
Zinc, Zn

[mg]

0.04
Vitamin C, total ascorbic acid

[mg]

0
Thiamin

[mg]

0
Riboflavin

[mg]

0
Niacin

[mg]

0
Vitamin B-6

[mg]

0
Folate, DFE

[µg]

0
Vitamin B-12

[µg]

0
Vitamin A, RAE

[µg]

0
Vitamin A, IU

[IU]

0
Vitamin E (alpha-tocopherol)

[mg]

0
Vitamin D (D2 + D3)

[µg]

0
Vitamin D

[IU]

0
Vitamin K (phylloquinone)

[µg]

0
Fatty acids, total saturated

[g]

0
Fatty acids, total monounsaturated

[g]

0
Fatty acids, total polyunsaturated

[g]

0
Fatty acids, total trans

[g]

0
Cholesterol

[mg]

0
Caffeine

[mg]

0

Sources include : USDA
Apple Cider Vinegar Benefits
The most impressive health benefits of apple cider vinegar are:
Weight Loss
Apple cider vinegar is an excellent therapy for losing excess weight. It works by making the body burn all the unwanted calories and getting the body's metabolism working at its best. It supports appetite control and fat burning in the body. According to a study published by a team of Japanese researchers in the Bioscience, Biotechnology, and Biochemistry journal, acetic acid, which is the main component in it, can help in weight loss since it targets body fat.
The body weight, BMI, visceral fat area, waist circumference, and serum triglyceride levels of the Japanese subjects were monitored after they were administered the vinegar. A significant reduction in their sugar levels was observed. It was thus concluded that a daily intake of vinegar could be useful in the prevention of metabolic syndrome by reducing obesity.
Prevents Acid Reflux
Gastroesophageal reflux disease, also called GERD or acid reflux, is a condition that takes place when there's a backflow of the food consumed, from the stomach into the esophagus, causing symptoms like nausea and heartburn. Dr. Zoe Yeh of Arizona State University published a study in which, it was stated that those who were administered with apple cider vinegar showed more than 75% reduction of acid reflux episode and an hour delayed reflux compared to those who were given antacid.
Blood Sugar Levels
The dietary fiber present in apple cider vinegar is extremely beneficial for maintaining proper blood glucose levels. According to a research report published in the American Diabetes Association Journal, by Dr. Andrea M. White, Department of Nutrition, Arizona State University, the USA, two tablespoons of diluted apple cider vinegar can reduce fasting blood sugar levels.
Apple cider vinegar may also significantly improve insulin sensitivity in those with either insulin resistance or type 2 diabetes. According to an animal study by Dr. Shishehbor, Dr. Mansoori A et. al, diabetic rats fed with apple cider vinegar for four weeks significantly reduced their blood sugar levels. However, more research and clinical trials are required.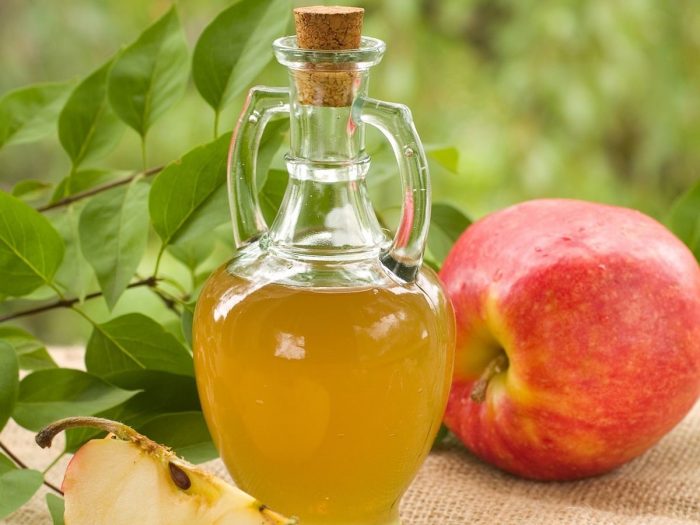 Reduces Cholesterol & Improves Heart Health
The vinegar contains acetic acid, along with chlorogenic acid, that is effective in reducing the LDL (bad) cholesterol levels and increasing the HDL (good) cholesterol levels, thereby protecting the cardiovascular system.. Dr. Meir J Stampfer, Dr JoAnn E Manson et.al, of Department of Nutrition, Harvard School of Public Health, Boston, USA, published a study in the American Journal of Clinical Nutrition, that showed that women who ate vinegar-based salad dressings had fewer chances of developing a heart disease.
Skin Care
Balancing your body's pH levels is imperative to maintain healthy skin, and apple cider vinegar can do wonders for your skin because of its moderate alkaline levels. The pH level of this vinegar is similar to the pH level of the protective acid mantle of the skin. An apple cider vinegar rinse can help restore the glow of the skin, restricts the dilation of skin pores, keeps your skin from becoming too oily or too dry by balancing the production of sebum, and improves the circulation of nutrients.
How to use:
Mix together one tablespoon of apple cider vinegar with two cups of water.
Moisten a cotton ball with the rinse and use it to wipe your face clean and dry.
Use of this vinegar may help ward off bacteria and shed dead skin cells. However, more scientific evidence and studies are required to support this claim.
According to Dr. Wang Y, Dr. Kyo S et al's (Division of Dermatology, Department of Medicine, University of California, San Diego, USA) report in the Applied Microbiology and Biotechnology journal, apple cider vinegar is a combination of lactic acid, citric acid, acetic acid and succinic acid, all of which have the potential to discourage the growth of Propionibacterium acnes, which is a bacteria that is responsible for the growth of acne.
Likewise, a study in the Journal of Cosmetic Dermatology stated that by using lactic acid to treat acne scars for three months resulted in the texture, pigmentation, and appearance of the skin to improve. Furthermore, it lightened the scars.
Hair Care
This vinegar is useful in dandruff control and balancing the pH level of the scalp. You may also try applying two to three spoonfuls of vinegar directly to the scalp and rinse it after five minutes or so. Avoid contact with eyes so as to not cause irritation. However, more scientific evidence and studies are required to support this claim.
Metabolism
It plays an important role in terms of speeding up the metabolism of the body. When diluted apple cider vinegar is consumed with a high-carbohydrate meal, it helps increase the feeling of fullness and help with weight loss by preventing overeating. This is confirmed by a study published by a team of Swedish researchers from Applied Nutrition and Food Chemistry, Department of Food Technology, Engineering and Nutrition, Lund University, Sweden in the European Journal of Clinical Nutrition.
Blood Pressure
A group of researchers from China, led by Dr. Na L, published a study in the European Journal of Nutrition, which showed that vinegar lessens the blood pressure in rats, which is a primary cause for heart diseases and kidney problems
Healthy pH levels
Raw apple cider vinegar helps the body maintain a healthy alkaline pH level and beat acidity and its unhealthy effects on the body. It also helps clean the blood during the oxidation process.
Relieves Pain
The arthritic condition of inflamed joints is due to the accumulation of toxic waste in the body. Natural apple cider vinegar can relieve pain in the joints and also curb the dangerous progress of the arthritic condition. However, there are no scientific studies that support this claim.
Diarrhea Symptoms
The pectin content in the vinegar helps treat diarrhea symptoms by forming bulk fibrous matter. The pectin also forms a protective coat for soothing the lining of the colon. Some say this miracle tonic can give relief as early as twenty minutes. So, 2 tablespoons of organic apple cider vinegar diluted in 8 ounces of warm water, three times a day, is a suggested remedy.
Also, as per research performed at the Nakano Central Research Institute of Nakano Vinegar Co. Ltd., the combined use of vinegar and sodium chloride is highly effective for the prevention of bacterial food poisoning.
Pet Care
The vinegar can be handy in terms of animal and pet care. In the case of cat care, vinegar can be used to clean the litter pan. Dr. Paul Chappuis Bragg, Patricia Bragg, in their book titled, 'Apple Cider Vinegar Miracle Health System', recommend diluting the vinegar with water and using it to bathe dogs. This can help treat various infections, and also repel insects and ticks. However, more scientific evidence and studies are required to support these claims.
Asthma
Traditionally, many people believe that apple cider vinegar helps to prevent chronic asthma by applying vinegar-soaked pads to the inner region of their wrist area. However, this hasn't been scientifically proven. National Asthma Council Australia, on the other hand, has stated that the only way that vinegar could help with asthma, is through a solution of naturally fermented white vinegar, which will work well to remove visible mold in one's home.
Anti-cancer Potential
Dr. Carol S. Johnston, Department of Nutrition, Arizona State University, USA, published a research paper in which he mentioned that this health tonic may aid in neutralizing the free radicals that have the potential to form cancerous growths. The beta-carotene content acts as an antioxidant and effectively neutralizes the free radicals formed through oxidation. The free radicals are harmful bodies that could cause major damage to blood cells.
Uses of Apple Cider Vinegar
Health Tonic: A tablespoon of apple cider vinegar (ACV) added to a glass of warm water can be taken as a tonic; it helps with bowel regularity and treats acid reflux. It also wards off seasonal allergies, soothes a sore throat, and provides relief from cold.
Skin cleanser: You can use it to manage oily skin, facial acne, and acne scarring. ACV can be mixed with green tea and applied sparingly as a facial toner. It can also be combined with green tea and honey as a face mask for acne.
Meat tenderizer: Apple cider vinegar can be used in salad dressings and to tenderize meat. It can also be drizzled over cooked greens for flavor.
House cleaning product: You can dilute the vinegar with water and use it as a natural cleaning-spray or odor-neutralizer in your home.
Soothes sunburns: You can add a tablespoon of vinegar to your bath to provide relief from sunburns.
Teeth-whitening product: It is an excellent remedy to remove stains from teeth. For stubborn stains, apple cider vinegar can be directly rubbed on your teeth. It is advisable not to do it too often as it can break down tooth enamel. For a less abrasive action, mix 1 teaspoon of apple cider vinegar with a cup of water and then swish it around in your mouth.
Treats warts: Dip a cotton ball in the vinegar and apply it directly on the wart and cover it with a band-aid. You can repeat this a few times. The wart will fall off eventually.
Heals Rashes: Potassium, in apple cider vinegar, can be applied to poison ivy rashes to help soothe the inflammation and reduce itchiness.
Note: Consult a health specialist before using it or incorporating this vinegar in the diet.
Recommended Dosage
There is no prescribed dosage of apple cider vinegar that you should be drinking in a day to get its health benefits. However, it is highly acidic and its main ingredient, acetic acid, can be harsh to consume. To avoid possible side effects, it is best to limit it to 1 tablespoon of ACV diluted in 8 ounces of water, thrice a day. It can also be incorporated into the diet by using apple cider vinegar in salad dressings etc.
Types of Apple Cider Vinegar
The two popular types are:
Organic Apple Cider Vinegar: It is made from apples that are allowed to ferment naturally without heat. Unlike commercial types, the organic variety is not processed or refined. It has a cloudy appearance because it contains the "mother" of vinegar. This type of vinegar is also called non-pasteurized, raw, or unfiltered vinegar.
Commercial Apple Cider Vinegar: This type of vinegar goes through a

pasteurization

process in which the vinegar is heated and filtered and sediments are removed if any. It also has a clear, amber appearance as the "mother" of vinegar is removed.
Note: In terms of health benefits, the best type to buy is the organic, unfiltered apple cider vinegar which contains the 'mother' bacteria. This variety of vinegar is available in the supermarket as well as online.
Apple Cider Vinegar Side Effects
Apple cider vinegar is relatively safe for everyone. However, if you consume it in excess, it can cause the following: