Beef tea, an ancient health remedy from the early 1800s, is seeing a resurgence in the US and the UK. This humble beefy liquid is perhaps the precursor to the celebrity-favored bone broth, a broth known for its collagen-boosting ability. Beef tea, on the other hand, is a nutritious drink for people recovering from illnesses. Let's find out more.
What is Beef Tea?
Beef tea is a simple decoction made by steeping beef – usually rump meat – in water for a couple of hours, seasoned with salt. This mild meat tea was often used as a remedy in Britain for all kinds of health conditions, including colds, coughs, and recovery after different kinds of viral infections. The tea differs from beef broth or bone broth as it is made by steeping meat and not the bones. It is a soothing liquid traditionally served hot in a teacup and enjoyed on cold days to revitalize the body.
Beef tea was first documented as a beverage in 1760 in Dublin, Ireland in an edition of the Dublin Courier. In the 1900s, the tea was prescribed to invalids and was a popular dish on hospital menus. However, it lost its sheen after many people, including Florence Nightingale, doubted its efficacy. Beef tea also received flak for its high meat wastage; a report in the Pall Mall Gazette revealed that 62,000 lbs of beef were being used annually to make tea in one London hospital alone. [1] [2] [3] [4]
However, this simple British classic is making a comeback of sorts in high-end restaurants. While the original recipe calls for just salt because it was meant for invalids, you can flavor it with spices, herbs, butter, pearl onions, and carrots.
Beef Tea Recipe
Let us look at the step-by-step method of how to make this tea.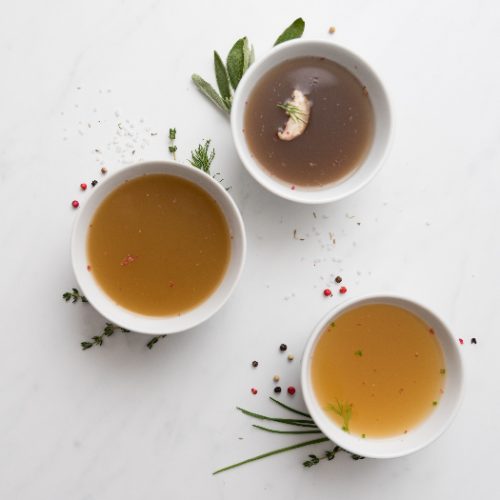 How to Make Beef Tea: Easy Recipe
An easy, no-frill recipe to make a nourishing tea!
Print
Pin
Rate
Ingredients
8

oz

beef chuck steak

cut into 1/2-inch cubes

3

cups

water

filtered

1/4

tsp

salt
Instructions
In a large saucepan, place the beef and pour the water. Season with salt. Bring it to a boil. Keep it on high heat for a couple of minutes.

Lower the heat to a low and let it barely simmer for 20 minutes. Take a large spoon or a skimmer spoon and scoop out the scum from the top. The scum can be collected in a bowl and discarded later.

Put the heat off and let it cool. Transfer the beef and liquid into a pot or jar with a lid. Let the beef steep in the liquid for at least 24 hours.

Strain the liquid through cheesecloth or a fine-mesh strainer. Discard the beef and enjoy the tea. You can choose to season it with pepper and herbs. Beef tea is best served hot.
While this is the traditional way of making the meat tea, this 19th-century tea was also made with another British classic, a jar of Bovril. Bovril, a beef extract paste, was invented in 1886 by Scotsman John Lawson Johnston due to a request by Napoleon Bonaparte. Napoleon III wanted a quick way to make a healthy meat tea for his troops – with the invention of Bovril, all they needed to do is add hot water to the meat paste. Bovril then caught the fancy of many in Britain and is used as a spread on bread as well as an ingredient in many traditional recipes that require a beefy taste. [5]
If you try this British meat tea, please let us know your review in the comments below. You can also connect with us on Facebook or Instagram and tag your picture with #organicfactsrecipes. [6] [7]