Thai pomelo salad or Yum som-o, as it's popularly known, is the perfect option for those looking for easy and interesting dinner recipes. This salad is not only delicious but also wholesome. It is a delectably refreshing example of the Thai flavor palette of spicy, salty, tart, and sweet. With a wide array of flavors notwithstanding, it is the pomelo that steals the show with its natural sweetness and intriguing texture. Read our article, Pomelos: Benefits & How To Eat Them (Pummelo), to know more about the fruit. So how do we make this salad at home? Let's find out.
What is Pomelo Salad aka Yum Som-O?
The classic spicy pomelo salad recipe may not be the most popular salad that you see on a Thai food menu, like the Pad Thai or Som Tam, but its unique and delicious flavor will leave you asking for more every time you eat it. We have the perfect recipe for you – one that will help you recreate it in the comforts of your home whenever you have a strong craving. While there's a vegan variant available, ours includes shrimp, shallots, red chili flakes, pomelo (of course), coconut flakes (optional), coconut milk, and roasted peanuts. If you wish to truly enjoy it, eat it fresh. Refrigerating it will spoil its taste. Anyway, let us look at the recipe in detail.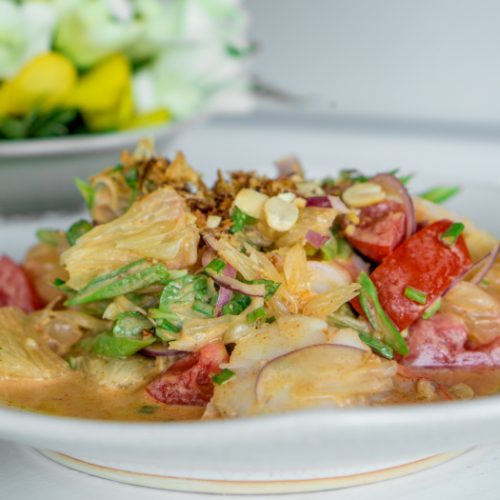 Sweet & Spicy Thai Pomelo Salad Recipe
Every bite of this delectable salad is like a beautiful symphony of flavors - one that, at first, rises to a crescendo of sweet and fresh fruity tang and gradually declines to end at a nutty aftertaste. What lies in between is an experience you'll never want to forget!
Print
Pin
Rate
[1]
[2]
Ingredients
1/2

cup

of coconut milk

1.5-2

lb

of pomelo

peeled and cut into segments

25

shrimps

cleaned, peeled & deveined

dried red chili flakes

as per taste

2

tbsp

garlic

finely minced

4

tbsp

shallots or onions

finely minced

2

tbsp

olive oil

1/2

cup

of roasted peanuts

fish sauce/ mushroom powder

(for the umami flavor)

fresh lime juice

(as per taste)

cilantro leaves

finely chopped

3/4

cup

of shredded coconut or coconut flakes

unsweetened
Instructions
To make Thai pomelo salad, take a small saucepan and saute the shallots or onions, garlic, dried pepper flakes in olive oil until you get a delicious aroma and it turns golden-brown. To this, add coconut milk and let it cook in medium heat. Once done, remove it from the heat and set it aside to cool.

In another skillet, dry toast the desiccated coconut flakes over medium to low heat until they turn medium-brown in color. Remember that coconut burns very easily and that's why ensure you don't leave the skillet unattended.

Meanwhile, poach the shrimps in simmering hot water, flavored with the herbs and spices of your choice. Set it aside once it's done.

Now comes the showstopper of the salad - pomelos. Gently break them into segments of approximately 1/2 an inch each. Put them in a bowl.

To this bowl, now add the shallot and coconut mixture, poached shrimps, roasted peanuts, coconut milk, and finely chopped cilantro (if you want). To this, you can add fish sauce or mushroom powder (as per your preference) for the umami taste. You can also add lime juice if you want, however, how much of it should you add depends entirely on the tartness of the pomelos. If the pomelos are sour, you can add a little bit of sugar or honey. For some, the subtle sweetness of coconut milk suffices.

Once done, serve it immediately and enjoy it as a meal with your family and friends!
Notes
If you cannot find pomelo, you can use grapefruit as a substitute. However, the taste may differ.
For the vegan variant, replace the shrimp with other vegetables (of your choice) and fish sauce with mushroom powder.
Ensure that the peanuts you use are fresh. Otherwise, the overall culinary experience will be spoiled with its rancidity alone.
While poaching the shrimps, ensure that you do so in simmering water and not boiling water. You don't want to overcook the shrimps.
This salad cannot be refrigerated without its taste being heavily compromised. It must be eaten fresh if you wish to enjoy the eclectic mix of flavors.
Give our classic Thai pomelo salad recipe a try and let us know how it turned out. Also, do you have an alternate way of making this salad? Is there any trick or recipe note that you wish to share with us? Feel free to do so in the comments section below.