Behold the power of popcorn chicken! This godly creation is a snack one can't afford to dislike. No way at all. It is made with a mixture of flavors and is just so versatile, that it could give you a run for the money. Popcorn chicken is a bread-coated deep-fried chunk of boneless chicken crisped to perfection. No doubt, it is a clear winner as it qualifies for the perfect evening snack. It is succulent, crunchy, delicious, and addictive.
The popcorn chicken recipe has always been the most searched online. It is just the right amount of spicy and sweet, hitting your taste buds in every way. You can prepare baked popcorn chicken instantly or freeze them for later use. All that needs to be done is to just defrost them and bring it down to room temperature. Then, fry them until golden-brown or throw them in the oven and see them rise and shine as a healthier option.
If you fancy a rocking chicken snack, then why waste time? Enjoy our crispy KFC style popcorn chicken recipe and get lost in its crunchiness at every bite!
How to Make Popcorn Chicken?
Homemade popcorn chicken couldn't be this easier to make. The key is the buttermilk marinade for that crunchy, crispy, and flaky finish. Sounds yummy? Okay then. Here we go.
The popcorn chicken level matches to its KFC counterpart when it is dipped in buttermilk. Not just dipping, but marinating it rather in buttermilk. Once marinated, the chicken pieces turn soft and when you coat it in the batter, it becomes flaky. The USP here is the flakier the chicken, the crispier it turns out! It is a win-win. Now, the steps are as follows:
Cut chicken into regular bite-sized pieces and marinate in buttermilk.
Combine the batter ingredients and coat every chicken piece generously.
Deep fry in regular batches until golden brown and flaming hot through the center.
Making this ain't no rocket science. Right? So, keep scrolling to our full-detailed recipe and get started!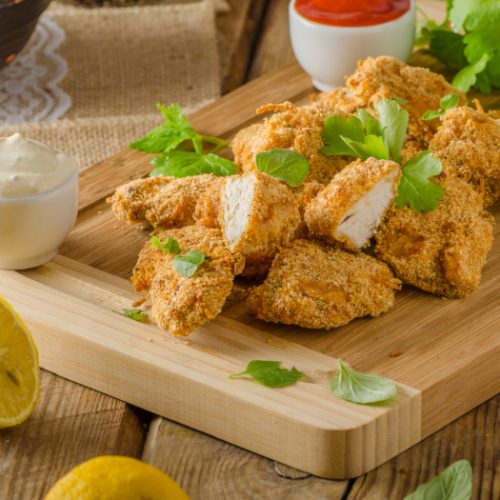 Crispy Homemade Popcorn Chicken Recipe
Our popcorn chicken recipe is quite simple and easy to make. It is juicy, crispy, tender, and full of flavors. Bet you can't have just one!
Print
Pin
Rate
Ingredients
2

boneless chicken breasts

cubed

2

tbsp

all-purpose flour

1

tsp

garlic salt

1

cup

buttermilk

for the marinade

1

cup

panko breadcrumbs

1

tsp

pepper

2

tbsp

vegetable oil

canola
Instructions
In a medium pan, add 2 tbsp of vegetable oil and heat it on medium flame.

Take a small bowl and mix flour and garlic salt. In another bowl, add buttermilk. In a third bowl, add the panko crumbs. Place all three bowls in a line.

Dip the chicken pieces in the flour mixture, follow it with buttermilk, and then coat it with the crumbs. Dip the chicken pieces ensuring all sides are coated with every ingredient.

Place a paper towel on a plate and keep it next to the stove near the hot oil.

In batches, place the chicken pieces in the hot oil for frying. Fry for about 3-4 minutes on each side until they appear golden brown. Once the pieces are fried, remove them using tongs and place them on the paper-towel-lined plate.

Serve warm with your favorite dipping sauce and enjoy!
Notes
For a double coating, dip the chicken pieces in the buttermilk a second time and then in the panko crumbs. This is for a crispier and crunchier taste.
Use half-frozen chicken breasts and a sharp kitchen knife to cut into even beautiful pieces.
Marinate the chicken in buttermilk for a minimum of one hour. The marinade helps the chicken to be flakier and crispier.
You can mix different spices with panko crumbs like paprika, cayenne pepper, chipotle flakes, or red chili flakes.
You can use seasoned or plain bread crumbs, crushed Ritz crackers, or crushed cornflakes as an alternative to the panko crumbs.
Raw chicken cubes can be coated and kept overnight in the fridge until ready to fry.
Once the chicken poppers are cooked, allow it to cool, and store it in an airtight freezer container. You can freeze the cooked popcorn chicken for up to 3 months.
Alternate Cooking Methods
Air-fryer: An air-fryer is a decent alternative for those who want a less oily version of the popcorn. Firstly, set the temperature to 400ºF. Spray some cooking oil on the air-fryer basket. Fry the chicken for about 8-10 minutes depending on the size of the pieces. Flip them at halfway. Repeat cooking each batch in the same manner.
Oven-baked: Save yourself some calories and bake these wonderful tots in the oven. Preheat the oven to 200ºC. Let it bake for 8-9 minutes, toss, turn, and bake for another 8-10 minutes. Finish them off under a broiler to give it an extra crunch.
Popcorn Chicken FAQs
How many calories in popcorn chicken?
According to USDA FoodData Central, a 100 g serving of popcorn chicken gives you 351 calories. [1]
How many carbs in popcorn chicken?
A 100 g serving of this tasty snack fetches you 21 g of carbs.