It is amazing to see how the food that was once considered to be simple peasant fare, has over the years, come to be known as gourmet. A French delicacy, known as rillettes, definitely falls in this category of food. Rillettes, a type of confit, is prepared using a century-old process of cooking meat in its own fat and seasonings. This method helps to extend the shelf life of the meat. If the meat is properly sealed and refrigerated, it can be used for months together. It is used as spreads over crispy baguettes, toasts, and as a sandwich filling. But what are the different types of rillettes and how do we make it? Let us find out. [1]
What is Rillettes?
Traditionally, rillettes is made with fatty pork belly or pork shoulder. The process of making it involves primarily cutting the meat into cubes and generously seasoning it with salt, spices, and herbs of your choice. Thereafter, it is slowly simmered in its own fat until it becomes fork-tender and soft. It is then finely chopped and mixed in some more fat to transform it into a spread-like consistency. Finally, it is allowed to cool.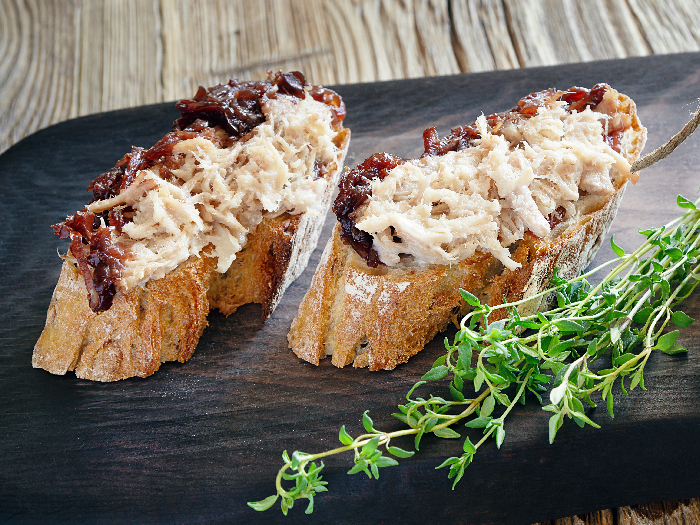 Once cooled, the fat surges to the top, solidifying and turning into a defensive layer of fat protecting the meat from oxygen. Exposure to oxygen is what causes the meat to spoil easily. This process in its entirety is what preserves the meat, thereby allowing it to be stored for several months in a row. Ideally, rillettes should not be kept in the refrigerator for over a month. If you do, ensure that it is properly sealed.
While rillettes is primarily made using pork, it is also made with other meats like rabbit, chicken, lamb, beef, bacon, turkey, duck, seafood, and goose. While the meat may change, the recipe more or less remains the same.
How to make Pork Rillettes?
While it may be quite an elaborate method to prepare rillettes, the results are just divine. Gorging on the most magnificently flavored fork-tender pork, which has been slow-cooked for several hours in aromatic spices and herbs is an experience you will like to relive over and over again. Spread it over crispy toasts and you have yourself a delicious snack. It can be prepared in the comfort of your home. Let us take a look at the recipe in great detail below.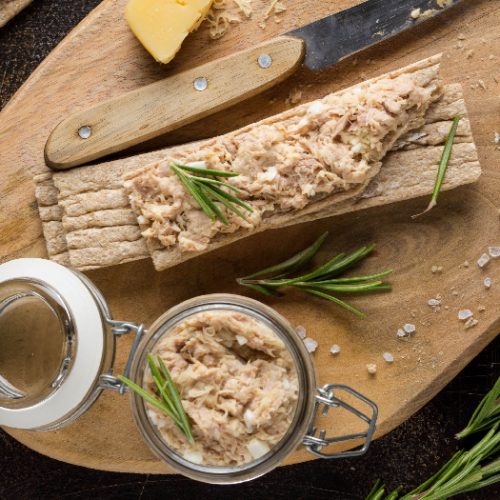 Delicious Homemade Pork Rillettes Recipe
Here's a detailed recipe to make the delicious pork spread at home, which will come to your rescue during the sudden hunger pangs!
Print
Pin
Rate
Total Time:
3
hours
30
minutes
Ingredients
7

ounces

of quality pasture-raised pork lard

1.5

pounds

of quality pasture-raised pork shoulder

(cut into cubes)

1.5

tbsp

of fresh garlic

(minced)

1

tbsp

of fresh ginger

(minced)

1

tbsp

fresh thyme

(chopped)

1

tbsp

of salt

0.5

tsp

freshly ground white pepper

1

tsp

ground coriander

0.25

tsp

freshly ground nutmeg

0.25

tsp

freshly ground black pepper

0.50

tsp

ground cinnamon

0.25

tsp

of curing salt

(preferable to avoid the meat from developing a brown or grey color)

0.15

tsp

ground cloves

0.15

tsp

ground dried ginger

0.15

tsp

ground all-spice

5

juniper berries

0.15

cup

dry white wine
Instructions
To make rillettes, take a large mixing bowl and place cubed pork in it. Add all the other aforementioned ingredients to the bowl except the pork fat, also known as lard. Mix and rub the pork using your hands until you thoroughly combine the meat with the spices. Cover it with plastic wrap and refrigerate it for three days.

Once done, remove the plastic wrap and let the pork sit at room temperature for half an hour. In the meantime, you can prepare the lard. Now preheat the Dutch oven to 275°F. Allow the lard to melt in a saucepan until it completely turns to liquid.

Spread the pork evenly in the Dutch oven and pour the melted lard over the meat till it is completely covered with it. If you fall short of the lard, you can always melt some more and add to it. Place a lid over the Dutch oven and place it in the preheated oven and let it cook for 2.5 to 3 hours till it becomes fork-tender and soft. Once done, take it out of the oven and allow it to cool till you can handle it. Remove the juniper berries. Now finely chop the fork-tender pork.

Skim the fat off the top of the liquid in the Dutch oven using a ladle. Keep it aside. Ensure that you do not scoop up the liquid with the fat. The fat floating on the top is quite clear in its appearance, while the liquid beneath is dark. As the layer of liquid begins to cool, the fat on top will solidify. You can remove the rest and transfer the cooking liquid into a measuring cup and keep aside.

Meanwhile, in a large mixing bowl, place the chopped pork and add one-third of the remaining lard coupled with one-third of the liquid from the Dutch oven. Stir the mixture till it is properly combined. Once done, add salt as per your preference. Now keep the meat in a large casserole. Divide it among smaller terrines and evenly spread the meat by pressing it down. Allow it to cool in the refrigerator for at least an hour.

Melt the reserved lard in a saucepan. Cover the chilled rillettes with one-fourth inch of lard. Once done, cover it properly and keep it in the refrigerator for chilling.

Allow the rillettes to sit at room temperature for at least an hour before you serve it. This will cause the consistency of the rillette spread to soften. If you have no plans of finishing the rillettes all at once or even in the next two days, ensure that you re-seal it properly with an additional layer of lard by repeating the aforementioned process once again.

Rillettes taste better with time as the flavors get enough time to fuse. However, it tastes just as delicious when eaten right away. You can have it as a dip along with chips and other snacks. They go really well with crusty bread and cornichons or pickled shallots.
Connect With Us
If you have tried this recipe, we would love your feedback in the comments section below. And while we can't taste it, we would love to see how it turned out! You can connect with us on Facebook or Instagram and tag your picture with #organicfactsrecipes. [2] [3]
Do you wish to share your winning recipes with us? Please click here and fill in the details to get started.