Sesame seeds are little flavorful seeds that are used in cuisines all over the world, but predominantly in Asia and the Middle East. These tiny seeds are a powerhouse of vitamins and minerals that help in boosting the immune system, regulating the blood sugar and lowering the cholesterol levels in the body among other things. They come in two different varieties – black and white, and are used in equally different ways when cooking. While the former is usually used in soups and desserts, the latter is used to coat and garnish deep-fried foods and dishes.
On its own, sesame seeds seldom enhance the flavor of the dish. They need to be toasted to bring out their naturally 'nutty' flavor. Toasting sesame seeds also make them more crunchy. When added to dishes like stir-fries, salads or deep-fried snacks, the toasted sesame seeds help enhance their overall flavor. But what are the different ways to toast sesame seeds? Let us find out.
How to toast sesame seeds?
There are three different ways of toasting sesame seeds. They are as follows:
In the oven
On the stovetop
In the microwave
All three methods do not use oil to toast the seeds. Upon toasting them, they develop a golden brown color. They can then be added to different dishes, right from rice, bagels, stir-fried

vegetables

, dips, sauces, salads, to desserts. They are used as a coating in sushi and other Asian dishes. These toasted sesame seeds can also be blended into a thick paste known as tahini sauce, which is used extensively in Middle Eastern cuisine.
Now let us take a look at the different methods of toasting sesame seeds in detail.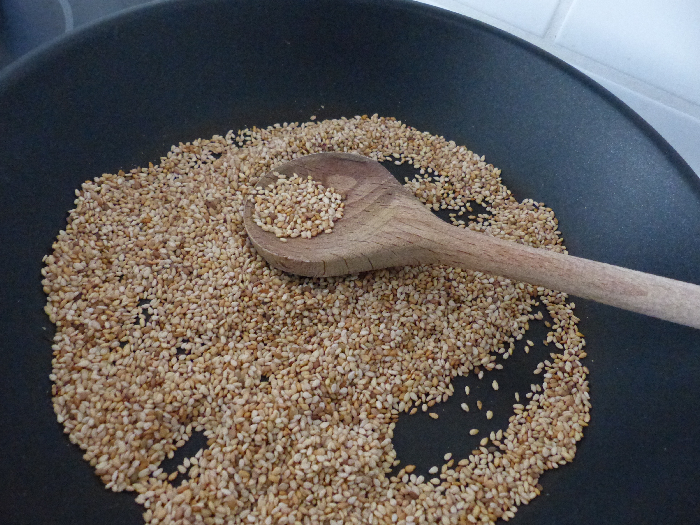 Toasting in the oven
When using an oven to toast the sesame seeds, ensure you preheat the oven to 350°F. Line a baking sheet with parchment paper or foil. In an ovenproof skillet, place and spread the sesame seeds in a single layer. Toast them until their color changes to golden-brown and they give out a nutty aroma. Keep stirring them from time to time for not less than 10 minutes. This will prevent them from getting burnt and will also ensure that they get evenly toasted. Watch them closely and keep a plate ready for them to cool.
Toasting on the stove
When using the stove to toast sesame seeds, heat a frying pan or a saucepan over medium heat. Ensure that it is dry and clean. You can also use a wok if you want. Add the sesame seeds to the moderately-heated saucepan/frying pan and keep stirring them from time to time. Use a spatula to do so and ensure that the seeds get evenly toasted and not burnt in the bargain. Once their color starts to change into a light golden-brown shade, take the pan down from the stove immediately.
How to Store Toasted Sesame Seeds?
Once the seeds are toasted, the next important step to take into consideration is how to store them. If these toasted seeds are kept in a dark, cool and dry place in the pantry, they could last up to 6 months. If they are kept in an

airtight

container inside the

freezer

, they could last up to a year. The freezer is, in fact, the best place to store these seeds. The cold temperature in the freezer protects the natural oils in the seeds from getting spoilt, thereby increasing its shelf life.