The standards for organic honey production are much different than those for producing other organic livestock products. Managing honey bees is very difficult and hence the general rules applicable for other livestock cannot be implemented in case of organic honey production.
The National Standard of Canada, Government of Canada has provided standards for organic honey production in their document Organic Production Systems General Principles and Management Standards. The North London Beekeeping Association has also summarized the organic honey standards widely used in the UK in one of its information sheets. The commonly used organic honey production guidelines have been given below (please note that the guidelines and the numbers given below are indicative):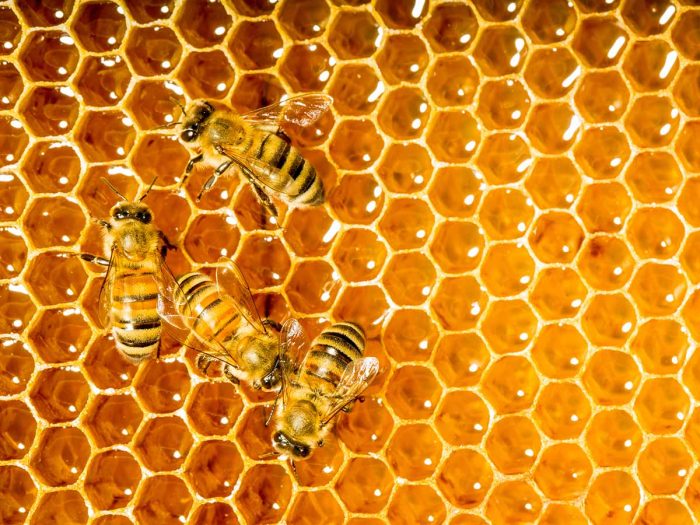 Location of Organic Apiary: An organic apiary should be placed on a piece of land that is maintained organically. The nectar, honeydew or pollen used by the honey bees should come from organic sources. Normally a honey bee can travel upto 3 km for gathering honey. Hence the chemical farms in the vicinity should be located outside a distance of about 3 km.
Organic Bee Hives: The bee hives used for organic apiculture should be made of natural timber or metal. Treated timber cannot be used for making the hives. Further non-lead based paints should be used, and if plastics are used they should be covered with bee wax.
Transition Period: Like organic milk production, there is a transition period involved when a farmer shifts from conventional honey production to organic honey production. This transition period is about 12 months. Non organic wax should be replaced with organic wax during the transition period.
Origin of Honey Bees: The replaced or introduced honey bees can come from organic as well as non organic apiaries. The apiary where new honey bees have been introduced can be included in organic honey production only after a period of about 60 days, after ensuring that the replacement of bees and management of the apiary has been carried out using organic means.
Feed for Organic Honey Bees: In organic apiculture, the honey bee hives should not be placed in or near farms where chemical farming is practiced. Also artificial feeding can be carried out; however, only when it is difficult to provide access to organic foraging to the bees. When non organic feed is used, the apiary should be removed from organic honey production, depending on the duration of artificial feeding.
Queen Honey Bees: The queen honey bees can be replaced whenever required. A healthy queen should be selected for replacement to ensure preventive disease management. Sometimes artificial insemination is permitted. Cutting of wings of the queen honey bee is not permitted.
Organic Honey Disease Control: Stress should be laid on using preventive methods of disease control such as selecting healthy queen honey bees and replacement bees. Further, antibiotics cannot be used for treating diseases. Whenever antibiotics are used, the apiary should be isolated and kept out of organic honey production for at least a year.
Organic Honey Extraction: A live brood cannot be used for extracting honey from a brood comb. The surfaces that come in contact with the honey should be made of food-grade material or should be coated with beewax.
Organic Honey Processing: Organic honey should not be heated above 35 degree Celsius. Gravitational settling and filtration should be used for removing extraneous solids.
Organic Honey Labeling: Every apiary should be properly managed and records of the apiary should be maintained. One should be able to trace the honey stored in an organic honey jar to the apiary it has been obtained from.
Benefits of Organic Honey Certification for Bee Keepers
Increasing number of farmers, all over the world, are shifting to organic farming as it provides numerous benefits over conventional farming. Honey bee keepers are also favoring organic honey production as it is considered to have numerous benefits over conventional honey.
The NSW Department of Primary Industries, Australia provides the pros and cons of becoming a certified organic honey bee keeper in the document 'Organic Certified Production with Bees '.
Pros of organic honey production
Some of the advantages of organic honey production to the manufacturer are given below:
Increased price of honey: Organic honey and organic raw honey both fetch a higher price in the market as compared to conventional honey.
Increased marketability: It is easier to sell organic honey and raw organic honey as they are considered to have greater health benefits over non-organic honey. Reports of increased usage of antibiotics in Chinese honey have increased awareness about potential ill-effects of non-organic honey among health conscious consumers.
Qualtiy honey assurance for buyers: Customers are assured of a quality product as the production and handling standards for organic honey are clearly defined by the certifying body. If the honey is not manufactured according to the set guidelines, the organic label is not granted.
Satisfaction of producing a clean product: Many farmers shift to organic farming due to its benefits to the environment. Same is the case with organic apiculture. Organic honey bee keepers feel content at the end of the day when they do not use chemical pesticides and antibiotics.
Every organic honey jar can be traced: Certified organic honey involves proper labeling of the product. Every organic honey jar can be traced to the honey bee hive from which the honey in it is obtained.
Increased management awareness of the enterprise: Many conventional honey bee keepers are not aware of effective techniques to manage their apiaries. Since certified organic honey production involves following stringent guidelines, manufacturers are also educated about efficient management of their enterprise.
Cons of organic honey production
There are some disadvantages of organic honey production. Some of these disadvantages include the following:
Availability of suitable apiary sites: It is difficult to get suitable apiary sites that favor the organic honey standards in all seasons.
Limitation on disease management practices: Organic honey does not involve wide usage of antibiotics. Hence disease management is restricted.
Limitation on feeding management practices: An organic honey bee keeper has to ensure that there is no non-organic farm in the vicinity of his honey bee hives. Further, there are other restrictions on the feeding practices.
Transition cost and time: A conventional honey bee keeper cannot shift to organic honey production all of a sudden. As in case of organic milk production, there is transition time and cost involved in shifting to organic honey production as well. There is also one year probation period in some countries such as Australia before becoming a certified organic honey manufacturer.
Other costs: Organic honey production also involves other costs such as cost of joining the certifying body, cost of certification, auditing cost, sampling cost, etc.
Increased record keeping: Organic honey involves keeping detailed records throughout the manufacturing, processing and retailing processes.
Further Reading:
Organic Honey Standards – An example from Quality Assurance International,