Foraging for fiddleheads in the woods or in specialty fiddlehead farms can be a magical experience. These tightly curled fern tips are delicious and are available only for two or three weeks in the spring season. So, let's find out more about fiddleheads and how to cook them.
What Are Fiddleheads?
Fiddleheads are the tightly coiled tips of a young fern plant. They are considered a spring delicacy in the US and Canada and have been part of the traditional cuisine in parts of Asia and Europe. You can steam, bake, or fry them; you can also add them to soups and salads. These bright green, tightly curled fern tips have a nut-like, delicate flavor that is similar to a mix of asparagus and broccoli. Fiddleheads are good for you too. According to a report published in the Journal of Food Science, they contain several minerals including potassium, magnesium, and calcium. [1]
People usually forage for fiddlehead ferns during spring, during the short time that they are available. They are also available at farmer's markets, roadside stores, or specialty grocery stores. The most commonly eaten variety is the fiddleheads of the ostrich fern (Matteuccia struthiopteris). Certain varieties like foxglove and bracken ferns can be toxic and possibly, carcinogenic. If you are foraging for fiddlehead ferns, it is advisable to be guided by an experienced forager. [2] [3]
Nutrition Facts

---

Fiddlehead ferns, raw

Serving Size :
Nutrient
Value
Water

[g]

88.68
Energy
34
Energy

[kJ]

143
Protein

[g]

4.55
Total lipid (fat)

[g]

0.4
Ash

[g]

0.83
Carbohydrate, by difference

[g]

5.54
Calcium, Ca

[mg]

32
Iron, Fe

[mg]

1.31
Magnesium, Mg

[mg]

34
Phosphorus, P

[mg]

101
Potassium, K

[mg]

370
Sodium, Na

[mg]

1
Zinc, Zn

[mg]

0.83
Copper, Cu

[mg]

0.32
Manganese, Mn

[mg]

0.51
Vitamin C, total ascorbic acid

[mg]

26.6
Thiamin

[mg]

0.02
Riboflavin

[mg]

0.21
Niacin

[mg]

4.98
Vitamin A, RAE

[µg]

181
Carotene, beta

[µg]

2040
Carotene, alpha

[µg]

261
Vitamin A, IU

[IU]

3617

Sources include : USDA [4]
How To Cook Fiddleheads?
While fiddleheads are delicious and an absolute treat in the spring, you should never eat them raw. There have been several documented reports of foodborne illnesses in the US and Canada due to the consumption of raw or undercooked fiddleheads. According to the Government of Canada website, fiddleheads can cause food poisoning if they have not been stored properly or cooked well. Here are the safety tips shared by the regulatory website: [5] [6] [7]
Cleaning: First, remove any brown paper or husk that you may find on the fiddlehead ferns. Now, put the fronds in a bowl of water to remove any mud or debris. Repeat this process two or three times to make sure that the vegetables are clean.
Cooking: Always boil the fiddleheads ferns first before you sauté, fry, or bake them. Most importantly, boil them for a minimum of ten minutes. Also, remember to discard the water used for boiling as it is dirty.
Freezing: To freeze fiddlehead ferns, first clean and then, boil them. Blanch them in cold water and pat dry. You can, then, store the vegetables in freezer bags for a duration of nine months to one year.
Preserving: A New Brunswick, Canada government report on "Fiddleheads and Food Safety" suggests not to home-preserve fiddlehead ferns. [8]
Also, always wash your hands thoroughly with hot, soapy water before and after touching the fronds.
Fiddlehead Recipes
There are several fiddlehead recipes available online. But one of the best ways to eat fiddlehead ferns is by sautéing them in olive oil or butter as you will be able to taste the fresh, nutty flavor of the vegetables. Here is a simple recipe.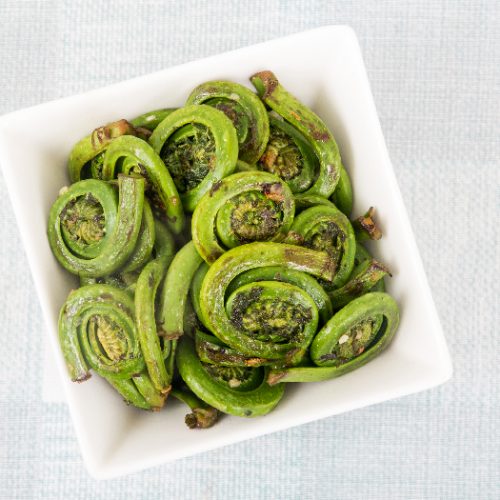 Sautéed Fiddlehead Ferns With Garlic Recipe
A delicious treat to celebrate spring!
Print
Pin
Rate
[9]
[10]
Ingredients
1

pound

fiddlehead ferns

2

cloves

garlic

minced

1

tbsp

butter

sea salt

to taste

1

tsp

black pepper

1/2

tbsp

lemon juice [11]
Instructions
You want to begin with cleaning the fiddleheads first. The best way is to put the fiddleheads in a bowl of water. Swish them around in the water to loosen and remove mud or dirt.

The mud will settle at the bottom of the bowl. Gently remove the clean fiddleheads and rinse it once more under running water.

With a paring knife, trim the ends of the fiddleheads. You should also remove any brown or mushy parts.

In a large pot, add the fronds and enough water to cover them. Add salt and boil them for 10-15 minutes. They will rise to the surface once done.

The boiled water may be dirty. Put the fiddleheads in a colander and rinse them with cold water. Pat them dry with paper towels.

In a frying pan, warm butter. Add the minced garlic and sauté for a minute till the aroma of the garlic gets released.

Add the blanched fiddleheads. Stir them well on medium-high heat till they begin to brown on the edges.

Add black pepper and lemon juice, and mix well. Add salt if needed. The fiddleheads are ready. Enjoy their fresh, delicate flavor!
If you do get your hands on fiddleheads and fall in love with them, you can experiment with different recipes. You can even try making them the star ingredient in your salad for your next picnic lunch. Just make sure that you follow the safety guidelines. You can then enjoy the fresh seasonal produce!