Drinking a green tea smoothie in the morning is one of the best ways to eat your fruits and get your daily caffeine shot too. This creamy, refreshing beverage may just be the thing that will help ditch your coffee every morning. Green tea smoothies are a nutritious, vitamin-packed breakfast option. Because caffeine can stimulate the body, the smoothies are often used as a pre- or post-workout drink.
Green Tea Smoothie: 2 Ways To Make It
Green tea smoothies are very easy to make. There are two ways you can do it.
Matcha Smoothie: This is made with matcha, a Japanese green tea powder. Matcha has a pronounced grassy flavor.
Green Tea Smoothie: This can be made with regular green tea bags or loose leaf green tea. This tea has a slightly more astringent flavor.
Both green tea varieties have caffeine and are packed with antioxidants. Matcha is a little more expensive than regular green tea bags. The choice is yours – we would recommend experimenting with both to find out your preferred beverage.
We would also recommend experimenting with the amount of green tea you prefer in your smoothie. Many people are sensitive to a high amount of caffeine. So it is best to vary the amount and see how you feel after having it. Also, if you are using it as part of your workout nutrition, feel free to add protein powder to the smoothies. Now, let's look at the recipes for the two kinds of green tea smoothies.
Matcha Smoothie
To make matcha smoothies, you will need to buy high-quality matcha. It is available online as well as in supermarkets. Regular green tea leaves cannot be ground to make matcha. Here is an easy matcha smoothie recipe.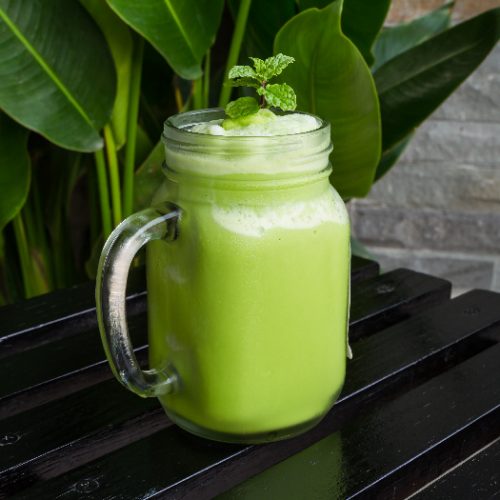 Matcha Green Tea Smoothie Recipe
This wonderful matcha smoothie is creamy, delicious, and packed with antioxidants!
Print
Pin
Rate
Ingredients
1/2

cup

mango cubes

fresh or frozen

1

frozen banana

1

cup

spinach leaves

2

tsp

matcha powder

1/2

cup

milk
Instructions
Add the milk and matcha powder to a blender and blend well.

Add the spinach leaves, frozen banana, and mango and blend till you get a smooth texture. Serve the matcha smoothie chilled!
Notes
You can use light coconut milk instead of cow's milk for the smoothie. The frozen bananas help give a natural sweetness to the smoothie. If you want to sweeten it further, you can blend honey or pitted dates with the other ingredients. Extra ripe bananas can be peeled and broken into quarters and put in a freezer bag so that you can have them on hand for smoothies. They are best used after being frozen for at least 12 hours.
Green Tea Smoothie Recipe
The recipe given below is fairly adaptable and you can experiment with different fruits and vegetables to make your smoothies. Let us look at the step-by-step method to make tropical green tea smoothie using green tea bags.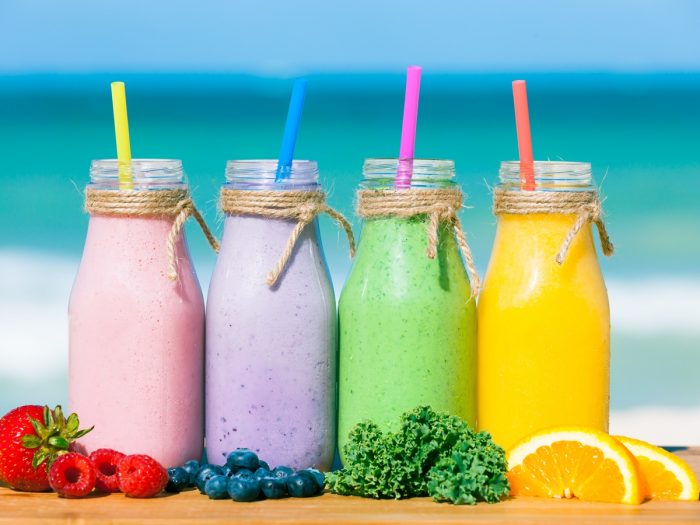 Delicious Tropical Green Tea Smoothie Recipe
The combination of mangoes, strawberries, and green tea makes the smoothie delicious and refreshing. A sip of this revitalizing drink can transport you to a hammock on a beach!
Print
Pin
Rate
Ingredients
1/2

cup

chopped mango

1/2

cup

strawberries

1/4

cup

Greek yogurt

1

green tea bag

1/2

cup

hot water

filtered

1

tsp

honey

2

mint leaves
Instructions
Steep the green tea in hot water for two minutes. Let it cool in the refrigerator for an hour. Alternatively, you can make a bigger batch of green tea and chill it in an ice cube tray. For one serving, use a single green tea ice cube.

Add the fruits, green tea, mint, honey, and milk in the blender. The smoothie should have a smooth texture. Pour into a mason jar and enjoy!
Notes
You can substitute Greek yogurt with cow's milk to get a thinner version of the smoothie. Use light coconut milk or almond milk instead of dairy products for a vegan version. Feel free to experiment with oats milk or rice milk as the tropical fruits have a strong flavor and can hold their own when blended with different kinds of milk. You can also use other tropical fruits like banana, pineapple, or different kinds of berries to make different versions of the smoothie.
Connect With Us
If you have tried these recipes, we would love your feedback in the comments section below. And while we can't taste it, we would love to see how it turned out! You can connect with us on Facebook or Instagram and tag your picture with #organicfactsrecipes. [1] [2]
Do you wish to share your winning recipes with us? Please click here and fill in the details to get started.