Many people turn to lemon ginger tea to improve their health, due to its ability to boost the immune system, reduce fever, improve cognition, regulate blood sugar, aid in digestion, soothe pain, and promote healthy hair and skin.
Benefits of Lemon Ginger Tea
Both lemon and ginger are considered to have antioxidant and immune-boosting effects, and with these properties aid in stimulating the metabolism. Despite it being called a tea, lemon ginger tea is actually an infusion of lemon juice and ginger root, and it does not technically use any tea leaves. However, this doesn't make it any less powerful for your health. For thousands of years, lemon and ginger have been important components of traditional medicine, and when used individually, they can have impressive effects on the body. However, when the two ingredients are combined in a beverage, they become even more important for health.
Watch Video: 6 Surprising Benefits Of Lemon Ginger Tea
6 Surprising
Benefits Of Lemon
Ginger Tea And How To Make It | Organic Facts
Benefits of Lemon Ginger Tea
Let's take a closer look at the most important health benefits of this unusual infusion!
Relieves Nausea & Indigestion
Ginger has a very powerful active ingredient, named zingiber, which is able to eliminate bacterial pathogens that often attack the stomach and compromise digestive function. Ginger is also known to soothe and reduce nausea and eliminate vomiting, even in pregnancy, according to a study published in Obstetrics & Gynecology. It also promotes effective digestion and nutrient absorption. Lemon, on the other hand, is closely linked to reducing indigestion and heartburn!
Improves Cognitive Function
Lemon and ginger help in improving concentration and cognition. Some research shows that ginger is a potential cognitive enhancer for middle-aged females as it is excellent at soothing nerves and improving mood. The antioxidant effects mean less oxidative stress.
Skin Care
A study in the Journal Food Chemistry indicates that ginger extracts are a rich source of antioxidants. Thus, the high vitamin content of lemon and ginger, combined with their numerous antioxidants, make this infusion an excellent option for improving skin health. You can drink this tea or even apply it topically to irritated patches of skin. Antioxidants help to reduce oxidative stress in the skin and promote the growth of new cells, while the antibacterial and antiviral nature of this beverage protects the skin from infections.
Weight Loss
Ginger is considered by many to stimulate the metabolism and it can also help to satiate the feelings of hunger. Therefore, a glass of lemon ginger tea in the morning can help those who are trying to lose weight, primarily by adding extra calorie-burning to their day and suppressing the desire to snack between meals.
Hair Care
Lemon and ginger have both been used independently for hair health for centuries. This tea is high in vitamin A and C, both of which are linked to improved hair health, and reduced dry skin and dandruff. This can help strengthen your hair and give it a luscious appearance.
Boosts Immunity
Both lemon and ginger are known around the world as immune system aids, so it makes sense that lemon ginger tea can comprehensively protect you from pathogens and illness. When you are suffering from a cold or flu, simply drink 1-2 cups of this tea each day and quickly see an improvement in your symptoms and a reduction in irritation of your respiratory tracts.
Controls Diabetes
When it comes to blood sugar regulation, few things are as effective as ginger as per a study published in the journal of Pharmaceutical Research in 2015. By optimizing the release of insulin and blood sugar in your body, you can prevent the dangerous spikes and drops in blood sugar that can lead to diabetes or can affect someone already diagnosed with this condition. So make yourself a steaming cup of lemon ginger tea right away!
Relieves Pain
The natural anti-inflammatory nature of ginger not only reduces irritation, swelling, and inflammation in the body but can also function as an analgesic. Therefore drinking a cup of lemon ginger tea can help you recover from body pain, menstrual cramps, illness, and surgeries.
Improves Mood
Aside from the effect of lemon ginger tea on concentration and cognitive function, both components individually are also known to be, in certain cases, mood boosters. There is a good reason why lemon is so commonly used in aromatherapy approaches, and why ginger is thought to relieve tension and lower stress hormone levels in the body, which can definitely make you feel happier and more in control of your emotions. Additionally, a study published in ISRN Obstetrics and Gynecology shows that ginger also helps reduce the severity of mood and physical and behavioral symptoms of premenstrual syndrome (PMS).
Furthermore, according to Neuro Immuno Modulation, treatment with citrus fragrance normalized neuroendocrine hormone levels and immune function in depressed patients and was more effective than antidepressants.
Side Effects of Lemon Ginger Tea
Some people suffer from heartburn or stomach upset after they drink this beverage, which could be the response of a sensitive stomach to ginger's powerful active ingredients or even a ginger allergy. Speak to your doctor or allergist if you have any adverse effects.
How to Make Lemon Ginger Tea?
In winter, nothing beats cough and cold better than a cup of piping hot ginger tea. The potent mixture of lemon and ginger clears up the sinuses and eases that scratchy and irritable throat. So without further ado, let's take a look at an easy step-by-step process of making lemon ginger tea at home.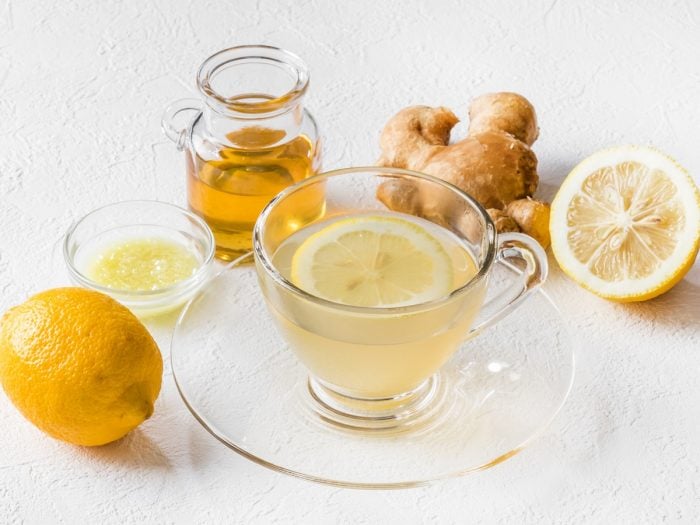 Lemon Ginger Tea Recipe
Many people love to begin their mornings with a hot cup of lemon ginger tea. It has a plethora of health benefits and is a one stop solution for a variety of ailments, right from headaches, cold, cough, nausea and so on. It is quite an easy task to prepare the beverage at home. Follow these simple steps to make the rejuvenating beverage at home everyday.
Print
Pin
Rate
Ingredients
3

cups

water

1

tsp

tea leaves

(for each cup)

1

tsp

ginger

finely grated

1

tsp

lemon juice

tsp

honey/sugar
Instructions
To make lemon ginger tea, first, heat 3 cups of water in a sauce pan.

Add grated ginger to the water and bring it to a boil.

As it starts to boil, add lemon juice and tea leaves and allow the mixture to sit for 15-20 minutes at low heat.

You can add honey to it, if you desire, but the mixture of ginger and lemon on its own is quite a flavorful and delicious combination. Enjoy the piping hot tea.
Notes
You can also add a dash of cinnamon or nutmeg in the end to enhance the flavor, if you prefer. You can also add a tinge of turmeric if you want, as it has anti-inflammatory properties. You can add a dash of orange juice to the tea, if the lemon flavor is too strong. This will give it a natural sweet and tangy flavor.  While lemon ginger tea by itself has tremendous curative potential, you can add a tsp of whiskey, brandy, bourbon, scotch or rum to it, right before hitting the bed, should you have a bad cold. The combination will work wonders. 
Connect With Us
If you have tried this recipe, we would love your feedback in the comments section below. And while we can't taste it, we would love to see how it turned out! You can connect with us on Facebook or Instagram and tag your picture with #organicfactsrecipes.
Do you wish to share your winning recipes with us? Please click here and fill in the details to get started.