Kamut is an ancient grain that functions as a healthy alternative to modern wheat and can feature in a wide range of recipes.
What is Kamut?
Pronounced 'Kah-moot', Kamut is an ancient type of wheat grain, also known as Oriental wheat or Khorasan wheat. Khorasan was once a large region in what is now Iran, Afghanistan and other parts of central Asia, and it is believed that this grain was first cultivated there. Kamut reached the USA in 1949 but did not generate interest at that time. However, 28 years later, two Montana farmers called Bob and Mack Quinn decided to begin a cultivation experiment. As the discussion around the side effects and health properties of modern wheat has grown in recent years, so has the popularity of this ancient whole grain.
This grain is an annual growing grass that produces grains similar in appearance but twice the size of modern wheat kernels. Kamut kernels have a nutty, buttery and rich flavor. They are richer in healthy fats, proteins, vitamins and minerals than standard wheat. Intensive farming, genetic engineering and industrial revolutions over the past two centuries have made modern flour easy and cheap to produce.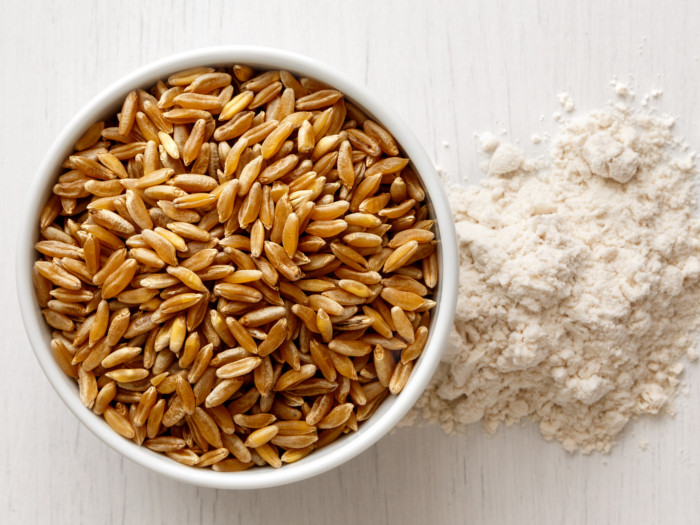 However, the end product lacks the nutritional value that can be found in older grain forms, such as Kamut. Furthermore, the developments in wheat production in recent years are thought to be responsible for the rise in gluten intolerance. Although still, a specialist grain found primarily in health food stores, the interest in this ancient is only increasing.
Nutrition Facts – Kamut
One of the main reasons for Kamut's recent increase in popularity is the dense nutrients it can provide into a regular diet.
Kamut Benefits
How to Store Kamut
Kamut is best stored in a sealed container in a cool, dark location. You can keep kamut fresh for longer by storing it in the fridge. However, be aware that the grain is absorptive and may soak up excess moisture or smells unless it is sealed in a fully airtight container.
How to Eat Kamut
Kamut can be used in many different forms – as a whole grain, in couscous form or as a flour. It is often found pre-added to bread, cereals, pasta and baked goods. However, it is also possible to use this grain at home to make a wide range of recipes. It is worth noting that these whole grains can be rinsed and soaked overnight before cooking.
Pancakes: Prime Kamut cultivator, Bob Quinn, enjoys sourdough

pancakes

made with this grain for his

breakfast

. Pancakes made with this flour are rich and flavorful, and more nutritious than regular pancakes.
Salads: You can use boiled kamut as an excellent base for salad dishes. Try pairing it with strong citrus flavors, steamed greens, and toasted nuts.
Porridge: Blended soaked grains can make a delicious, creamy

porridge

.
Bread: Go easy on your gut by using kamut flour to make wholesome homemade bread.
Pasta: This grain can be an interesting addition to a pasta sauce, adding texture, nutrition, and a nutty flavor.
Soups and Stews: Bulk up your winter hotpots with whole grains. They will add protein and a chewy texture to any stew or soup.

Caution: Although some people with gluten intolerances have found this grain to be a more digestible alternative to regular wheat, it is not suitable for those suffering from Celiac disease, as it is a form of wheat and does contain gluten.