Chicken wings are undoubtedly one of the stars of the fried food hall of fame. Crispy-golden, soft, and succulent, they are also the perfect finger food. Finger-licking good, capable of carrying multiple flavors, and perfect with drinks on game night. They are also deceptively easy to make. So, instead of ordering them, try making them at home. We have the perfect lemon pepper wings, easy to make, and deliciously addictive. We bet you won't be able to stop at just one!
How to Make Lemon Pepper Wings?
This is a super easy recipe that takes almost no time. The classic flavors of lemon and pepper are perfect in this quick and crispy bite. The slight tanginess of the lemon is cut by the sharpness of pepper. The classic method involves deep-frying the wings. But for those who balk at the idea of deep-fried goods, the good news is that these chicken wings are equally flavorful in an oven or air-fryer if a bit less crispy. So, here are our three ways of making lemon pepper wings:
Stovetop
This is the classic deep-fried wings. We recommend using a deep pan, such as a dutch oven. Pick a pan with a thick bottom to ensure that the oil does not overheat quickly. We have recommended canola or sunflower oil. But any flavorless oil with a high smoking point would do just as well. When deep-frying, the trick is to start with a high temperature and then lower the flame to continue cooking without burning the food. For the chicken wings, it is best to use pre-cut wings into vignettes and drumettes. These are simply easier to handle and eat.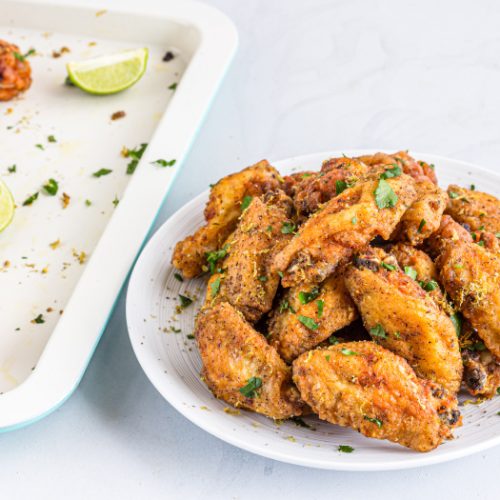 Easy Lemon Pepper Wings Recipe
Enjoy this zingy lemon pepper chicken wings. This recipe includes a lemon-pepper sauce that boosts the flavor tenfold.
Print
Pin
Rate
[1]
[2]
Ingredients
12

chicken wings

1/2

all-purpose flour [3]

1/2

tsp

salt

1/2

tsp

pepper

1/2

tsp

paprika powder

canola or sunflower oil

for frying

2

tsp

parsley

chopped

lemon wedges

to serve
Lemon pepper sauce
2

tbsp

butter

melted

1 1/2

tsp

lemon pepper seasoning
Instructions
Cut the chicken wings in two, separating the vignettes and drumettes. For this, cut the wingtip with a cleaver, then cut vertically through the joint. Pat them with a kitchen towel to ensure they are dry.

Spread the all-purpose flour in a wide bowl. Season it with salt, pepper, and paprika.

Heat the oil in a deep pan and bring it around 375 degrees F. You can also check if the oil is hot enough by dropping in a piece of bread. It should float on top and start turning golden brown.

Gently drop in the chicken wings in the hot oil and fry for 3-5 minutes. Take care to avoid overcrowding the pan. Lower the heat to medium and fry for 5-7 minutes more or till it is done near the bone. An instant-read thermometer should read 165 degrees F.

Meanwhile, make a lemon-pepper sauce by adding lemon pepper seasoning to the melted butter. Keep it ready as the chicken wings fry.

Once done, remove the chicken from the oil with a slotted spoon. They should be golden brown and firm to touch at this stage.

Arrange the chicken wings on a wide platter. Brush them with the lemon-pepper sauce while they are still hot.

Serve the wings with lemon wedges and chopped parsley.
Notes
Lemon pepper wings are excellent appetizers, served usually with drinks. You can scale it up for dinner with mashed potatoes, grilled vegetables, and a salad.
You can make the sauce with equal amounts of olive oil if you want to avoid butter.
Use the sauce to brush over as per your taste. You can use more of the sauce if you like a lively kick to the wings. However, keep in mind that using more sauce will also make the wings less crispy.
Air-Fryer
Arrange the floured chicken wings in the air fryer basket and drizzle them with canola or sunflower oil. It is best to use an oil spray for this purpose. Air-fry the wings at 425 degrees F for 20-25 minutes. Midway through, turn over the wings once to ensure even cooking on both sides. Once cooked and out of the air fryer, brush the wings with the lemon-pepper sauce as the stovetop method and serve.
Oven-Baked
Preheat the oven to 425 degrees. For oven-baked wings, we recommend adding a teaspoon of baking powder to the seasoned flour. Drizzle the floured wings with oil. Line a baking sheet with parchment paper. Arrange the chicken wings in a single layer on the baking sheet without crowding it and bake for 40-45 minutes or till they turn golden. You may want to turn over midway for even browning. Once done, brush these with the lemon-pepper sauce and serve.
Tell us about your favorite chicken wings recipe. If you tried our recipe, we would love to hear how they turned out and which method worked best for you. Write to us in the comment section below.