It isn't Thanksgiving or Christmas if your roasted turkey or chicken is not accompanied by a side dish that is deep-rooted in nostalgia. Childhood memories are the secret ingredient that makes holiday meals even more special – one that no seasonal flavoring can match. For most, that side dish is the delicious corn casserole – an earthy side dish with a homely feel which adds to the festive warmth on the winter days.
How to Make Corn Casserole?
To some, corn casserole might be the same thing as corn pudding or scalloped corn. Others might have a whole different recipe for a pudding, or they might be making slight adjustments to their corn casserole to call it a pudding, maybe make it a bit sweeter or creamier. No judgments here! Whichever way you make it and whatever it is being called in your house, this corn dish is the right amount shy of cornbread. It is gritty yet gooey, and so yummy!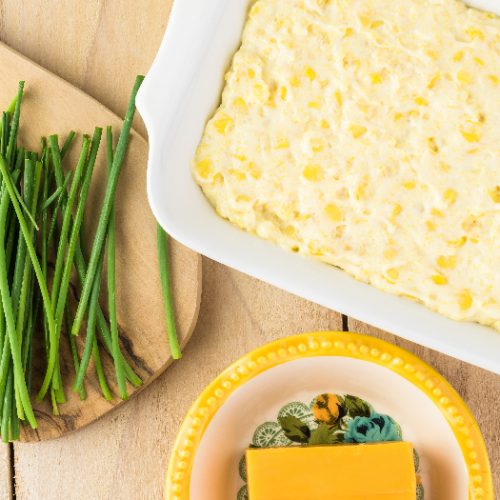 Corn Casserole
Corn casserole is a hard-to-miss accompaniment during the holidays. The most humble ingredients come together to make an easy-to-bake holiday side-dish which is golden on the outside and full of warmth on the inside. Here's how you can bake your own!
Print
Pin
Rate
Instructions
Preheat oven to 350°F.

In a large bowl, mix cornmeal, flour, baking powder, canned corn, and creamed corn. Instead of the canned corn, you can also use fresh kernels shaved off the cob. Mix these ingredients together.

To this bowl, add the eggs & butter, and sugar & salt as required. Mix these ingredients well to ensure uniformity.

Add sour cream and mix it lightly.

Grease your baking dish or casserole dish with a layer of butter or spray with cooking spray.

Transfer the mixture in the bowl to the greased dish. Make sure that the dish is only half or three-fourths full.

Bake this in the oven for 40 to 50 minutes. Ensure that the top is golden brown and the center is not too solidified, but a little gooey.

Garnish with chives, parsley, green onions, cilantro, or any toppings of your choice. You can also top it with a dollop of sour cream.
Notes
Corn casserole can be prepared a day ahead. It can also be made in your slow cooker if you are looking to save oven space. While it is an apt accompaniment to your holiday mains, we wouldn't mind a scoop before the table is set!
Connect With Us
If you have tried this recipe, we would love your feedback in the comments section below. And while we can't taste it, we would love to see how it turned out! You can connect with us on Facebook or Instagram and tag your picture with #organicfactsrecipes. [1] [2]
Do you wish to share your winning recipes with us? Please click here and fill in the details to get started.