There are many seaweed wrap benefits that you can enjoy from the comfort of your own home, once you learn how to prepare this therapeutic treatment.
What Is A Seaweed Wrap?
A seaweed wrap is a form of skin treatment that can benefit the entire body. Seaweed contains a wealth of minerals that offer a range of benefits for your skin. A paste can be made using seaweed, hot water and occasionally other ingredients, such as essential oils or flour. After the paste is spread over your body, you are wrapped in a blanket or a plastic wrap to help the skin fully absorb the benefits from this popular seaweed paste. This is a popular offering at many spas around the world, but it can also be done at home with equal success! [1]
Potential Seaweed Wrap Benefits
Seaweed wrap benefits primarily relate to the skin, but the nutrients can also penetrate deeper for some surprising effects.
Removes Dead Cells and Detoxifies the Body
Due to the warmth of the paste, and the wrapping element of the process, a seaweed wrap makes the body sweat. This loosens any dead skin on the body. Sweating also releases toxins inside the body through the skin. The toxins and dead skin are then removed with the paste during the clean-up phase. [2]
Moisturizes
The seaweed is full of minerals, vitamins, and lipids that will enrich your skin with moisture. This enriching process is made easier after the dead skin cells have been loosened by the heat, making this one of the most effective ways to increase the moisture content of your skin. [3]
Regenerates Skin Elasticity
Seaweed is a great source of fatty acids, vitamin A and antioxidants, all of which have been shown to aid the body in rebuilding the skin's elasticity and regenerating damaged skin cells. A study recently published in Advances in Botanical Research by Dr. Gilles Bedoux suggests that the antioxidants in seaweed wraps have measurable anti-aging effects. [4]
Reduces the Appearance of Cellulite and Wrinkles
It is thought that the minerals and vitamins in the seaweed and the process of the wrap itself may help to reduce the appearance of cellulite and fine wrinkles. [5]
How To Make Your Own Seaweed Wrap?
Here's a simple recipe to make your own seaweed wrap. Take a look.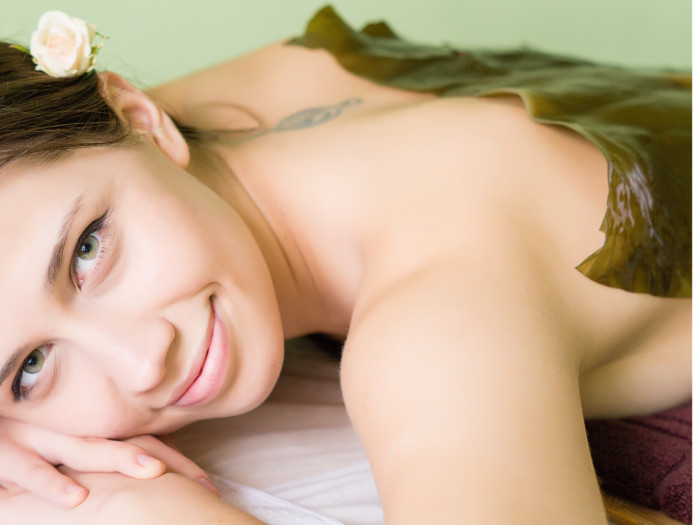 DIY Seaweed Wrap Recipe
Relieve stress by putting this rejuvenating seaweed wrap on your body!
Print
Pin
Rate
Total Time:
1
hour
40
minutes
[6]
[7]
Ingredients
1

pound

of powdered kelp

4-8

cups

of spring water

1-3

tbsp

of flour
Instructions
To make seaweed wrap, bring four cups of water to a boil.

Mix in the powdered kelp.

Simmer on low heat for one hour, while stirring.

Add more water if needed to keep the mixture at a paste-like consistency.

After one hour, take the pan off the heat and add the flour. Apply the paste on your body and enjoy its relaxing benefits!
How to use your own Seaweed Wrap?
You will need food wrap and something to lie on, such as old towels or a deck chair. Have your warm seaweed paste at hand. Sit in a bathtub lined with old towels or a plastic shower curtain or in your garden on a deck chair. Apply the paste all over your body in a thick layer. Wrap your body in food wrap to maintain the heat from the paste close to your body. Sit for 1-2 hours and then wash off your entire body. You can even store the dried paste to reuse next time by adding a little water and reheating it for a few minutes until hot.