The bustling roads, street decorations, and the call to prayers are what make the holy month of Ramadan glorious. Thirty days of fasting, sunrise to sunset is what gives the people of Islam a mystical yet peaceful feeling. It is the blend of love and passion for worship and food that brings everyone together during this festive month. Growing up, for me, Ramadan meant family get-togethers for iftars, gorging yummy delicacies, and a feeling of connectedness to Islam. For me, Ramadan summed up the inexplicable joy of transforming into a whole new person. [1]
For the first time in so many years, I am experiencing Ramadan with my family indoors. I ended up in quarantine with them when a nationwide lockdown went into effect. In the midst of a pandemic, I have had the privilege to start and end my fasts with my family. I consider this as a silver lining.
Worldwide, millions of Muslims are at home observing social distancing, yet trying out new recipes with their loved ones. There are video conferences with families, sharing of recipes, and of lockdown tales. The pandemic has made us realize the importance of good health and good food – and how to not take it for granted.
Ramadan Iftar
Now keeping Ramadan in mind, how can one not talk about iftar? Yes, I am referring to the much-awaited hour that keeps us hungry and palpably excited. In fact, preparing and devouring iftar dishes has kept us upholding the true Ramadan spirit at home.
Perspectives alter, so do preferences. As an ardent meat lover, there is one recipe that has always brought back fond memories of my childhood. The yummy and mouth-watering shami kebab recipe made by my mother was a clear favorite during this month. The tender meat patties stuffed with gram dal and spices wins the hearts of all right at the first bite. It is soft, crumbly, and gives you meaty goodness.
Shami Kebab Recipe
In such times, food has undoubtedly been the comfort zone for my family as we discover new recipes for iftar. Iftar snacks were prepared by my mother, who now in her own discretion is miles away due to the lockdown. Her recipe of mutton shami kebabs (fried minced mutton balls coated in flour and spices) was a unique appetizer that kept us waiting eagerly for the iftar time to arrive. The sizzling aroma of the kebabs hovered in the entire house and I couldn't be more ecstatic for iftar. Let me tell you more about the recipe in detail!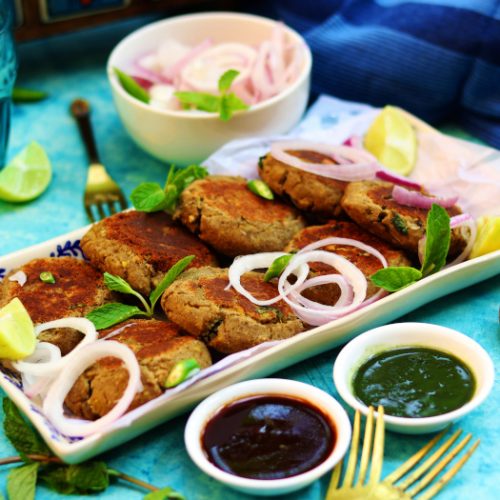 Yummy Mutton Shami Kebab Iftar Recipe
A great snack for every occasion that can be devoured with sauce and some garlic mayo!
Print
Pin
Rate
Ingredients
400

gms

minced mutton

1/4

cup

Bengal gram dal

soaked for 2 hours

6

garlic pods

2

-inch

ginger pieces

1/4

cup

coriander leaves

finely chopped

1/4

cup

mint leaves

finely chopped

1

tsp

oil

2

tsp

fennel seeds

1

tsp

peppercorns

3

dry red chilies

1

whole cardamom

2

cloves

1

tsp

salt

2

tbsp

oil

for shallow frying

300

gms

panko breadcrumbs

for coating
Instructions
Heat oil in a pan. Add minced mutton, gram dal, garlic, ginger, cardamom, peppercorns, dry red chilies, cloves, fennel seeds, coriander leaves, and mint.

Stir and cook over medium flame. Keep stirring the mutton until the moisture is completely absorbed.

Stir and cook it for about 15-20 minutes till the mutton is well-cooked. Check if it is cooked by pressing the dal and minced mutton.

Bring the mutton mixture to room temperature and add it to a blender and grind it to a fine, soft mixture.

Shift the mixture to a bowl and knead it for 2 minutes to make a soft dough.

Make a lemon-sized ball, gently press in your palm, make a round shape, and set it aside.

Add the oil to a pan and heat on low-medium flame, place the kebabs gently, roll it in breadcrumbs, and fry it for 2-3 minutes till the kebabs turn golden-brown in color.

Transfer on a clean paper towel plate to soak the oil. Serve it with your favorite sauces or a coriander-mint chutney!
Notes
You can refrigerate the dough for 1-2 hours so it binds well for frying.
You can also dip the patties in whisked eggs so that it does not crack or fall apart while frying.
Cook the minced mutton for 20 minutes stirring continuously so that it browns quickly and does not stick to the pan.
In the face of the global pandemic, this year's Ramadan is a quiet yet closed-knit affair. Usually, we buy new clothes and stock up our pantries and donate food and belongings to the homeless and less-privileged. Yet, this year, zakat or act of charity is done online via money transfer apps or donating items remotely to make the best of the situation. Truly, this time I thought to myself, it is a different yet special kind of Ramadan.
Because amongst all the chaos going around the world, I get to spend time for self-reflection, discipline, and restore devotion to my religion with the company of my family. I hope as the month goes on, we observe ourselves and rejoice in what will come as and when the dust settles. Eid-ul-Fitr is not going to be the same, but I hope that we become more grateful for our families, friends, and the infinite blessings showered upon us.