Consuming healthy food is something that everyone wants to follow but don't do it enough. People usually stop eating healthy because they think it might not be tasty. But, when you have citrus fruits like white grapefruit in the list, it makes your healthy diet more delicious. This fruit has a wide range of health benefits like decreasing cholesterol levels and aiding in weight loss. White grapefruits are all-seasonal fruits, usually available in November through April, and are a wholesome snack to keep in the pantry during this time.
White grapefruit gets its name due to the pale color of its flesh. Ruby red and pink grapefruits are amongst grapefruit varieties that have their distinctive hues. Not only limited to the whole fruit, but its juices and extract also offer a variety of health benefits. The extract is often used in cooking, desserts, and beverages. More often, the juice is added to sodas, mixed drinks, and punch to give a sweet taste with a kick of healthy vitamin C.
White Grapefruit Benefits
The health advantages of white grapefruit are aplenty. A concoction of chilled grapefruit juice boosts vitamin C levels in your body and makes it a healthier choice amongst other citrus fruits. Also, white grapefruits are filled with benefits from diverse vitamins and nutrients like – potassium and lycopene.
White grapefruits also help prevent cardiovascular diseases, manage diabetes, improve digestion, and sleep. It is rich in fiber, nutrients, and antioxidants. Now, let us have a look at the benefits in detail to know more!
Antioxidant Properties
A research study in Oxidative Medicine and Cellular Longevity journal states that fresh and processed peel wastes of white grapefruit are a natural source of bioactive flavonoids, known as naringin. These are incorporated as food ingredients or as therapeutic agents as part of pharmacological strategies.
Nutrition Facts

---

Grapefruit, raw, white, California

Serving Size :
Nutrient
Value
Water [g]
89.58
Energy [kcal]
37
Energy [kJ]
155
Protein [g]
0.88
Total lipid (fat) [g]
0.1
Ash [g]
0.35
Carbohydrate, by difference [g]
9.09
Calcium, Ca [mg]
12
Iron, Fe [mg]
0.08
Magnesium, Mg [mg]
9
Phosphorus, P [mg]
12
Potassium, K [mg]
143
Zinc, Zn [mg]
0.07
Copper, Cu [mg]
0.03
Manganese, Mn [mg]
0.02
Vitamin C, total ascorbic acid [mg]
33.3
Thiamin [mg]
0.04
Riboflavin [mg]
0.02
Niacin [mg]
0.27
Pantothenic acid [mg]
0.28
Vitamin B-6 [mg]
0.04
Folate, total [µg]
12
Folate, food [µg]
12
Folate, DFE [µg]
12
Vitamin A, IU [IU]
10
Fatty acids, total saturated [g]
0.01
16:0 [g]
0.01
18:0 [g]
0
Fatty acids, total monounsaturated [g]
0.01
16:1 [g]
0
18:1 [g]
0.01
Fatty acids, total polyunsaturated [g]
0.02
18:2 [g]
0.02
18:3 [g]
0.01
Tryptophan [g]
0.01
Threonine [g]
0.02
Isoleucine [g]
0.01
Leucine [g]
0.02
Lysine [g]
0.02
Methionine [g]
0.01
Cystine [g]
0.01
Phenylalanine [g]
0.05
Tyrosine [g]
0.01
Valine [g]
0.02
Arginine [g]
0.1
Histidine [g]
0.01
Alanine [g]
0.03
Aspartic acid [g]
0.16
Glutamic acid [g]
0.23
Glycine [g]
0.02
Proline [g]
0.07
Serine [g]
0.03
Sources include : USDA
Decreases Fatigue
Grapefruits are helpful when facing tiredness as they help you alleviate fatigue due to monotonous chores. Drinking white grapefruit juice helps you feel fresh and is an appetizing drink to boost your metabolism. Furthermore, a study in the Pharmaceutical Biology journal states that naringin with a dose of 80 mg/kg has anti-fatigue activity. Naringin elevates energy levels, aids in weight loss, and reduces the probability of developing diabetes.
Regulates Sleep
In ancient medicine, the belief is that a cup of white grapefruit juice promotes sound sleep and alleviates symptoms of insomnia. An animal study in the Food Chemical Toxicology journal shows that a glass of grapefruit juice at 4 ml and 8 ml/kg produces a significant increase in the sleeping time of the subjects.
May Help Prevent Cardiovascular Diseases
Grapefruit has high potassium content which works as a vasodilator, meaning that blood vessels and arteries relax and reduce the blood pressure levels. As per a study in the Journal of Agricultural and Food Chemistry, the consumption of grapefruit juice also helps influence serum triglyceride levels in patients suffering from coronary heart diseases.
White Grapefruit Juice Recipe
To beat the sweltering summers, this DIY white grapefruit lemonade ticks all the right boxes. Also, white grapefruits are tangier than their pink counterpart and are a good palate cleanser. Here is the recipe in detail!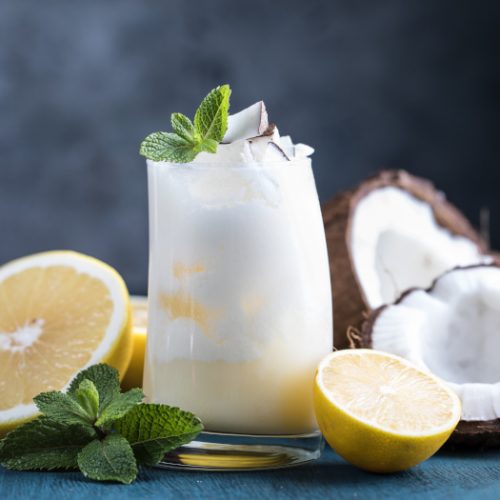 White Grapefruit Mocktail Recipe
Relish this simple white grapefruit lemonade recipe and make your summer parties rocking!
Print
Pin
Rate
Ingredients
4

peppermint tea bags

1/4

cup

pineapple juice

1 /4

cup

lemon juice

2

cups

of white grapefruit juice

4

cups

of water

1

tsp

sugar

or honey

1

leaf

mint

for garnishing
Instructions
Pour 4 cups of water into a saucepan.

Add pineapple juice and grapefruit juice and mix it with a stirrer.

Add sugar and juice of the lemon.

Bring to a boil and stir until the sugar dissolves completely.

The lemonade is ready, now let it cool down.

Once cooled, pour into mason jars or a large water carafe.

To garnish, add a mint leaf on top and serve chilled!
Notes
Grapefruit lemonade is simple and you can customize it to add more flavor.
It is delicious with sprigs of rosemary or with some fresh mint leaves.
Add a couple of strawberries to infuse it with another layer of flavor.
Where to Buy Grapefruit Juice?
You can buy bottled grapefruit juice or the juice available in paper-like cartons in supermarkets.
Word of Caution: Grapefruit juice is good for you but that might not be completely true. Drinking white grapefruit juice along with certain medicines increases blood levels of the drug to harmful levels, according to a study published in the Nutrition Journal.