Home remedies for anorexia include apple, ginger, orange juice, lemon, garlic, grapes, warm water, mint, etc. Anorexia is a common problem arising out of persistent digestion disorder. Anorexia patient, as a result to this, suffers from loss of appetite, unable to eat a proper diet. Also, there is general weakness and problems of sleeplessness.
Anorexia affects the overall health. Anorexia is caused due to bad eating habits. Usually women tempted to reduce weight extremely, especially the size zero types suffer from anorexia. Though extreme cases need medical consultation, yet anorexia can generally be kept at bay with healthy and convenient home remedies.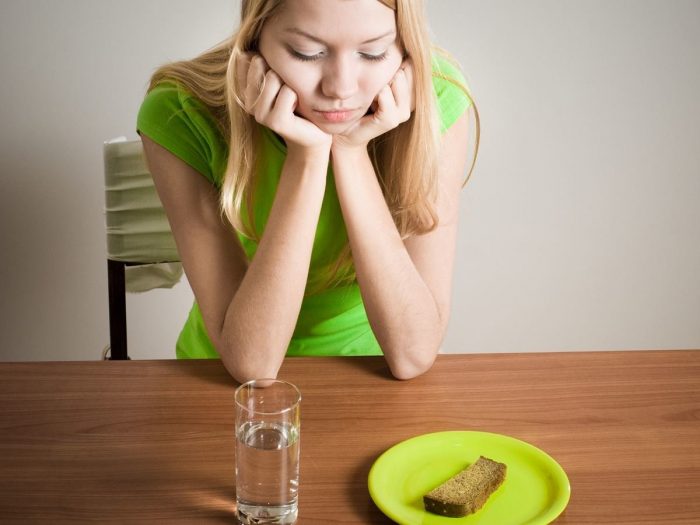 Anorexia home remedies aim at improving digestion, increasing appetite and enhancing overall body health. A special report by BBC tells that anorexia shares many features with bulimia. The best part with home remedies is that they don't have any side effects and are effective too; only you need to take them regularly over a period of time to achieve results.
Some prominent symptoms of anorexia are as follows:
Refusal to accept the minimal body weight
Dominating fear in spite of being under weight
Social withdrawal and depression
Disrupted sleep and fatigue
Decrease in concentration and attention
Problems in interaction with people
Obsession with thoughts of food and in fact, the food itself
Lack of self perception
Frequent disorders in mood, personality and behaviour
Overpowering importance to physical perfection and outlook
According to the Department of Medicine, Massachusetts General Hospital and Harvard Medical School, Boston, anorexia is increasingly prevalent among boys and men, though girls and women are not spared as well.
Regular treatment of anorexia combines both hospitalisation and outpatient setting. At times, severe case of anorexia leads to organ dysfunctioning, which needs immediate hospitalisation. The emergent goal of regular treatment of anorexia is to prevent malnutrition and at times, intravenous feeding is required for this case. Weight management can also be achieved through adopting the nutritional treatment. The treatment aids in gaining at least 3-4 pounds per week. But, the treatment should be based on the overall development of the patient rather than considering only the aspect of weight gain. Some of the potential therapies included in regular treatment are as follows:
Group therapy
Cognitive behaviour therapy
Individual therapy
Family therapy
Home remedies for anorexia
Home remedies, along with psychological medication, helps in curing anorexia and the symptoms related to it. Some of the remedies of vital importance are as follows:
Apple: Eating an apple a day stimulates surge of a protein digesting enzymes known as pepsin. This is useful in helping digestion.
Ginger: Ginger is especially recommended for anorexia because it helps to enhance hunger. Ginger taken with rock salt every day, works miraculously on upset stomach.
Orange Juice Therapy: A very quick and effective treatment is orange therapy. All you need to do is to have a glass of orange juice after every two hours throughout the day. Follow this for 2-3 days and you will see the worst of digestive system getting into right form. Remember not to take anything else in between. Basically, this methodology will cleanse the system thoroughly.
Lemon: Lemon works greatly as a system cleanser. One lemon squeezed in a glass of lukewarm water with a pinch of salt, drunk in the morning, cleanses the system thoroughly. Add some ginger juice to make it more effective. Lemon tones up the system.
Garlic: Take three to four cloves of garlic a day in what ever form like raw garlic, crushed garlic in soup and garlic boiled in water. Garlic helps in anorexia as it cleanses system and increases hunger. It helps in secretion of juices that cleanses digestive system.
Sour Grapes: Have juice of sour grapes for dual purpose, improving appetite and digestive system. Remember to take this continuously every day for at least three weeks to get effective results.
Warm Water: Water is the basic remedy to anorexia. Unless your digestive system is not cleansed, you will not feel hungry and your anorexia will not be cured. Water does the first step. Intake of warm water cleanses the digestive system.
Mint: It is natural appetizer. Only 2 spoon mint juice in the morning helps to increase your hunger. Within a few days of taking mint juice, you will see a marked change in your eating habit. You will feel more craving for food.
Asafetida: This is a grandma's treatment. Since ages, it has been believed that if you take a pinch of asafetida in a spoon of pure ghee, it will solve the problem of anorexia.
Pineapple: Take a few pieces of pineapple regularly for breakfast and you will feel craving for food throughout the day.
Anorexia is an easily curable problem. You need to take proper diet and cleanse the digestive system. This can be easily done by taking one or some of the above mentioned home remedies. Good diet is must for a healthy living.
References: BBC