Many people use aloe vera oil for its rich nutrient composition and impressive health benefits. This vitamin-rich natural oil makes the skin glow and acts as a wonderful emollient.
What is Aloe Vera Oil?
Aloe vera oil is made by soaking aloe vera leaves or gel in a carrier oil, which extracts many of the active ingredients and nutrients. For this reason, the oil isn't a true essential oil, but it is extremely potent and popular for topical applications and herbal remedies. Made from the aloe plant, scientifically known as Aloe vera, versions of this oil have been in use for cultural and medicinal purposes for thousands of years. [1]
Nutrition Facts
Nutritionally speaking, the oil is rich in vitamin C, A, E, and various B-complex vitamins, along with key amino acids and minerals, such as calcium, selenium, zinc, and magnesium. There are also certain antioxidants, anthraquinones, and polysaccharides in this oil that can benefit overall health. [2]
Health Benefits
The main benefits of aloe vera oil include:
Prevent premature aging
Promote clear skin
Improve the health of the hair and scalp
Reduce the appearance of wrinkles, blemishes, and age spots
Reduce hair loss, dandruff, and split ends
Stimulate hair growth
Due to the anti-inflammatory nature of this oil, it can cut down on oxidative stress in the skin and prevent signs of aging. Further applying the oil to the hair and scalp strengthens hair health. [3]
While the oil is not meant for oral consumption, small amounts can be used on the lips and gums to improve the texture and health of those parts of the mouth. Gum disease is a very serious problem, but applying small amounts of this antioxidant-rich oil can defend against this common issue. [4]
Uses
This DIY oil can be used in many different ways, including as a massage oil, for insect bites, or in aromatherapy, among others.
Massage Oil: The soothing effects of this oil can stimulate circulation and relax muscle tension.
Aromatherapy Oil: This oil can have a soothing effect when distributed with an aromatherapy diffuser, and is known to reduce stress levels and headaches.
Hair Care: Rub the oil into the scalp and pull it through all of your hair strands for the best results. [5]
Insect Bites: Applying a drop or two of this oil on an insect bite can reduce inflammation and discomfort.
Dental Care: Rubbing a drop or two on the lips and gums can prevent gum disease.
How to Make Aloe Vera Oil?
If you want to make your DIY oil or moisturizer using aloe vera, follow these simple instructions!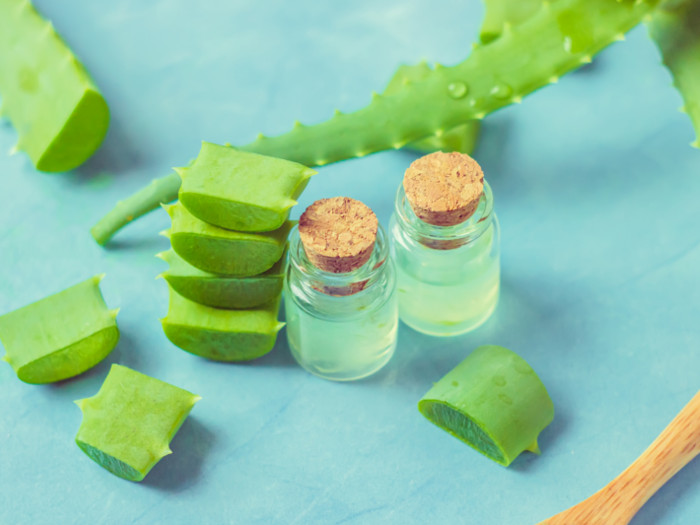 DIY Aloe Vera Oil Recipe
Make your own aloe vera moisturizer with coconut oil to rejuvenate your skin!
Print
Pin
Rate
[6]
[7]
Instructions
Cut the thorns off both edges of a large aloe vera leaf and wash thoroughly.


Slice the aloe vera leaf into small pieces and add them to a mason jar.

Pour coconut oil over the aloe vera leaves and seal the jar.

Store in a dark, cool space for 2 months.

Strain out the aloe vera leaf pieces and use this all-natural oil on your skin.
Side Effects
There are a few side effects of this oil, including possible allergic reactions and diarrhea, as well as dangers for diabetic patients. Although this oil is rarely consumed orally, it can be used in small amounts for gastrointestinal distress. However, this can lead to diarrhea in some people. If you experience rashes or topical inflammation, discontinue the use of this oil.