Amaretto is more than just a tasty type of alcohol; it also packs a few surprising health benefits, when consumed in moderation!
What is Amaretto?
Amaretto is an Italian liqueur originally made from bitter almonds, although now it is commonly also distilled using peach pits, and as such, is a gluten-free beverage. Most amarettos range from 24% to 28% alcohol by volume (ABV), and thanks to the high alcohol content, this alcohol does not go bad quickly. However, a bottle that has been opened for several years may have lost much of its flavor. If you do not have amaretto, non-alcoholic almond extract or hazelnut liqueur can be used as a substitute.
Nutrition
One ounce of amaretto contains 3 grams of sugar, 17 grams of carbs, and 110 calories. It does not contain any fats, proteins, cholesterol, and sodium.
Benefits
Although not usually consumed with health improvement as its main goal, amaretto, as with many alcohols, can help with the following:
How to Make an Amaretto Sour?
The process to make an amaretto sour is a simple one. We have discussed the steps below.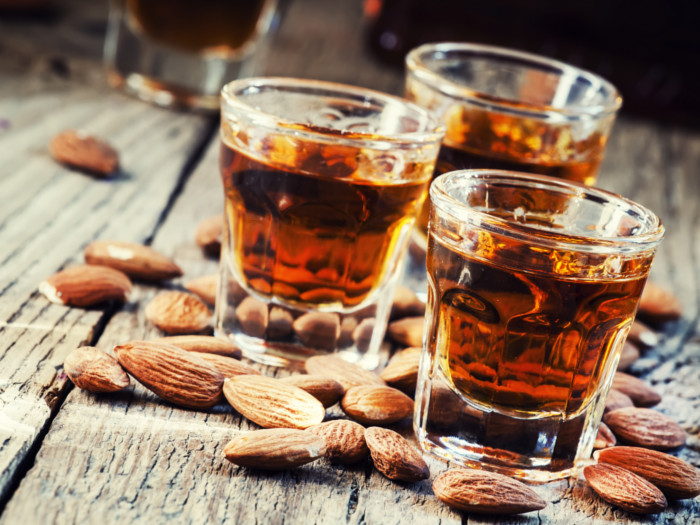 Classic Amaretto Sour
This nutty liqueur makes an excellent sour. This classic recipe is easy to prepare and a definite party pleaser.
Print
Pin
Rate
Ingredients
1.5

oz

Amaretto liqueur

0.75

oz

lime juice

1

oz

simple syrup

1

orange slice, thinly cut

optional
Instructions
Pour the liqueur into a cocktail shaker with ice, syrup and lemon juice.

Shake to combine ingredients and let it cool.

Pour into a glass and place a slice of orange on top.
Substitutes
There are many alternatives available depending on the effect you are looking for.
Alcoholic substitutes: If you want to include the alcohol but have some flexibility on the flavor, try hazelnut liqueur, chocolate liqueur, or coffee liqueur.
Non-alcoholic substitutes: If you're interested in preserving the flavor of this alcohol, non-alcoholic substitutions, such as almond extract, orgeat Italian soda syrup, and marzipan are your best options.
Uses
Amazing uses of amaretto include the following:
Most often used as an after-dinner drink, either straight or combined into a cocktail, this liqueur adds a sweet and strong flavor to many meals.
Similarly, it is often added to

desserts

, such as tiramisu or cheesecake, or ice cream, to achieve a particular flavor.
It is also popular to add to a morning or after-dinner

coffee

.
Side Effects
Alcohol can impair your judgment, a particularly dangerous reality when operating heavy machinery. Individuals who are pregnant should not consume alcohol, as it can cause fetal alcohol syndrome in infants.
Excessive drinking can also lead to serious health problems, such as the following:
Drinking in moderation is key!