If you are planning a party and are wondering what to prepare as appetizers for the evening, then you must surely include bacon-wrapped dates on the menu. The combination of crispy, salty bacon together with sweet and chewy dates and melt-in-the-mouth good cheese seeped in between makes this a delicious starter. They go extremely well with cocktails. Given that you need only three ingredients to make this dish, it is quite simple to make it at home and works well even as a last-minute preparation. So what are we waiting for? Let us get started with the detailed recipe below.
How To Make Bacon-Wrapped Dates?
Bacon-wrapped dates require three ingredients – bacon, dates, and cheese of your choice. Wrapping the bacon around the dates is quite a fun activity. All you need to do is stuff the date with cheese, wrap the bacon around it and stick a toothpick in it to hold it together. Repeat this till your entire baking sheet is covered with bacon-wrapped dates. You can assemble all this a day in advance and keep it ready in the refrigerator. You can keep it in the oven for baking just a few minutes before the guests are to arrive. Let us look at each of the ingredients in great detail so that you can go ahead and effortlessly prepare the dish.
Bacon: You can use bacon of any thickness for this recipe, however, the most preferred one would be the one which is not too thick or thin. This ensures that it is thick enough to hold the date perfectly well without being too flimsy and yet be thin enough for the toothpick to pass through easily.
Dates: While selecting dates for this appetizer, choose thumb-sized Medjool dates. While assessing the quality and texture of the same, select the ones that appear to be soft and chunky and not wrinkled and dehydrated. Once you are done selecting them, use a small serrated or paring knife to slice them 1/4″–1/8″ down lengthwise and remove the pit. With that gone, you have space to fill the cheese in.
Cheese: Feel free to choose any cheese you want to fill in the date once you remove the pit. The most favored cheese is goat cheese as it is naturally very creamy and adds a tarty flavor to the entire appetizer as a whole. You can also alternate it with gouda or cheddar cheese. Additionally, you can replace cheese with cream cheese. If you want to add a bit of a nutty flavor to the ensemble, feel free to place an almond along with the cheese in the date and then wrap it with a bacon strip.
Come take a look at the detailed recipe in the card below.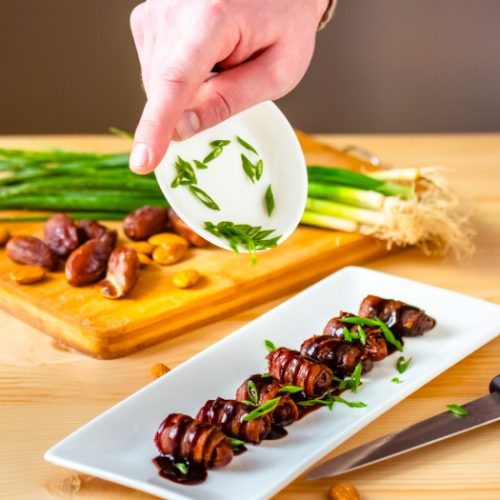 Bacon-Wrapped Dates: An Easy Appetizer Recipe
Here's a delicious 3-ingredient appetizer recipe that's perfect for a party, family get-together or potluck!
Print
Pin
Rate
Ingredients
16

ounces

of bacon

preferably not too thin or thick

25

Medjool dates

4

ounces

of goat cheese or any other cheese of your choice

25

toasted almonds

optional
Instructions
To make bacon-wrapped dates, heat the oven to 400°F. Use a parchment paper or a silicone baking mat to line the baking sheet. Set it aside once done.

Thereafter, take each of the dates and slice it open gently in the middle to remove the pit using a small paring knife. Using your fingers, you can open the gap slightly.

Now use a spoon to fill the pockets in the date with goat cheese or any other cheese you would like to add. You can use the back of your spoon to stuff the cheese into each of the dates properly. In case, you want to put a toasted almond inside the gap, stuff it in along with the cheese and close the date properly with your fingers.

Once done, cut strips of bacon and wrap them around each of the dates in such a way that they are properly encompassed. Now secure the entire ensemble with a toothpick that was earlier soaked in water. Repeat this for all the dates.

After you're done stuffing and wrapping all the dates, place them on the baking sheet, evenly spaced out from one another. Now allow them to bake for 15 minutes.

After 15-20 minutes, take the dates out, flip them over, and put it inside the oven again for the same amount of time. Closely watch the dates. Once you see the bacon crispy and well cooked, you'll know your appetizers are done and ready.

Now that they're ready, transfer them onto a plate. Use a paper towel to remove the excess oil and greasiness that will ooze out of the bacon strips.

You can serve them once they have cooled down with the cocktail or a non-alcoholic drink of your choice.
Notes
You can prepare this dish a day in advance and keep it refrigerated. Ensure that it's properly covered though when kept inside the refrigerator.
You can substitute the dates with figs, if you want to and follow the same recipe.
You can substitute the cheese with cream cheese mixed with different herbs to enhance the flavor.
You can use toasted or candied walnuts instead of toasted almonds. This will give it a nice crunch.
If you want it to be paleo-friendly or meet the Whole 30 Foods criteria, use sugar-free bacon.
If you want the dish to be dairy-free, do away with the cheese.
We have used Medjool dates, you can feel free to use other kinds of dates such as Deglet Noor.
How did you find our bacon-wrapped dates recipe? Do you have additional recipe notes to share with us? Do feel free to leave your views and notes in the comments section below.