One of my most memorable childhood memories is of my granny's Hyderabadi biryani. Made with mint and coriander, it was a family favorite. Decades later, when I was living in the Indian city of Hyderabad, it was nowhere to be found. Until I saw a family recipe by the tennis player Sania Mirza. Biryani, one of the most beloved dishes of the subcontinent, is truly an embodiment of its home in the Indian subcontinent, full of complexity, local flavors, traditions, folklores, and oodles of love.
My love for this dish started with my mother's and grandmother's recipes. These delicately spiced, rich rice, and meat dishes were made on special occasions. It always meant celebration, feasts, friends, and family. The first dish I tried to make was also a biryani. It was an ambitious effort, but I remember the dance of spices and our home scented with its aroma. In the years since, I've tried to sample the many biryanis of India, each with its own rich history. I have also come up with an easy version that does not require a spice chest or hours of slogging over the stove. This easy recipe is perfect for a special dinner or for festivals like Ramadan.
What is A Biryani?
This question is more complex than you may realize. The moment you settle on a definition and origin, you will find a conflicting theory. Much of this is to do with the Indian subcontinent's long and rich history of food and cultural overlaps. So, while it is a rich dish of rice with meat and spices, there are pulaos which can also claim this fame. And how do we fit the vegetarian version? Historian and food expert Pushpesh Pant writing for BBC, speculated that this quintessentially Indian celebratory dish must have originated in Iran. The Persian words 'birinj biriyan' mean fried rice. Iran had a tradition of cooking slow-cooked rice with meat and aromatics. [1]
However, in her book Biryani, food author Pratibha Karan points out that it originated in India, perhaps from the pulaos made for invading Muslim soldiers from Central Asia. Renowned journalist Vir Sanghvi, writing for his column Rude Food, however, found that similar dishes existed well before the invasion of conquers from Central Asia. [2] [3]
However it may have originated, its journey through India has been rich and meandering. From the spicy Tamil Nadu version to the prawn dishes of Kerala, the Goan vinegar-olive biryani, the Royal Awadhi, or the delicate biryanis of Kolkata, it is undoubtedly one of the subcontinent's most loved dishes. So, what is biryani? To put it simply, it is a dish made with rice and meat (occasionally fish) with a careful balance of spices. Marinated meat is simmered with rice under low-heat.
How to Make Biryani?
Most recipes seem complicated with almost a chapter-long list of spices. However, you can make a simpler homemade version. A good biryani takes a little time and patience. I usually make it on special days, when I can take my time. But the most important ingredient is love. I firmly believe that the best versions are made with love, care, and patience. It asks for your respect for meats, and spices. While you can find elaborate recipes, I've included a simple homemade chicken biryani recipe. But there are a few things you have to keep in mind when making it.
Tips on Making the Best Biryani:
Some biryanis are more special than others and there's no reason yours cannot be the same, even if you are making a quick recipe.
Marination: The marination serves two purposes, tenderizing the chicken and infusing it with maximum flavor. The meat becomes soft and tender. It is best to marinate the chicken for at least an hour.
Using basmati rice: It is best made with long-grain rice which does not turn mushy quickly. This is why basmati is favored. Plus, good quality basmati rice is also preferred for its fragrance. Rice is parboiled before adding to the chicken in the final cook. This means that the rice is cooked partially to an al dente state. It will finish cooking with the chicken later.
Chicken: It is typically made with the larger pieces of the chicken. Cut one whole chicken into 8-10 pieces. We have used chicken thighs. You can also use drumsticks. These are less likely than the breast pieces to dry out and will remain soft and succulent.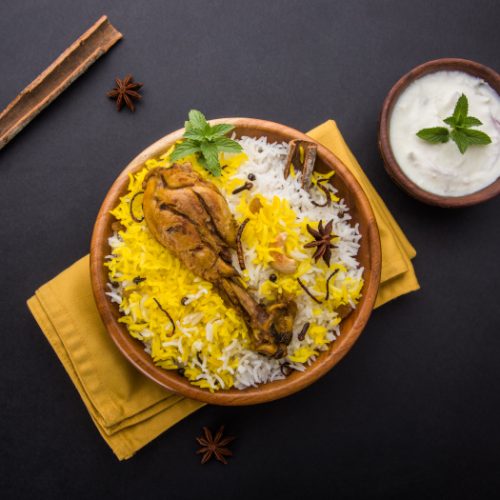 Easy Chicken Biryani Recipe
This chicken biryani can easily be made at home. All you need is a little patience and love.
Print
Pin
Rate
Total Time:
1
hour
20
minutes
Ingredients
For the chicken marinade
2/3

cup

yogurt

2

tbsp

garlic paste

1

tsp

ginger paste

1

tsp

Kashmiri chili powder or paprika

1/2

tsp

coriander powder

1/2

tsp

cumin powder

1/4

tsp

turmeric

1

tsp

salt

750

gm

chicken thighs
For cooking the rice
4

green cardamom pods

10-12

cloves

1

star anise

2

cups

rice

salt to taste
For cooking the biryani
2

tbsp

vegetable oil

2

crisply fried onions

plus

2

onions

chopped fine

10-12

strands

saffron

soaked in warm milk

1

cup

coriander leaves

2

tbsp

ghee

1/2

tsp

nutmeg

grated

1/2

tsp

mace

powdered

1

tsp

garam masala
Instructions
Begin by marinating the chicken. Just add all marinade ingredients to the chicken thighs, mix well, and keep it aside.

Now cook the rice. For this, wash the rice thoroughly. Bring about 4 cups of water to boil, add the rice along with the aromatics. Check for doneness after a while. It should be al dente. Drain and keep aside.

It's time to make the biryani. In a deep and wide pot, heat the oil. Add the chopped onions and fry till they soften. Add the marinated chicken along with the marinade and cook till you see the oil separating at the edges.

Lower the heat, cover the pot with a lid, and cook for about half an hour or till the chicken is tender. You should have chicken with a thick spicy paste.


Now comes assembling. For this, we will create two layers of chicken and rice. Remove half the chicken along with the paste. On top of the remaining cooked chicken, put half the cooked rice. Spread half the crisply fried onion along with half the coriander and 1 tbsp of ghee.

On the surface of the rice, spread the rest of the chicken you had kept aside. Now comes the layer for the rest of the rice. Level the rice surface and spread over the aromatics. This will be the rest of the crisply fried onions and coriander. Pour over the soaked saffron along with 1 tbsp of ghee, mace, the nutmeg, and the garam masala.

Cover the pan and place some kind of weight on it, such as a kettle full of water. It should be cooked under indirect heat. So if possible, place the pot over a big skillet. If you don't have one, place the pot directly on the stove. Cook over medium heat for around 30 minutes.

Your biryani is ready! You will get a hit of the lovely aromatics the moment you open the lid.
Notes
This recipe includes crisply fried onions. To make it, fry sliced onions till they are dark red and crisp. We recommend doing this over a frying pan as it would take less oil. You can also buy this readymade from Asian grocers.
Aromatics like saffron, mace, and nutmeg give the biryani its lovely aroma. However, if you don't have these, omit them. But you will not get the same aroma.
Biryani is traditionally served with raita. To make, add a little salt to the yogurt and whisk lightly. Add chopped onions and cucumbers. Alternatively, you can also use a yogurt dip.
If your pan is very wide, go with a single layer of chicken, topped with a single layer of rice.
If you are doubling the quantity, be careful with the aromatics. Keep the quantity for garam masala, saffron, mace, and nutmeg the same.
Which is your favorite biryani? Tell us about your stories. If you make our recipe, we would love to know how it turned out. Comment below and share your experience.