On the surface, a date cake seems like a pretty simple deal, nothing fancy or Insta-clickable. But one bite and you realize that there is more to it than meets the eye. The moist richness of dates gives this cake a complexity that a regular sponge cake does not have. There are layers of flavor here, a rich moistness, and a mellow sweetness that makes this cake worth every bite. No wonder it's a festival favorite, whether it's Ramadan or Christmas.
The dates in the cake also make it a healthier alternative to butter and sugar-rich cakes. Dates are rich in nutrient qualities. A Harvard Health Publishing article found that the glycemic index of dates (42) is lower than glucose (103), honey (61), or sucrose (65). This makes it preferable for those looking for weight loss diet options. People with diabetes are also advised to go for food with a lower glycemic index whenever possible to maintain glucose control. In fact, a study published in Nutrition Journal found that consumption of dates by people with diabetes did not result in noteworthy postprandial glucose excursions. [1] [2]
How to Make a Date Cake?
The date cake may seem like a dressed-down version of the more decadent sticky toffee pudding, but that is like saying a sponge cake is any less than the fashion-crazy cakes on social media today. The date cake has its own special place in the cake pantheon, perhaps older than most cakes. It is richer than the average cake with a layered flavoring. We would argue that it does not need lashings of caramel sauce to make it any more special.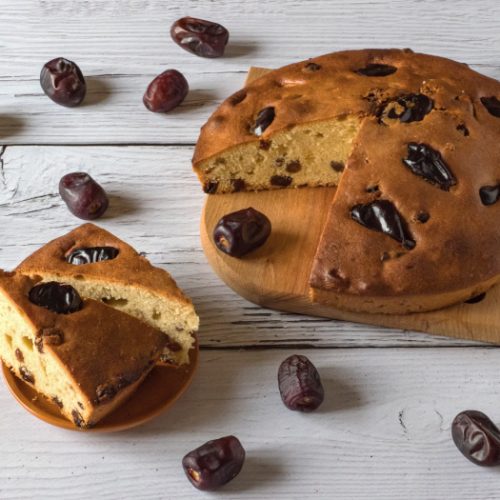 Date Cake Recipe
The dates in the recipe give this cake a mellow richness. This is a cake fit for a festival treat.
Print
Pin
Rate
Cook Time:
1
hour
15
minutes
Total Time:
1
hour
30
minutes
Ingredients
1 1/4

cups

dates

pitted and chopped

1 1/2

cups

self-raising flour

150

ml

water

hot

1/2

cup

muscovado sugar

75

grams

butter

2/3

cup

chopped walnuts

1/2

tsp

bicarbonate of soda

1

egg
Instructions
Heat the oven to 180 degrees Celsius. Grease and line a cake or loaf tin.

Add the bicarbonate of soda to the dates in a bowl. Pour over the boiling water and keep it aside.

In a large bowl, cream the sugar and butter together with a hand mixer till its fluffy. For this quantity, you can also do it by hand.

Break the egg into this mix and whisk briskly. Add the nuts and mix again.

Fold the flour into the cake and date mix. Make sure all the flour is incorporated, but do not overbeat it. Bake this in the oven for about 1 hour 15 minutes.

The cake is done when the top springs back when pressed gently. Take out the cake from its tin and let it cool on a wire rack.

Enjoy your cake with friends and family!
Notes
You can add spices like ground nutmeg, cinnamon, cloves, and ginger for a festive touch. For a decadent treat, serve this with caramel or toffee sauce. If you don't have muscovado sugar, use any other brown sugar.
If you have your favorite date cake recipe, tell us about it. If have you tried our recipe, we'll love to hear how it turned out. So, leave a comment below.