Efo Riro is a delicious stew of meat and greens native to the Yorubas of Nigeria, one of the largest ethnic groups in Africa. There are versions of the green leafy vegetable stew made in different parts of Africa, including Cameroon and Ghana. However, this recipe is commonly made in Nigeria among the Yoruba tribe.
What is Efo Riro?
Efo Riro is a thick, delicious stew made with meat, offal, crayfish, dry fish, and green leafy vegetables. It is traditionally made with Efo Shoko (Lagos spinach) or Efo Tete (African spinach), a member of the genus Amaranth. These leaves have a soft texture and a mild spinach taste. However, since this green leafy vegetable is not easily available, it can be substituted with spinach or any other greens.
Easy Efo Riro Recipe
Efo Riro is a one-pot meal with meat, fish, and greeny leafy vegetables with several layers of flavor. While palm oil is used in the recipe, you can use vegetable oil too. The dish is often made with different kinds of meat including beef tripe, offal, goat meat, snails, crayfish, and smoked fish. While crayfish is the secret ingredient that gives the dish its unique flavor, you can try using smoked turkey or smoked catfish to get a similar flavor.
Also, Nigerians use a condiment called iru or locust bean, which helps offer a deepened stew taste. If you are not a fan of it or find it too strong in taste, you can skip it. Let's get straight to the recipe.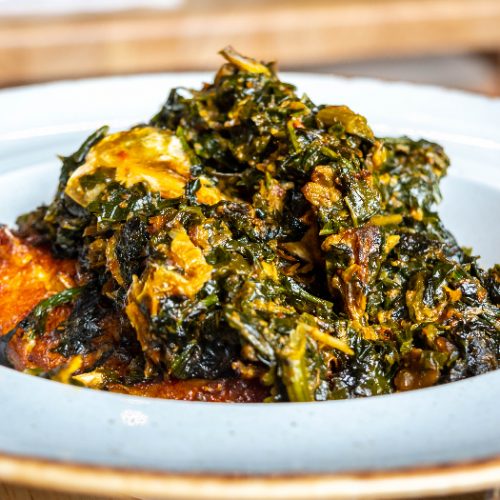 How To Make Nigerian Efo Riro?
A hearty and flavorful spinach and meat stew
Print
Pin
Rate
[1]
[2]
Ingredients
1/4

cup

palm oil

1.5

lb

spinach

3

red peppers

large

2

Scotch bonnet peppers

1

onion

diced

1

bouillon cube

2

tbsp

crayfish

ground

2

tbsp

dried locust bean

1

lb

beef (tripe, meat, & skin)

1/2

cup

shredded smoked fish

1/2

cup

dried whole prawns

salt

to taste
Instructions
Blend the red peppers and Scotch bonnet peppers in a blender with a tablespoon of water. It will yield a thick red paste. Keep this aside.

Warm the palm oil in a thick-bottomed saucepan. Add the diced onions and sauté them till they are soft and translucent.

Add the pepper paste and stir well for 10 minutes. You will see that the sauce thickens up.

Season it with the bouillon cube, salt, and ground crayfish. Add dried locust bean and stir well for 5 minutes.

Now, add the meat, fish, and prawns to the sauce. Mix well. You can add a little bit of water if you feel the sauce is too dry.

Cover the pan and let it come to a simmer. This may take 15-20 minutes. Once the meat is fully cooked, remove the lid.

Meanwhile, prep the leafy vegetables. If you are using frozen spinach, let it thaw first. For fresh spinach, chop it finely. In a pan, stir-fry the spinach on medium-high flame till the water completely dries up. This retains the green color and the crunchiness of the leafy vegetables.

Now add the blanched spinach and stir well. Cook, uncovered, for 3-5 minutes. Serve the Efo Riro hot.
You can serve Efo Riro with semolina fufu (cooked semolina flour), amala (cooked yam flour), pounded yam, or any other fufu recipe. These are traditional fufu recipes, popular in western and central Africa. However, you can also enjoy the spinach meat stew with boiled white rice.
Many Nigerians swear by the fact that this delicious stew can turn a spinach-hating person to a spinach lover! Do try this recipe and please let us know if you liked it, in the comments below.