Using grapeseed oil for hair is a common practice thanks to its long tradition as a natural booster for hair health and appearance.
Grapeseed Oil for Hair
Grapeseed oil is a byproduct of the wine industry. It is produced by pressing the grape seeds left over from the juicing process. It is used industrially to help preserve raisins and is a popular cooking oil due to its very light taste and high smoke point. Grapeseed oil is also a widely used hair treatment, due to the myriad benefits it provides.
Nutrition Facts

---

Oil, grapeseed

Serving Size :
Nutrient
Value
Water [g]
0
Energy [kcal]
884
Protein [g]
0
Total lipid (fat) [g]
100
Carbohydrate, by difference [g]
0
Fiber, total dietary [g]
0
Sugars, total [g]
0
Calcium, Ca [mg]
0
Iron, Fe [mg]
0
Magnesium, Mg [mg]
0
Phosphorus, P [mg]
0
Potassium, K [mg]
0
Sodium, Na [mg]
0
Zinc, Zn [mg]
0
Vitamin C, total ascorbic acid [mg]
0
Thiamin [mg]
0
Riboflavin [mg]
0
Niacin [mg]
0
Vitamin B-6 [mg]
0
Folate, DFE [µg]
0
Vitamin B-12 [µg]
0
Vitamin A, RAE [µg]
0
Vitamin A, IU [IU]
0
Vitamin E (alpha-tocopherol) [mg]
28.8
Fatty acids, total saturated [g]
9.6
Fatty acids, total monounsaturated [g]
16.1
Fatty acids, total polyunsaturated [g]
69.9
Cholesterol [mg]
0
Caffeine [mg]
0
Sources include : USDA
Benefits of Grapeseed Oil for Hair
Grapeseed oil is a herbal oil that helps to prevent baldness, reduce dandruff, hair loss, and moisturize dry hair. Let us look at the benefits in detail.
Moisturizing Dry Hair
Dry hair is a problem for many people, especially in the winter months. Among all the different oils recommended for moisturizing your hair, grapeseed oil has a very light scent and does not leave your hair feeling overly greasy, which oils like coconut oil often do. Applying this oil will also help prevent frizz and split ends.
Reducing Dandruff
A dry scalp can cause unseemly dandruff, redness, and irritation. According to research published in Research Journal of Topical and Cosmetic Sciences, use of herbal oils aids in hair treatment. Few drops of grapeseed oil rubbed into your scalp regularly will not only feed your skin nutrients and keep it moisturized, but it will also help increase blood circulation and regulate your scalp's production of natural oils.
Preventing Hair Loss
Since it is sourced from grapes, grapeseed oil is packed with antioxidants, which help to fight free radicals. Those same antioxidants may block the body's production of DHT, which is widely known as the hair loss hormone. Try using a few essential oils with grapeseed oil, such as lavender, to reduce stress.
Reducing stress blocks the production of cortisol, which can further contribute to hair loss. According to a report published by Dr. Raquel Bloom through the University of Maryland, grapeseed oil demonstrates an anti-proliferative activity that can reduce oxidative stress and lower your risk not only of hair loss but other chronic diseases.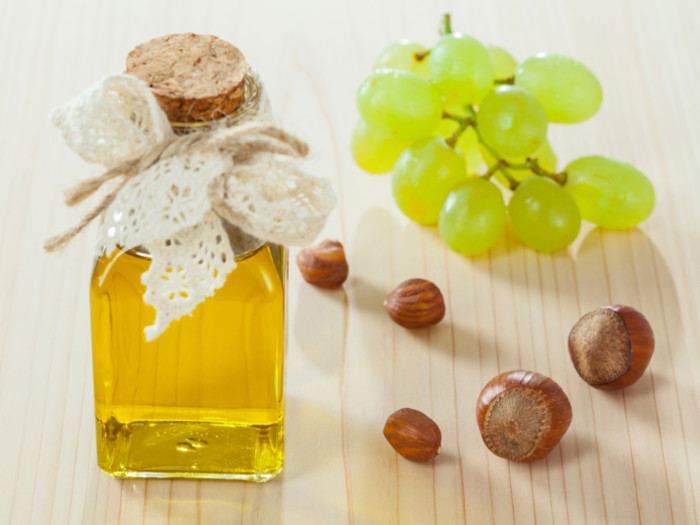 Strengthening Hair
One of the main antioxidants in grapeseed oil is vitamin E. Vitamin E promotes the production of linoleic acid in the body, which boosts hair production and skin health. Thus, not only will this powerful oil topically help your hair by improving individual strand texture, but it will also give your body the nutrients it needs to grow new, stronger strands.
How to Use Grapeseed Oil for Hair
There are several different ways to incorporate this potent oil into your daily routine.
Topical application: However, the best way to treat your hair with grapeseed oil is topical.
Hair conditioning: For deep

conditioning

, first coat the hair with the oil, leave it on for at least 10 minutes, followed by rinsing with cold water.
Hair treatment: For an overnight treatment, heat the oil first, massage it into your scalp and hair, then wrap in a towel and leave it on overnight.
Hair massage: Also, for a quick fix, simply massage a few drops of grapeseed oil into the scalp.
Note: Due to its lightness, grapeseed oil is great to use in salad dressings and can be used in baking and cooking.
So what are you waiting for? Apply this oil on your hair and get your shine and smile back!