During the warm summer months, ice cream is the most sought after dessert everywhere. A bucket of your favorite-flavored ice cream and a cool chick-flick to accompany it, how ideal does that sound? Well, let's talk more about the Japanese glory – the green tea-flavored ice cream in more detail.
Green tea ice cream is a popular Japanese delicacy which is made of culinary grade matcha powder, milk, sugar, and eggs. You could also know this by the name of matcha ice cream. It is perfect in terms of sweetness and freshness which comes from the matcha powder that gives you an earthy flavor with a sweet aftertaste. Since it is the main ingredient in the ice cream, we suggest you choose a high-grade matcha powder instead of a low-grade ordinary leaf tea powder. This ice cream combines comfort food with health benefits due to the antioxidants present in it that improve skin texture. Since matcha has an adequate amount of caffeine, it not only gives you a sugar rush but also gives a considerable caffeine kick. [1]
How to Make Green Tea Ice Cream?
Making homemade matcha tea ice cream is fun and surprisingly simple. To start off, add the cream and sugar. Let your ice cream maker work its magic on its own. The result will be soft and velvety-textured ice cream. The hard part here is waiting. It needs to be transferred to the freezer for a couple of hours in order to get the perfect creamy consistency. Let's find out how you can achieve this at home with our take on this exciting recipe.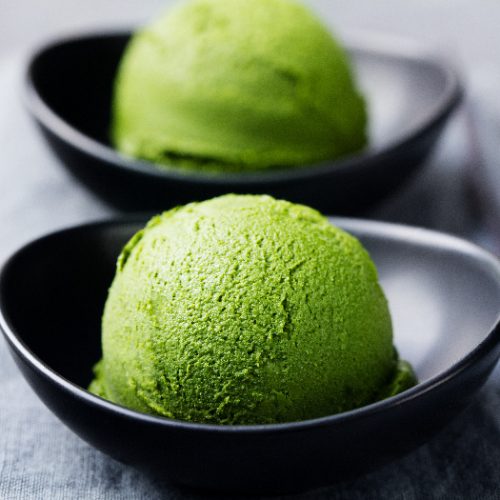 Refreshing Green Tea Ice Cream Recipe
Now you need not wait until your next visit to a Japanese restaurant to lay your hands on this gorgeous ice cream! Make this in the comfort of your kitchen with an ice cream maker and devour this supreme creation.
Print
Pin
Rate
Total Time:
1
hour
10
minutes
[2]
[3]
Ingredients
Instructions
Bring the milk and cream to a simmer over low heat in a saucepan. Turn the heat off and set aside.

Whisk 2 egg yolks and sugar in a bowl until the color of the mixture becomes pale. The mixture should look fluffy.

Add the matcha green tea powder to the sugar and yolk mixture and stir well.

Gradually pour the warm milk mixture into the egg mix and keep whisking until smooth.

Strain the mixture into a clean saucepan and place over low heat for 5 minutes, stirring continuously. Leave it aside to cool.

Pour the matcha green tea mixture into an ice cream maker.

Run the ice cream maker for about 20 minutes, and once the mixture has become thick, pour it into a container and freeze it until set.
Notes
You can make the ice cream without an ice cream machine. Just place the mixture in the freezer and whisk it vigorously every 30 minutes four times until it is too firm to whisk. It takes about 4 hours to freeze. Cover the ice cream with parchment paper for a longer-lasting creamy and soft texture. Make this ice cream a double treat by adding delicious toppings of chocolate syrup or tropical fruits like pineapple and strawberry. It is advisable to not substitute the culinary grade matcha powder with an ordinary leaf green tea powder. For a vegan green tea ice cream, use coconut milk, soy milk, or almond milk.
Where To Buy Green Tea Ice Cream?
You may find this gorgeous matcha ice cream all over Japan and in Japanese restaurants. It has moved from being a Japanese treat to become a popular dessert all over the world. In the U.S, you can find this yummy ice cream at Mr Green Tea Ice Cream Company in New York or at Haagen Dazs which has franchises almost in every state. You can find this ice cream in most supermarkets internationally.