The health benefits of ginseng tea include a boosted immune system, reduced risk of developing cancer, relief from menstrual problems, and a reduction in obesity. It helps in decreasing mental distress and sexual problems as well.
What is Ginseng Tea?
Ginseng tea is derived from the ginseng plant root. The major health benefits of this tea are due to the naturally occurring chemicals called 'ginsenosides' present in the root.
Ginseng tea originated in Korea and was made from a Korean variety of ginseng. The tea has become a popular beverage all over the world as an herbal drink. One serving of this tea (3 g) contains 3g of carbohydrates and 11 calories. The tea which is available is made from 3 different types of ginseng, all of which are beneficial for human health and vitality. These are:
American ginseng: Grows in North America
Asian ginseng: Grows in Far East Asia. It is also known as Korean ginseng or Chinese ginseng
Siberian ginseng: Grows in Northeast Asia
Watch Video: 5 Best Benefits Of Ginseng Tea
Health Benefits of Ginseng Tea
The common health benefits of ginseng tea are as follows:
Anti-cancer Potential
Ginseng has a potential anti-tumor effect and is often used with other drugs to enhance chemotherapy, according to a report published in the Evidence-Based Complementary and Alternative Medicine (2014). However, the Chinese researchers who conducted this study state that future clinically relevant studies are needed to validate the use of ginseng to treat cancer. According to the American Academy of Family Physicians, this tea possesses a number of anti-carcinogenic properties.
Relieves Menstrual Cramps
American ginseng tea is well-known for its cooling effect, and it is recommended for women who suffer from menstrual cramps and distress. It also minimizes the stomach pain associated with menstruation.
Fights Obesity
If you want to shed those extra pounds, ginseng tea would certainly help you in your dietary habits. This herbal tea is popular as a natural appetite suppressant. Consuming it would provide slimness to the body by boosting your metabolism and burning fat at a higher rate.
Lowers Blood Pressure
Asian ginseng tea is a strong beverage and it is very effective for people who have hypotension. This energetic drink keeps you active and on your toes all day long by normalizing your blood pressure and boosting your energy. This tea also helps in preventing fatal strokes.
Improves Brain Function
Ginseng tea is an herbal drink that acts as a stimulant to the brain cells. It improves your concentration power and cognitive capabilities. It is highly recommended for students so they can have improved brain functioning.
Sexual Dysfunction
Men with erectile dysfunction should consume ginseng tea since it lessens the symptoms of sex-related conditions.
Stabilizes Sugar Levels
According to research, ginseng is beneficial in managing diabetes. Ginsenosides enhance the body's response to insulin and help in better functioning of the pancreas.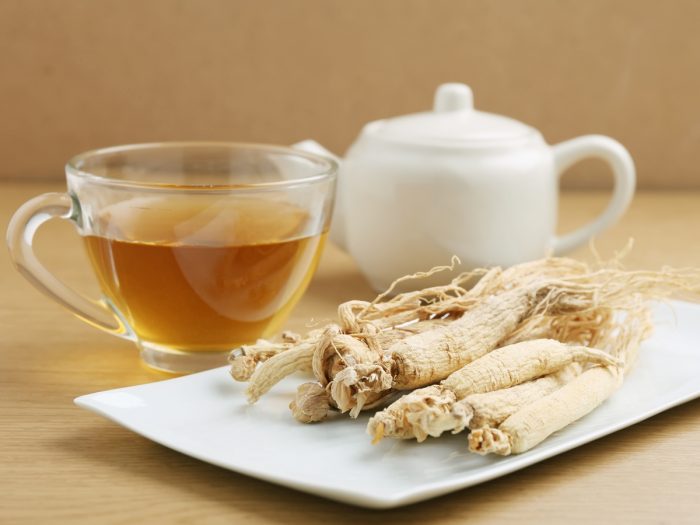 Improves Digestion
Ginseng tea promotes the secretion of pepsin. This aids in better digestion and provides relief from bloating, constipation, flatulence, and Crohn's disorder.
Relieves Respiratory Issues
Ginseng tea soothes respiratory issues by clearing blockage and reducing inflammation. It is a great remedy for sinuses, cold, cough, asthma, flu, and pneumonia. It also strengthens the immune system.
Reduces Chronic Pain
The anti-inflammatory properties of ginseng tea cure inflammations such as rheumatoid arthritis as well as chronic pains.
Skin Care
Ginseng maintains the fluid balance in your body and therefore helps in refining and rehydrating the skin. It also lessens pain and injury due to radiation therapy. The antioxidants perform free radical scavenging activity making your skin look younger and healthier. Additionally, it reduces fine lines, wrinkles, age spots, and blemishes.
Purifies Blood
Ginseng tea is mildly diuretic. Thus, it lowers blood toxicity by purifying it.
Relieves Symptoms of ADHD
Combination of ginseng and ginkgo biloba may help provide relief from symptoms of attention deficit hyperactivity disorder (ADHD) in kids.
Neuroprotective Effects
The immune-stimulatory, homeostasis, antioxidant, anti-apoptotic properties of ginseng tea can various cognitive disorders. This includes severe neurological disorders like Parkinson's and dementia too.
Reduces Stress
De-stress yourself with a hot cup of ginseng tea. It helps to pep up your mood by calming the nervous system and improving blood circulation.
How to make Ginseng Tea?
Here's how you can easily prepare ginseng tea:
Ingredients:
1 cup of water (filtered)
1 ginseng root or 1 tablespoon of ginseng powder
Recipe:
Step 1: Heat one cup of water in a saucepan or stainless steel pot.
Step 2: Wash the ginseng root, peel it, and cut it into 3 slices
Step 3: Add the ginseng root pieces or powder to the hot water
Step 4: Allow the mixture to steep for 10 minutes.
Step 5: Strain the tea into a cup.
Step 6: Add lemon juice or honey for additional flavor, and enjoy the beverage!
Note: According to US Fish and Wildlife Service, it is illegal to harvest ginseng roots on most State lands. However, you can buy fresh ginseng root or powder from the market. Korean ginseng root is better suited for cold climates and American ginseng roots are best for summer seasons.
Side Effects
The major side effects of ginseng tea include:
Insomnia: Certain compounds in ginseng activate the energy levels in our body. If taken at bedtime, it may result in sleeping difficulties. If consumed daily, some people may start showing symptoms of insomnia.
Irregular heart rate and blood pressure: Consuming ginseng tea in large amounts for a long period of time may result in fluctuating heartbeat and increased or decreased blood pressure levels. People on medication for blood pressure should avoid ginseng tea.
Blood clots: Ginseng tea interferes with the functioning of blood platelets causing blood clots.
Hypoglycemia: This tea may also lead to abnormally low blood sugar levels. People who suffer from type-2 diabetes should avoid this tea.
Hormonal effects: Korean Ginseng tea causes estrogenic effects on the body. This may cause hormonal abnormalities, breast pain, and vaginal bleeding, which may, in some cases, be fatal too.
Gastrointestinal issues: It may cause digestive disorders like diarrhea, stomach discomfort, and nausea.
Cognitive dysfunction: It can cause headaches, dizziness, nervousness, restlessness, anxiety, and loss of

concentration

in some people. Further complications may lead to neurological issues, depression, confusion,

schizophrenia

, and manic episodes.