Jasmine tea is popular around the globe – and not only for its good taste! It has many health benefits that include improved cardiovascular health, stronger immune system, and prevention of diabetes. Some research has shown positive implications for cancer, improvement in the digestive process, and cholesterol-lowering properties. It has also been found to eliminate harmful bacteria and ease chronic inflammation.
About Jasmine Tea
Jasmine tea is not considered a "herbal tea" because it is actually a normal tea (green, white, black, or oolong) flavored with jasmine flowers to create a unique scent and taste.
China has a long and famed history with tea, and jasmine is one of the most popular types to emerge from this ancient nation. Jasmine tea first appeared in official records during the Song Dynasty, which ended in the 13th Century A.D., but at that time, it was mainly reserved for royalty. It may have originally come from Persia, through India, along with the cultural exportation of Buddhism to China.
This tea can be made in a number of ways, of varying strengths and grades. Some are made as loose-leaf teas, while others are cut up and put into tea bags. Some are rolled or bound in different shapes, like the very common "jasmine pearl", usually composed of two tea buds and one tea leaf.
All the types, regardless of shape, need to be scented before becoming "jasmine tea". There are a number of methods involved in the "scenting process"; from very simple physical mixtures to complex air filtering and aroma mixing for a pure, light taste. Jasmine tea extract can also be added to beverages in order to gain the benefits without having to brew the tea.
One reason why jasmine tea is so popular is due to its benefits to overall health, which come from the nutritional elements in the organic tea buds themselves. It is a wonderful means of adding uncommon antioxidants to your system – including catechins and epicatechins, which can have a wide range of beneficial effects on your body.
Watch Video: 7 Best Benefits Of Jasmine Tea
7 Reasons Why You Should Drink Jasmine Tea | Organic Facts
Health Benefits of Jasmine Tea
Along with the unique aroma and taste, jasmine tea has many beneficial qualities that help to reduce stress and cardiovascular issues and may improve the digestive system. Let's take a look at them in detail.
Weight Loss
Everyone is looking for the secret to reduce their weight easily and quickly. While there is no magic bullet for weight loss, jasmine green tea can be a good addition to aid in weight reduction. A 2012 study published in The Cochrane Database of Systematic Review, revealed that the antioxidant properties of jasmine green tea help to increase your metabolism. This increase in metabolic efficiency makes your exercise effective and helps your body to process the nutrients quicker. Faster or more efficient metabolism helps with weight loss. However, the systematic review of a number of studies concluded that green tea alone did not significantly impact weight reduction, but must be used in addition to other weight loss techniques, as a complementary element.
Antioxidant Properties
Perhaps the most praised aspect of jasmine tea is the high level of antioxidants in this delicate and delicious beverage. The most notable antioxidants found in jasmine tea are catechins. Green tea is the most commonly used base flavor for jasmine tea, but depending on which type of tea is used as a base, different antioxidant properties can be accessed. For example, black tea has high levels of theaflavins, while green tea has high levels of catechins.
Antioxidants work within the body to detect and destroy harmful agents or free radicals that can cause diseases and compromise the immune system. Catechins, as mentioned above, are the antioxidants most jasmine tea users are seeking, since they have been shown to be integral in preventing certain serious diseases in the body.
Boosts Immune System
Jasmine tea helps to protect the immune system with its anti-inflammatory and antioxidant properties. An animal study published in the Journal of Life Sciences revealed that jasmine green tea is a rich source of natural polyphenol antioxidants including those such as epicatechin (EC), epicatechin gallate, and others. The immune system is the first line of defense against all types of illnesses, so bolstering it can benefit the body in countless ways. Many forms of cancer and carcinogenic diseases can have an immunosuppressive effect, meaning that the body's overall immune system is compromised, making the body vulnerable to pathogens that complicate the treatment of cancer. Sipping jasmine tea regularly can help in strengthening the immune system and lowering the risk of such chronic diseases.
Protects Heart Health
For those with a personal or family history of cardiovascular issues, jasmine tea can be a huge help in preventing further problems. A study in the Journal of Nutrition reveals that the catechins found in jasmine tea are a key factor in inhibiting LDL-oxidation, which is when "bad" cholesterol in your arteries gets inflamed after being oxidized. This inflammation of the veins and arteries can lead to a heart attack or stroke. The catechins found in jasmine tea inhibit this oxidizing process, so blood pressure and cholesterol levels decrease, and long-term threats like heart diseases can be prevented.
Anticancer Potential
The fight against cancer is one of the unifying health problems around the world, so anything that may help mitigate the negative effects is always popular. A report in the American Journal of Clinic Nutrition suggests that the consumption of tea, such as green teas, jasmine included, have been widely shown to have cancer-preventive properties, because they contain polyphenols, like epigallocatechin gallate (EGCG). Polyphenols like EGCG are key lines of defense against free radicals and other harmful or carcinogenic invaders in the body. Green/Jasmine tea has been shown to reduce the risks of breast cancer, lung cancer, and many other diseases.
Besides the addition of EGCG to the system, elements of green tea also inhibit the overexpression of dangerous enzymes commonly found in cancerous tumors and cells.
However, according to this research, current data is not definitive regarding green tea's role regarding cancer prevention. Larger intervention studies are needed before a recommendation for green tea consumption can be made.
Manages Diabetes
In the fight against diabetes, jasmine tea has shown itself to be a valuable tool. The ability to metabolize glucose is the fundamental mechanism that causes diabetic conditions. A study published in the BMC Pharmacology provides evidence that stated that drinking jasmine/green tea consumption in diabetic mice helped to reverse the negative effects that diabetes has on certain serum proteins, working as a regulator for those with diabetes, and as a preventive measure for those not diagnosed but still consuming it as a regular part of their health regimen. More research on human populations is needed to confirm these positive effects.
Relieves Stress
The olfactory system is often something we overlook, but it can be a very powerful sense. Studies have shown that the odor of jasmine can be very beneficial to improving mood in certain test subjects. Subjects who have a natural predilection for the smell of jasmine have a parasympathetic response to the odor and their body releases chemicals that allow them to naturally relax or improve their mood. However, the smell of jasmine is what some call "an acquired taste", and some of the studies have shown that people who don't enjoy the smell of jasmine can actually become anxious if exposed to it in high intensities. If it is a scent that appears to relax you, it's just another boon to its benefits!
Prevents Gastrointestinal Disorders
Green tea is rich in polyphenolic compounds, with catechins as its major component. According to one study published in the European Journal of Pharmacology, catechins present in jasmine tea have positive effects on multiple areas of health, including the gastrointestinal system. They activate a number of intracellular antioxidants and interact well with the gastrointestinal enzymes to promote healthy bowel function. Thus, adding jasmine tea to your normal diet may help improve your gut function, promote better digestion, and prevention of gastrointestinal forms of cancer.
Reduces Pain
In holistic medicine, one of the positive effects of jasmine tea is that it is thought to help in the reduction in chronic discomfort associated with joint pain and arthritis. The anti-inflammatory nature of certain organic elements in jasmine tea may reduce minor swelling and inflammation of your joints by inhibiting unwanted cellular oxygenation. For any more serious pain and swelling, see a medical professional immediately.
Antibacterial Properties
Jasmine tea, which is occasionally formed by simply adding jasmine essential oil to tea buds, can provide a defense against bacterial infections. This makes jasmine tea an unexpected antibiotic that many can safely add to your diet. A study published in the Indian Journal of Pharmaceutical Sciences found that, in certain test subjects, the properties of jasmine oil can eliminate the effects of E. coli, a very dangerous bacterium commonly found in poorly preserved foods or unsanitary cooking conditions. It may also provide relief from cough, cold, and throat infections.
How to Make Jasmine Tea
There are two ways to make jasmine tea. One is to get the ready tea bag and drop it in your cup of hot water and gulp it and the other one is a frabjous way of satisfying the creative tea lover inside you. Since jasmine tea is more about aroma and less about tea, here's an easy method to make it from scratch.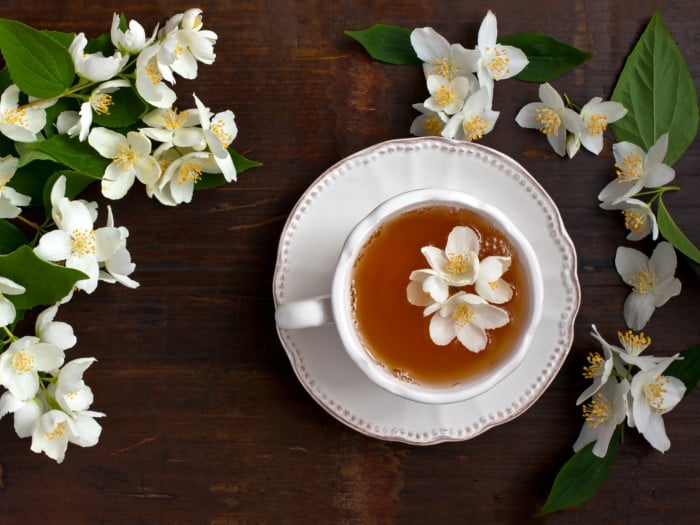 Perfectly Scented Jasmine Tea
Who doesn't like a flavorful tea that not only seduces the taste buds but also the olfactory senses!
Print
Pin
Rate
Ingredients
1/2

cup

Green or black tea

loose leaf

1

cup

Jasmine flowers

fresh
Instructions
Add 1/4 cup of the green or black tea to an empty jar.

Now add fresh jasmine flowers on top of the tea. Fresh flowers help to make the tea fragrant and exotic.

Then cover the flowers with the rest of the tea. Tap the jar gently on a flat surface so that the leaves and flowers settle properly.

For the jasmine scent to blend well with the leaves, keep something heavy on the tea layers and close the jar.

You want to infuse the tea properly so keep the jar in a dark place for at least 24 hours. If you want an extravagant flavor then you can keep the jar untouched for more time.

After a day, open the jar and remove the weight to smell the fresh jasmine-infused tea leaves.

It can be used to make the tea now. So boil the water in a pan. This should take about 4-5 minutes.

Add 1 heaping teaspoon of jasmine tea to it and let it brew for 10 minutes.

After the tea has infused properly, strain it into a cup and enjoy the goodness of this 'flowerful' beverage!
Notes
For people who do not have jasmine flowers on hand, you could look for them in nearby nurseries or organic stores. If you are not a huge fan of green or black tea, you can use oolong or white tea as well. You can also add honey to sweeten your tea.
Buying and Storing Jasmine Tea
There are various options available for buying jasmine tea, both online and in-store. Online retailers have a plethora of jasmine tea available for sale. However, it is recommended to refer to buyer reviews to get a better sense of the quality of your purchase. If you find a variety you particularly like, buying it in wholesale is a great option to ensure you have a steady supply of your favorite jasmine tea.
It is a known fact that some tea leaves absorb the scents of their surroundings. This is advantageous in the production of scented teas, such as jasmine; where the tea leaves are stored in close proximity to jasmine blossoms, resulting in a scented tea. On the flip side, this same quality of tea can be detrimental if your tea leaves come in contact with unpleasant odors. This not only means that you should store your tea container in a place free from strong smells but also means that whatever you are storing your tea in must be odorless too. Certain wooden containers, airtight tins with strong-smelling rubber seals, and plastic containers can leave your tea with a very unpleasant aroma and flavor.
Does jasmine tea have caffeine?
Jasmine tea is made with a green tea base most of the time. So, the caffeine content in a cup i.e. 8 fl oz is about 25 mg. This caffeine comes solely from green tea. If you want to cut down on your caffeine intake then you can make a plain herbal jasmine infusion.
Side Effects of Jasmine Tea
Pregnancy: Although many aromatherapy techniques are popular during pregnancy, the strong odor and chemicals of jasmine tea are not recommended while you are pregnant. There have been cases where the use of jasmine tea or essential jasmine oil (sometimes used to make jasmine tea) has caused premature contractions in pregnant women. Consult your doctor before adding this tea to your diet.
Intestinal discomfort: Many people choose to use jasmine tea to boost their metabolism or even as a workout aid to stimulate additional weight loss, but it is highly acidic, so consuming it on an empty stomach to spur on weight loss or metabolic function can cause intestinal pain or discomfort.
Caffeine: Despite its relaxing and mood-altering properties, jasmine tea is a source of caffeine, which is a stimulant that affects people in different ways. Caffeine is meant to block certain neurotransmitters in the brain, which causes the feelings of alertness or energy that most people want from caffeine. However, some people are very sensitive to the effects of caffeine, particularly in large doses. Consult your doctor or use your experience with other caffeinated products before adding jasmine tea to your diet or buy a caffeine-free version of jasmine tea instead. Loose-leaf varieties of jasmine tea are typically not available without caffeine, but some teabag varieties are, so it is worth looking into them.