Black tea may be one of the most beloved drinks or beverages in the world with almost 80 percent of people on the planet consuming it every day. What few people realize is that it is also packed with health benefits. It can boost heart health, lower stress, reduce high cholesterol, improve oral health, boost bone health, increase alertness, and prevent digestive problems. It is well-known for its antibacterial and antioxidant qualities.
What is Black Tea?
Black tea is a type of tea, considered the most popular tea in the world. It includes many different varieties, which are produced in different parts of the world, notably in India, Sri Lanka, Kenya, and Turkey. Popular black teas include Darjeeling, English Breakfast, and Earl Grey. Like other types of teas, it is also derived from Camellia sinensis. The level of oxidation gives it a unique color and flavor.
The difference between black, green, and white tea is the way they are processed. During the processing stage, black tea is fermented and oxidized. On the other hand, green tea and white tea are not fermented. Black tea is usually stronger in flavor than the other teas. Interestingly, in China where it was first developed, it is known as 'red tea'. The name comes from the color of its brew.
Watch Video: 10 Best Benefits Of Black Tea
10 Best Benefits of Black Tea | Organic Facts
Nutrition Facts

---

Beverages, tea, black, brewed, prepared with tap water

Serving Size :
Nutrient
Value
Water [g]
99.7
Energy
1
Energy [kJ]
4
Ash [g]
0.04
Carbohydrate, by difference [g]
0.3
Iron, Fe [mg]
0.02
Magnesium, Mg [mg]
3
Phosphorus, P [mg]
1
Potassium, K [mg]
37
Sodium, Na [mg]
3
Zinc, Zn [mg]
0.02
Copper, Cu [mg]
0.01
Manganese, Mn [mg]
0.22
Fluoride, F [µg]
372.9
Riboflavin [mg]
0.01
Pantothenic acid [mg]
0.01
Folate, total [µg]
5
Folate, food [µg]
5
Folate, DFE [µg]
5
Choline, total [mg]
0.4
Fatty acids, total saturated [g]
0
16:0 [g]
0
Fatty acids, total monounsaturated [g]
0
Fatty acids, total polyunsaturated [g]
0
18:2 [g]
0
18:3 [g]
0
Caffeine [mg]
20
Theobromine [mg]
2
Sources include : USDA [2]
Black Tea Nutrition

It is rich in antioxidants known as polyphenols and catechins. Its oxidation capacity is more than oolong, white, and green teas. The antioxidant compounds found in tea are mainly theaflavins and thearubigins and catechins. These antioxidants are the compounds most responsible for black tea's potent health benefits. Since regular drinkers take black tea every day, the potency of its effects is enhanced. [3]
Unsweetened tea has few or no calories and has minimal sodium, proteins, and carbohydrates. Black tea is strong, bolder, and more oxidized, and thus more beneficial than oolong, white, or green tea.
Caffeine in Black Tea
Like other teas, black tea also contains caffeine. According to the USDA, a cup (240 gms) of hot brewed tea contains 48 mg of caffeine. It is important to note here that the amount of caffeine also depends on the brewing time and its processing. So the brand you buy may also make a difference. For comparison, the same amount of green tea contains 28.8 mg of caffeine. Coffee contains double the amount with an average brewed cup containing at least 96 mg of caffeine. [4] [5] [6]
For a clearer comparison, read our article Caffeine In Tea And Coffee: Which Is Healthier. To get a better understanding of its effects, read Caffeine In Tea: Top 12 Surprising Facts.
Health Benefits of Black Tea
This amazing tea is known for its curative qualities and other health benefits. The most powerful benefits are as follows: [7] [8]
Possibly Rich Source of Antioxidants
Black tea is known to be a rich source of antioxidants. Polyphenols, such as theaflavins, thearubigins as well as catechins as major constituents of black tea, which may be responsible for antioxidant actions. The antioxidant properties of tea may help inhibit free radical generation, scavenge free radicals, and help protect your cells against DNA damage.
According to a 2017 study, published in the British Journal of Pharmacology, black tea is rich in catechins and theaflavins. These antioxidants are responsible for many of the beneficial properties of black tea. Regular consumption of black tea can modulate one's antioxidant capacity. It benefits overall health and can help even prevent or help in managing chronic conditions. [9]
May Prevent Heart Diseases

High amounts of flavanols, flavonols, theaflavins, and gallic acid derivatives that may be present in black tea help repair coronary artery dysfunctions in heart patients. It may also reverse the abnormal functioning of blood vessels, which may lead to strokes, atherosclerosis, and other cardiovascular conditions. Multiple studies have shown that black tea can help reduce the risks posed by cardiovascular diseases. A study published in AHA Journals showed that regular consumption of black tea reduced cardiovascular morbidity and mortality. Similarly, another study showed that black tea lowered risks associated with heart diseases. [10] [11]
Drinking tea may reduce your chances of suffering a fatal or nonfatal stroke. A review of 9 studies involving 4378 cases of ischemic strokes, published in the American Heart Association journal Stroke, found that three or more cups of tea a day reduced the risk of stroke by 21 percent when compared to drinking less than a cup of tea a day. [12]
May Help Manage Diabetes
Long-term tea intake is associated with reduced levels of fasting blood glucose and lower rates of type 2 diabetes. The major bioactive compounds in black tea are polyphenols which lower the glycemic index. A study published in the Annals of Nutrition & Metabolism revealed that regular consumption of tea had antioxidative and anti-inflammatory effects in people with type 2 diabetes. [13] [14] [15]
May Prevent Strokes
Drinking more than one cup of black or green tea daily helps in preventing ischemic strokes. [16]
May Improve Digestion
Black tea is rich in tannins and other chemicals that may have a positive and relaxing effect on the digestive system of the body. This possibly anti-inflammatory quality of the tea is also helpful for curing digestive disorders. Animal studies have shown that compounds present in this tea may also fight stomach ulcers. [17]
Possible Anti-bacterial Activity
Tea polyphenols are known for their antibacterial activity. Studies show that black tea may reduce the risk of Helicobacter pylori infection. The potentially antibacterial properties of tea may make it quite handy when it comes to looking for home remedies, whether it is for smelly feet or soothing burns and rashes. For smelly feet, soak your feet in a water bath of strong black tea for 30 minutes. Similarly, apply a chilled teabag to inflammations for a soothing effect. [18] [19]
May Relieve Stress
Most of us have grown up hearing about the magic of black tea in relaxing and energizing ourselves. Research has now backed the stress-relieving properties of this tea. In an article published in Nature, the authors explored different studies to find that tea has the ability to lift our mood and may even benefit people with mental illness. The key ingredients are believed to be L-theanine and EGCG in black tea. These either act alone or in combination with caffeine combination to lift our mood. [20]
One study found that consumption of black tea helped people to recover more quickly from a stressful task. It reduced post-stress cortisol and showed greater relaxation among the test participants when compared to a caffeinated placebo. [21]
May Improve Oral Health
Polyphenols in black tea include catechins, flavonoids, and tannins may have an antimicrobial effect and an inhibitory action on the bacterial and salivary enzymes. A cup or two of unsweetened tea taken daily can reduce inflammation, prevent cavities, and stop the growth of bacteria in the mouth. [22]
May Increase Bone Density
Black tea is believed to improve bone density. According to a study, elderly women who are prone to fracture showed a lower risk of fracture-related hospitalization when they drank black tea, due to the particular classes of flavonoids present in it. People also showed a lower probability of arthritis due to the phytochemicals found in this popular beverage. The Arthritis Foundation in the US included tea in its list of recommended beverages for people with arthritis. [23] [24]
May Prevent Parkinson's
Emerging evidence suggests that black tea may prevent the development of Parkinson's disease. The reason for this ability seems unclear and often contradictory. Some studies attribute it to the caffeine found in black tea. The reduced risk appeared to be associated with people who smoke and men (rather than women). However, a Singapore health study that found similar efficacy in black tea, deduced that this ability came from non-caffeine-related ingredients. Yet another study attributed this ability to the powerful polyphenols found in black tea. Whatever the reason, all these studies agreed that black tea shows potential in preventing Parkinson's disease. [25] [26] [27]
May Improves Alertness
Caffeine, present in black tea, is known to be a psychostimulant that enhances alertness and improves performance. A review, published in The American Journal of Clinical Nutrition, found four studies that examined the association between tea and alertness. Black tea was found to improve performance and accuracy immediately after consumption. [28]
May Aid in Skin And Hair Care
Black tea is used in many cultures for skin and hair-related problems. Black tea is used in face packs, hair packs, and for home remedies like relieving puffy eyes. Emerging evidence shows that it may be the potent polyphenols and catechins of black tea help in addressing issues in skin and hair care. A 2019 review of tea extracts in cosmetics, published in the journal Molecules, found that the catechins in tea were responsible for anti-aging, photoprotective, and antioxidant properties. [29]
Research has shown that regular consumption of tea may even protect against skin carcinogens. It also protects against UVB-ray-induced carcinogens. [30] [31]
May Boost Immunity
Finally, what all this evidence shows us is that regular consumption of black tea can help boost immunity. In vitro studies have shown that black tea helps improve immune pathways. This can be attributed to the polyphenols in the tea, which can help in preventing diseases and strengthen the immune system from within. [32] [33]
Black tea not only fights bacteria but also strengthens the immune system. The rich source of antioxidants in this hot beverage prevents DNA damage by free radical scavenging activity. [34] [35]
May Aid in Weight Loss
For those looking for weight loss, unsweetened black tea could be the beverage of choice. Multiple types of research have shown that black tea aids weight loss. A UCLA research found that black tea can alter our energy metabolism by changing the bacteria in our gut, thereby helping in weight loss. A 2018 study attributed weight loss properties to the presence of theaflavins in black tea. It found that fully fermented teas like black tea are as effective as green tea for weight loss. [36] [37]
Explore more options with our article on 9 Best Teas For Weight Loss.
How to Make Black Tea?
It is very easy to make loose black tea. Just follow the steps below!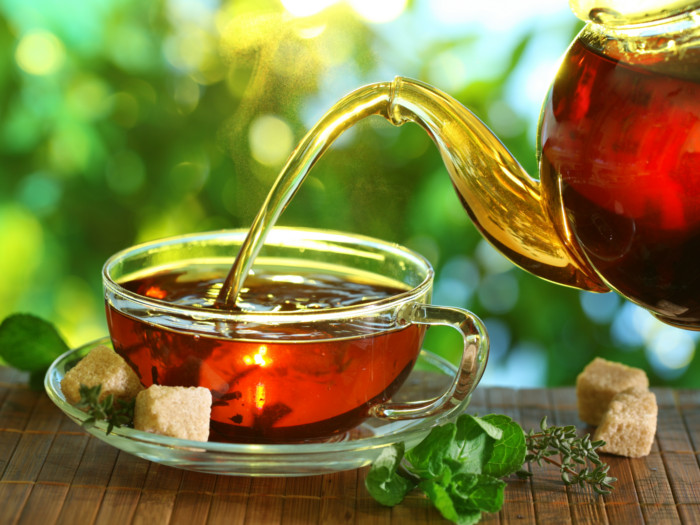 Soothing Black Tea Recipe
The best thing about making black tea at home is that you don't need a lot of ingredients. It is less expensive and fun to make. Let's find out how!
Print
Pin
Rate
[38]
[39]
Ingredients
1

cup

water

1

tbsp

loose leaf black tea

2-3 grams

1

tsp

milk, lemon, sugar, honey

optional
Instructions
Pour 1 cup of water in a teapot and heat it on a medium flame.


As the water comes to a boil, add 1-2 tablespoons of loose, black tea of your choice.


Place the lid on the teapot, or if using a cup, cover the cup with a lid or a small saucer.


Let it steep for 3 to 5 minutes. It's best to taste your tea after 3 minutes and then after every 30 seconds until it satisfies your taste.

You can add milk or honey to sweeten your tea. Many people also prefer adding lemon and/or sugar cubes to their tea.

Notes
To make a strong tea, use more tea leaves rather than cooking it for a longer time to avoid the bitter taste of the tea. Avoid distilled water, which can make the black tea taste flat. Preferably, do not re-use boiled water.
Chinese people add sweetening agents, spices, chocolate, or even rare herbs while brewing black tea. In India, milk and sugar are normally added to it. Some people add lemon or various herbs including ginger, cinnamon, cardamom, lemongrass, mulethi or holy basil (tulsi) to make chai tea or masala chai (popular spicy tea in India).
How to Select and Store?
It is better to buy organic black tea bags or loose black tea leaves to avoid adulteration with chemicals.
Choose Chinese black tea for light and Darjeeling black tea for strong flavor.
Black tea is a wide classification and includes many different teas, such as Darjeeling, Ceylon, and Kenyan tea. The flavor of the tea changes accordingly. So, check the label before buying it.
Store the leaves in a tin container. Keep them away from sunlight and moisture.
Side Effects
Black tea is perfectly safe. But too much of a good thing can also be bad. Drinking excess tea (more than 5 cups) can cause caffeine overload, which is associated with unwanted side effects. These are:
Headache
Nervousness and irritability
Sleep problems
Vomiting, heartburn, and diarrhea
Irregular heartbeat and tremors
Dizziness, ringing in the ears, confusion, and convulsions
Also, cautious consumption is recommended in the case of children, pregnant or breastfeeding women, people with anemia, heart problems, anxiety, and bleeding disorders. People with glaucoma, hormone-sensitive conditions, IBS, and high blood pressure should also keep their tea consumption to a minimum. It is also advisable to avoid drinking tea before bedtime as it can cause restlessness. Caffeine can also interact with certain medicines. So, take your doctor or herbalist's advice on safe consumption.
Other than the side effects mentioned above, black tea has a lot of benefits. You will find it in almost every corner of the world. It is readily available and you can choose from hundreds of flavors and mixtures on the market. So, go ahead and enjoy a cup of hot tea!