Blue vervain is a perennial plant that is known to be in use for fighting the symptoms of depression. It may also be helpful in promoting sound sleep. Vervain may aid in reducing inflammation and pain, alleviating stomach disorders like diarrhea, and protecting you against parasitic infection. It has also been studied for its antitumor and brain-boosting effects. In this article, find what is blue vervain, how it is good for you, its uses, and potential side effects.
What is Blue Vervain?
Blue vervain is a flowering plant that belongs to the vervain family, Verbenaceae. It has purple flowers and simple leaves with double-serrate margins. The scientific name of blue vervain is Verbena hastata and it is also known by other names like American vervain, simpler's joy, and swamp verbena. It is a hardy and drought-resistant plant found across North America and used as an herb by many people.
This flowering herb was a popular remedy among the Native Americans and Romans. It is now used by many herbalists and traditional medicine practitioners. The unique composition of the acids and phytochemicals in blue vervain is responsible for the majority of its health benefits. [1]
Health Benefits of Blue Vervain
Let's take a closer look at the numerous health benefits of this plant.
May Help Relieve Depression
Blue vervain has commonly been used for depression and anxiety. [2]
An animal study published in 2016 suggests that this anxiolytic effect of the herb was maximum when a dose of 100mg per kg was administered. As the dose increased, the effect decreased. The study also mentions that vervain is rich in flavonoids like apigenin, luteolin, quercetin, kaempferol, and tannins, which help in relieving depression. [3]
Another research published in the journal Basic and Clinical Neuroscience, in 2020, shows that the extracts of this plant could have an anti-depressant effect in adult rats. However, the dose proposed in this study is 200mg per kg. [4]
May Help Promote Restful Sleep
Anecdotal evidence suggests that blue vervain tea was used for insomnia.
Studies conducted on vervain show that these effects of the plant are possible due to the presence of iridoids like hastatoside and verbenalin, and the polyphenol verbascoside in it. [5]
Research published in the Psychiatry and Clinical Neurosciences journal indicated that blue vervain has hypnotic effects. It helps in reducing sleep latency, which means that it can minimize the time a person takes to fall asleep and improve the duration of sleep. [6]
May Reduce Pain & Inflammation
Herbal medicine practitioners in Navarra, Spain have been using blue vervain topically to fight inflammation. [7]
Researchers used carrageenan, an additive to thicken and preserve foods, to induce inflammation in test subjects. One group was tested with blue vervain extracts, while the other was tested with methyl salicylate ointment, which is used for muscle and joint pain and cramps.
The results of this study showed that these extracts show anti-inflammatory and analgesic properties but they are less than that of the ointment. [8]
Further research is awaited to determine if this herb can play a bigger role in alleviating gout, arthritis, or inflammation in the body.
Possibly Antimicrobial Properties
Blue vervain may be able to help treat stomach disorders.
Research published in the African Journal of Pharmacy and Pharmacology suggests that its leaf extract has been used in southern Nigeria for ulcers and microbial infections. Moreover, a 2010 research study confirms that the extracts of this herb have biologically active principles, which help fight diarrhea and gastrointestinal disorders. [9] [10]
It has also been shown to possibly reduce stomachache. [11]
Other Benefits
Blue vervain can also help improve your health in the following ways.
Antitumor activity: In vivo studies show that vervain extracts have an anti-tumor potential. More studies are required to ascertain this benefit. [12]
Mental focus: Many homeopathic medicines for boosting mental focus contain vervain as an ingredient. Consult with your doctor before you try these. [13]
Blue Vervain Uses
Blue vervain can be consumed in the form of a warm infusion of leaves, roots, or flowers. You can also have its tincture for therapeutic effects.
Here is a simple way to make its tea at home.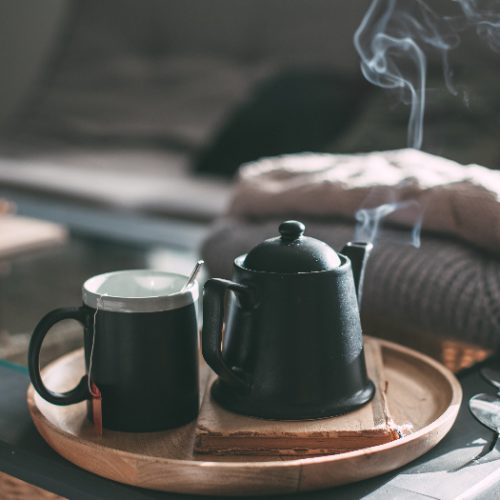 Bedtime Blue Vervain Tea Recipe
Enjoy a cup of this herbal tea for a relaxing sleep!
Print
Pin
Rate
Ingredients
4

tbsp

blue vervain

4

tbsp

lemon balm

4

cups

water

honey

optional
Instructions
Bring the water to a boil.

Now add the blue vervain and lemon balm into the water and let it steep for about 10 minutes.

Once done, strain the tea into a cup and add honey or any other sweetener to your taste. You can also have the tea on its own if you don't mind the bitter taste.
Notes
If you find blue vervain tea bags, you can use them to make your tea.
Blue Vervain Side Effects
The side effects of blue vervain or verbena supplements are mentioned below: [15]
When taken in large amounts, it may cause an upset stomach and nausea.
Allergic reactions like mild skin rashes may also appear.
Blue vervain can interact with certain medications used for blood pressure.
So, speak to your health expert before including it in your diet.