There is something addicting about the combination of honey and butter. Like yin and yang, the sweet and savory balances each other perfectly. When we add it to chicken, we have a match made in heaven. The combination of honey and butter is not unusual. It is, however, usually found in desserts. Using it in a savory dish adds a depth and complexity of flavor that elevates a simple fried chicken.
How to Make Honey Butter Fried Chicken?
If you are bored with the usual fried chicken, it's time to switch it up a notch. The honey butter fried chicken may just be the recipe that we've been looking for. It's a combination of contradictions that works beautifully when brought together. This recipe uses rich honey butter which is slathered on the just-fried chicken. You can use any cut of chicken for this recipe, including chicken wings. Boneless chicken chunks also work fine. The recipe itself is pretty simple, just fried chicken with a honey-butter glaze.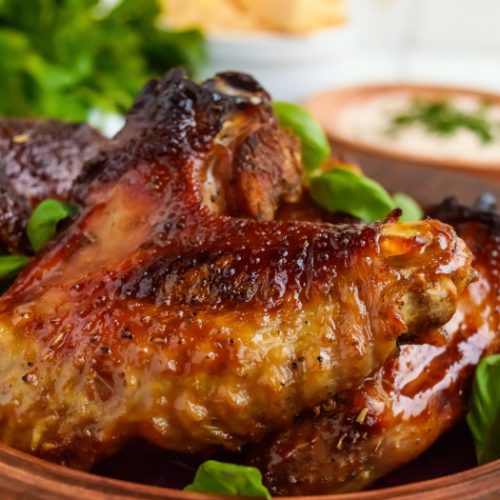 Honey Butter Fried Chicken Recipe
This recipe calls for coating the fried chicken in a rich honey butter sauce. The buttery-sweet glaze gives the regular fried chicken an added depth of amazing flavors.
Print
Pin
Rate
Ingredients
For Honey Butter
2

stick

butter

4

tsp

Honey

1/2

tsp

salt
Instructions
Start with the fried chicken. For this, wash and dry the chicken with a paper towel as much as you can.

Prepare the flour for the coating. Mix in paprika, salt, onion, and garlic powder. Divide into two deep plates. Pour the buttermilk into a third deep plate.

Prepare a flouring station by arranging the flour and buttermilk containers in a row. The buttermilk should be placed between the two plates of seasoned flour.

Start preparing the chicken. Coat it with seasoned flour then submerge it in the buttermilk. Take it out, letting the excess drip off. Give it a second coating in the second bowl of seasoned flour. Make sure that the chicken is fully coated, but do not make it too thick.

Arrange the chicken pieces on a plate, ready for frying. You can also store the chicken in the fridge at this stage. But bring it to room temperature before frying.

Pour the oil in a heavy-bottomed pan, making sure that it has at least four inches of oil. Heat the oil, bringing it to 340 degrees F. You can check if the oil is hot enough by dropping in a piece of bread. It should float to the top and start frying.

Gently drop in the chicken pieces in the hot oil, but avoid crowding the pan. Keep the heat at a medium and do not let it get too hot. The ideal temperature should remain 315-320 degrees F.

Fry the pieces for around 10 minutes or till an instant-read thermometer reads 165 degrees F near the bone. You may have to turn over the chicken to ensure that all sides are fried.

Meanwhile, make the honey butter in another pan. Melt the butter under gentle heat without letting it brown or burn. When the butter is completely melted, add in the honey and salt, stirring vigorously. Take it off the heat.

Arrange the fried chicken on a platter and drizzle generously with the honey butter while it's still hot. You can also use a pastry brush to coat the fried chicken with the honey butter.

Your honey butter fried chicken is ready.
Notes
You can easily turn this into a main course by serving it with a green salad and mashed potato or grilled greens and biscuit.
The frying time will be considerably less if you use boneless chicken chunks.
Tips & Tricks:
Do not overcrowd the pan when frying chicken. It will lower the temperature and steam the pieces, rather than frying them.
We have recommended canola, sunflower, or rice bran oil. But any flavorless oil with a high smoking point would be fine.
Avoid using coconut or olive oil.
This recipe can be made with any cut of chicken, whether it is chicken breast, thighs, drumsticks, or boneless chunks. But you need to adjust your cooking time accordingly. Remember, boneless chunks will cook very quickly while drumsticks take the longest.
You can also fry the chicken in hot oil to quickly brown the crust and cook it further in the oven.
If you try our recipe, let us know how it turned out. While we may not be able to taste it, we'll love to know your experience.